A lot of parents want their child to be homeschooled, but they don't have the time or the desire to create a whole new and unique teaching method for their child. They don't feel the need to 'reinvent the wheel'.
If this sounds like you, then you will enjoy reading Homeschool Methods Explained: School-at-Home.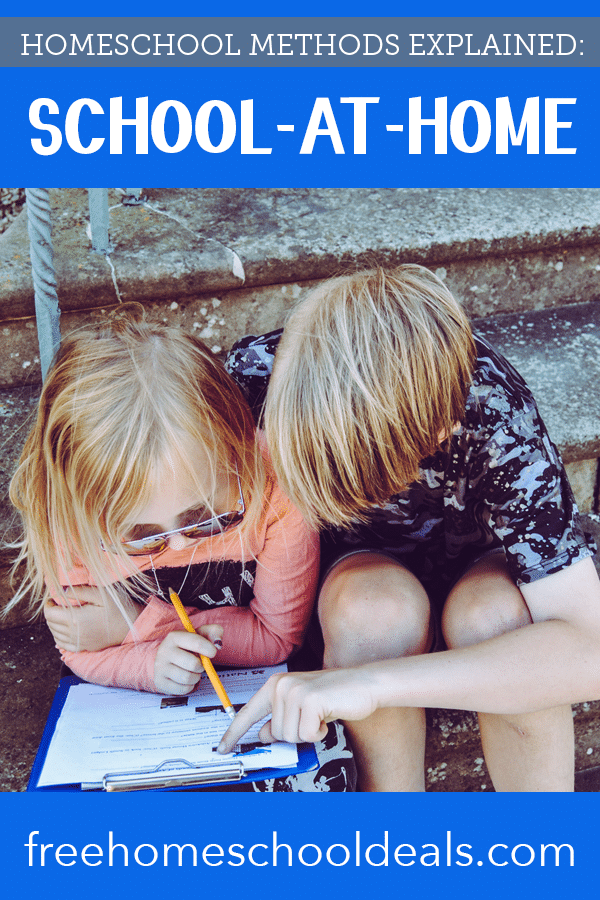 Basically, this method utilizes the same educational style that your child will experience at public school. But of course, they will have the comforting and safe space of home to surround them as they learn. It also goes under the name of traditional homeschooling.
Perhaps your child prefers to work alone. Maybe you're often traveling, or you can't find a good school in your area that you wish your child to attend. If that is the case, then you might enjoy implementing this style. In a school-at-home homeschool, the parents will most likely try to recreate the public school setting with desks, posters, workbooks, and even a separate classroom.
Families who select this method enjoy it for its structure and familiarity. It won't put too much pressure on busy parents to recreate and redesign a completely new learning style. It can also be a great transition from taking a child out of public school to starting homeschool before switching to a new method. Or, it can be good preparation if your homeschooler will be returning to public school.
The parents will complete the lectures or find resources to provide their students lectures, and they will attempt to closely align themselves with a public school curriculum. Parents who choose this style will be able to find all of the resources they need online.
You can choose resources that are mostly based online or purchase textbooks and workbooks to use during the school day. You can find lesson plans to follow, and it really will not include too much planning or preparation.
Benefits
Parents who are new to homeschooling and have no teaching background love the structure of this method. They don't have to 'reinvent the wheel' and stress themselves out trying to redesign a whole new school for their child.
There are bountiful resources online, and you will be able to find whatever you need as well as the guidelines you need to follow.
This is perfect if you have any concerns about meeting all the homeschool regulations for your state. With this method, you do not need to worry.
There's no guesswork in how to prepare and implement lessons, quizzes, and assessments. You can find programs that will pretty much do everything for you.
Drawbacks
The only difference in this method is the fact that it is out of a public setting. Many parents choose to homeschool because they want to change the education style, and this will not be that method.
Most parents don't keep this as a long-term method for that reason.
It can be expensive because parents often buy a whole box set of the curriculum.
There is not as much flexibility as there is in other homeschooling methods.
If you're in a location that doesn't have stable internet, then your child could miss out on online classes or programs that you're using.
Conclusion
It's really a matter of taste. Parents who really enjoy the structure of traditional schooling but don't want their child to attend a public school or they don't have access to one, then this is a great method. You don't have to worry about your child fulfilling all of the requirements that they need according to homeschool regulations, which is a huge plus and a big weight off your shoulders!
Websites, blogs, & resources for the School-at-Home method
Homeschooling: Which Model is Right for You? – The Best Schools
Traditional Homeschooling – Time 4 Learning
Homeschooling Approaches: School-at-Home – Homeschool.com
Traditional School at Home, So What? – Blessed Learners
Homeschool Methods: Traditional School-at-Home – The Canadian Homeschooler
FREE School-at-Home Survival Guide – Homeschool to Homeschool
Complete Homeschool Curriculum Kits – Timberdoodle
Homeschool Curriculum Packages – Curriculum Express
Bob Jones Curriculum and Time 4 Learning – Time 4 Learning
Suggested books
The Ultimate Book of Homeschooling Ideas: 500+ Fun and Creative Learning Ideas for Kids Ages 3-12 by Linda Dobson
Homeschooling Methods: Seasoned Advice on Learning Styles by Paul & Gina Suarez
Check out our Homeschool Methods Explained Series
The following two tabs change content below.
Keri
Keri is a former elementary and middle school teacher who's worked overseas for 4 years. She loves to write and so decided to pursue her writing dream!