"The sky's the limit"! "The world is your oyster"! These old maxims are definitely in tune with the next homeschool method on our list. Next up we have Homeschool Methods Explained: Worldschooling.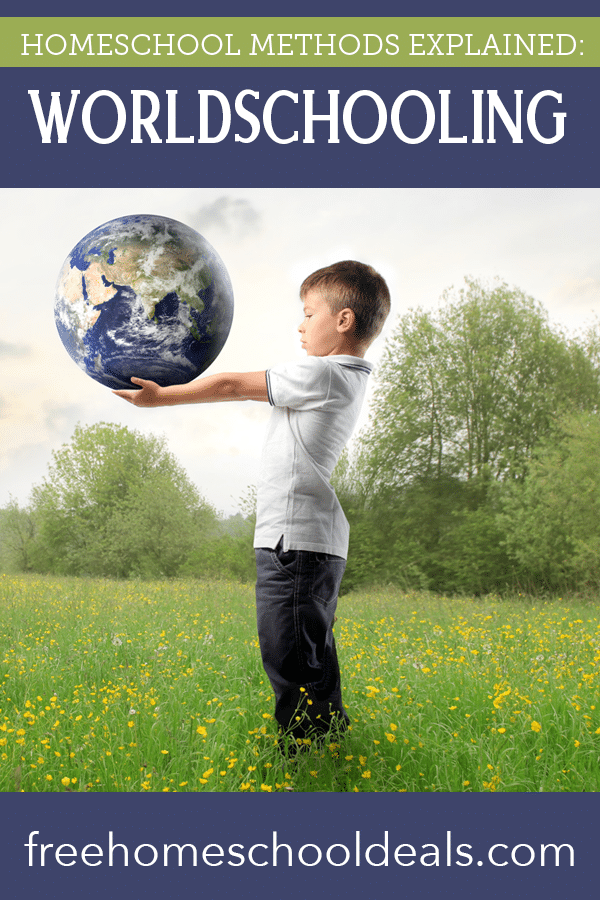 What better way to learn all about the world than to see it first hand? Worldschooling is growing in popularity because it is using and focusing on life experiences to teach as opposed to lectures, quizzes, and textbooks. Roadschooling is very similar in this respect, but in this case, the families will travel to different countries.
Worldschooling is definitely not a curriculum; it's more like a lifestyle. There is no one exact way to do worldschooling because each family is different. Each family's ability to do worldschooling is different and so are their child's needs.
You can even do worldschooling for a portion of your child's education. Even one year could help make a "world" of difference in your child's outlook and understanding of the world. But, to give you a little guidance, here are a few examples of what some worldschooling families do:
–The family actually lives overseas in one country. They put their child in a local school there in order for them to experience the culture and maybe even become bilingual.
-The parents have online jobs that they can take anywhere, so they travel around, staying in places for short or long periods and build their experiences from there.
-The children are homeschooled, and the parents take trips to foreign countries often as well as explore their own communities (similar to roadschooling or unschooling).
This method is totally child-led, and parents are the guides and faciliators, helping their children build on the knowledge they gain as they travel and apply it effectively. Parents who are choosing to do worldschooling must fully commit to it in order to find rich and rewarding experiences for their children to really piece together an well-rounded education.
And just like roadschooling, while you're traveling or in a place for a long time, break out the books and get to work on subjects like math, writing, and research. You will need to figure out what the regulations are for your area and make sure you're fulfilling all your child needs to do! Now, get out there and see the world!
Benefits
Your child gets real-life hands-on learning experiences that most children don't get to have. They can actually see first-hand what they've been learning about.
Your schedule is totally flexible and each day can be an exciting bundle of activities! No bells, no set times, nothing!
You get to meet new people and make friends from around the world, and your child will learn how to talk to new people and work with people from different backgrounds.
There is a much great likelihood your child will become bilingual.
Drawbacks
It can get very expensive as you move from place to place and build experiences into your times in different places.
You are a family unit on your own. It's great to meet new people and make new friends, but your family could miss loved ones at home.
Your child may not get to pursue their hobbies and get involved in an extracurricular activity.
Because you're moving around a lot, you won't be able to take many things with you. That's always a frustration when you can't get what you need or don't have a lot of your prized belongings with you.
Conclusion
This style of education is not for everyone. It really depends on you as a family and what your personality as a whole is. If you all love the idea of moving around, seeing new places and having fresh experiences to build your education, then this is the method for you! But, if you'd rather take bits of this method but remain at home, that's up to you.
But no matter what you choose, the world is a wonderful classroom. If you choose worldschooling, you can guarantee that your child will gain knowledge, skills, and idea they won't ever forget.
Websites, blogs, & resources about Worldschooling
Worldschooling: How to Start & How to Afford It – Time 4 Learning
What is Worldschooling? – World Family Travel
Worldschooling: What Is It and What Can We Learn From It? – Open Colleges
What is Worldschooling? – Family Adventure Summit
The Pros and Cons of Worldschooling – Little Green Globetrotter
The Definitive Guide to Worldschooling – Nihao and Namaste
Book suggestions
World Schooling: How to Revolutionize Your Child's Education Through Travel by Ashley Dymock de Tello
The Road Taken: How to Dream, Plan, and Live Your Family Adventure Abroad by Michelle Damiani
Exit Normal: How We Escaped with Our Family and Changed Our Life – Domini Hedderman
Check out our Homeschool Methods Explained Series
The following two tabs change content below.
Keri
Keri is a former elementary and middle school teacher who's worked overseas for 4 years. She loves to write and so decided to pursue her writing dream!