If your family are full-time travelers and want to use the world as your child's classroom, then you will absolutely love this next method! Here is Homeschool Methods Explained: Roadschooling!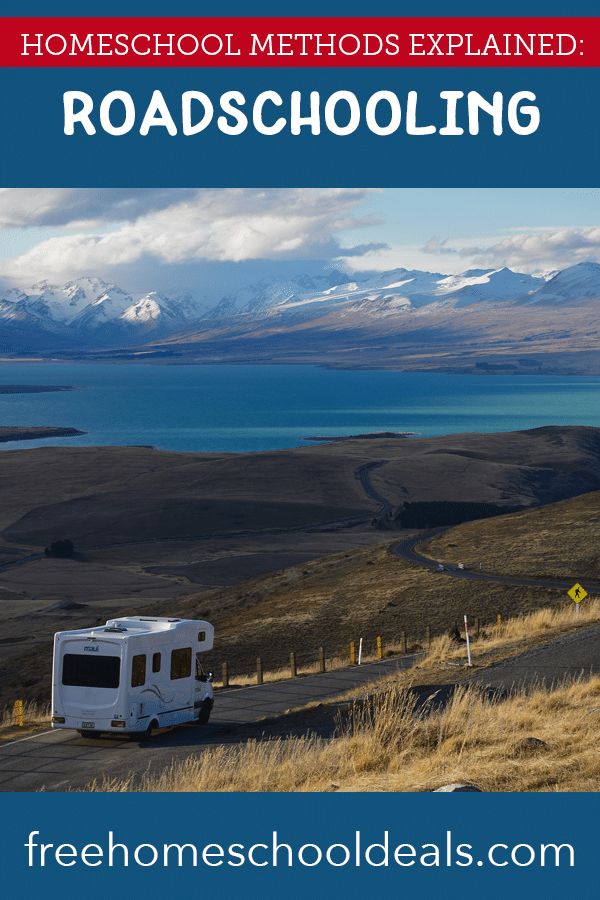 Who says that life has to look a certain way? Who says learning has to be done only within the same four walls whether its in a classroom or your home? You could give something just a little bit radical a try if you and your family are able to do so. Why not try Roadschooling?
Roadschooling is using travels and experiences to give your child an amazing education that will help them become wonderfully well-rounded. As you travel, you can pick and choose what teaching methods you'd like to employ, but you're always searching for that outside experience as your main source of lessons.
For example, you can go for a hike with your children and practice observation skills as you go. They can learn to observe, to record, and later, to follow it up with research to create a real-world project.
You can use driving time to catch up on math skills in workbooks, but then also apply them to real life when you pick up groceries, buy gas, or go clothing shopping. Instead of just reading about a historical event in a book, your child can visit the historical site where the event took place!
Take advantage of all of the opportunities that you face as you travel as a family. Spend a day reading. Have your child plan an excursion such as a kayaking trip. Allow them to meet new people along the way. Read the newspaper. Use a tree and flower guide as you take walks, hike, or go camping. Practice money management as you plan meals, go shopping and think about gas usage. Sit under the stars and discuss constellations and astronomy.
There are so many ways you can give your child learning experiences with Roadschooling. You can get so creative, and you can also give them the reins to find things that they love and wish to explore further. But, just be aware: Roadschooling families are still subject to homeschool regulations. So, you will need to register in your "home state" and follow what regulations are in place there.
Benefits
Your child will have once-in-a-lifetime experiences that they will cherish forever. You are not subject to a schedule, and your life will be a lot more flexible and stress-free.
Your child will gain skills and knowledge that they would never really be able to achieve in a traditional classroom.
Drawbacks
It's not possible for everyone, nor is it really feasible for everyone to do it all through their child's school years. You will need to do a bit of financial planning to get ready to go full-time into roadschooling, or you, as the parent, need to find a job you can do from anywhere.
You need to purchase your own supplies and make sure your traveling RV is fully stocked with whatever you'll need to use along the way!
Conclusion
If you are able to do this method, then it could be an exciting adventure for both you and your child. You can put all of the pressures of a "normal" daily life behind you and use the world as your child's classroom. You will be amazed at what results you will see in your child's learning!
Roadschooling blogs, websites, resources
Fulltime Families – This is a wonderful group to gather information about living on the road fulltime and homeschooling. If you choose to, they have a membership group with tons of great Fulltime Families activities and meetups, plus some exclusive discounts!

Roadschooling Resources for On the Go Families – Families On the Road
Roadschooling: Laws and How To – Time 4 Learning
Roadschooling: How To Homeschool While RVing – Full-Time Families
Ultimate Guide to Roadschooling: How To Start + What To Teach – Nomads with a Purpose
Roadschooling Moms: Where Education Meets Adventure – Ultimate Homeschool Podcast Network
Roadschooling: What to Keep in the Car – The Homeschool Mom
Roadschooling: Our Journey and the Pros/Cons – Freely Roaming
Suggested books
Roadschooling: The Ultimate Guide to Education Through Travel by Nancy Sathre-Vogel
RV Travel on a Budget: A Mother and Son's Guide to Roadschooling the USA by Juniper and Rockett Ridge
Growing Up Roadschooled: Stories, Lyrics, & Lessons Learned from Full-Time RVing and Life After Roadschooling by Kelsey Henry
Check out our Homeschool Methods Explained Series
The following two tabs change content below.
Keri
Keri is a former elementary and middle school teacher who's worked overseas for 4 years. She loves to write and so decided to pursue her writing dream!