Are you a traveling family who lives overseas and doesn't have access to the schools you want? Or maybe your child prefers to learn on their own from home, but you don't have the time to be their teacher? Then, you will love this homeschooling method! Here is Homeschool Methods Explained: Online Homeschooling!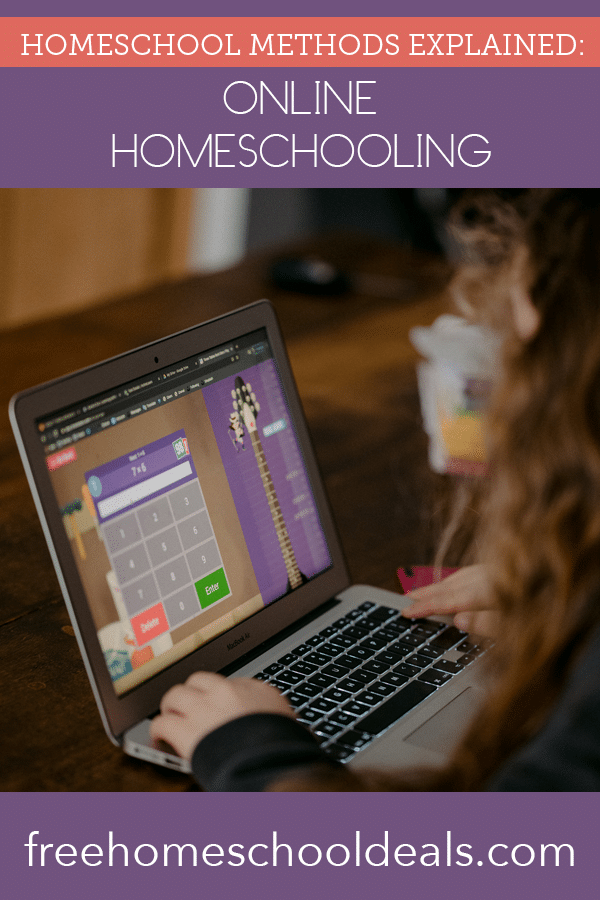 Parents love this online homeschooling because they don't have to worry about what their child is learning or if they're meeting state standards. Their child will also be working with certified teachers. It can be an almost hands-off experience for parents because there are plenty of online programs out there that are tried, tested, and loved by thousands of homeschooling families!
A lot of parents choose a mixture of homeschooling methods. For example, the parent might prefer to teach their child literature: writing, reading, etc. but will turn to online homeschooling for math, science, and more. It's a great method to use piecemeal because you can pick and choose from such a plethora of resources.
In addition, a lot of other homeschooling methods lend themselves to online learning. For example, Time 4 Learning is an online homeschooling program that offers many online resources for a variety of homeschooling methods.
Benefits
It takes little work on the parents' part, and they can feel confident that their child is working through a regulated curriculum and meeting the standards.
There are so many well-rated programs, apps, and other resources that they will not have to worry about not finding what they need.
Being online brings in a homeschool community that the family might not be able to find if they choose a different, non-online method.
Their children will be taught by a certified teacher.
Despite the fact that they're still online completing classes, your child will be able to work at their own pace and create their own schedule.
Your child will get a lot of practice using different technology that will help prepare them for the future.
Many parents choose to homeschool because they want their children to learn in a non-traditional environment. Online homeschooling will usually still provide learning within a traditional curriculum.
It's a lot of time using technology that does not fit with a lot of homeschooling families' missions.
Conclusion
Online or virtual homeschool is a great option for kids who love to work from home or parents who want their child to be homeschooled but don't want to have to worry about their child getting what they need. There are so many wonderful online options out there, and there are so many other families who are on this journey with you!
Websites, blogs, resources, & online programs!
Homeschooling Online with Time 4 Learning – Time 4 Learning
Online Homeschooling – Accredited Online Schools
8 Best Online Homeschool Programs – Schoolhouse Teachers
Why I Switched from Homeschooling to Online School – Connections Academy
Free Full Online Homeschool Curriculum Options – How to Homeschool for Free
Professional Online Homeschool Courses for Homeschool Students – Power Homeschool
Online Homeschooling – Bridgeway Academy
Suggested Books
The Online School by Brooke B. Eisenbach & Paula Greathouse
Virtual Schools: Planning for Success by Zane L. Berge & Tom Clark
Saving Schools: From Horace Mann to Virtual Learning by Paul E. Peterson
Check out our Homeschool Methods Explained Series
The following two tabs change content below.
Keri
Keri is a former elementary and middle school teacher who's worked overseas for 4 years. She loves to write and so decided to pursue her writing dream!