As a homeschooling parent, on what do you want the focus of your homeschooling to be? Why are you homeschooling and what problems did you have with conventional education that you wanted to make a transition? To help guide you on your path of homeschool methods selection, check out ourHomeschool Methods Explained: Montessori.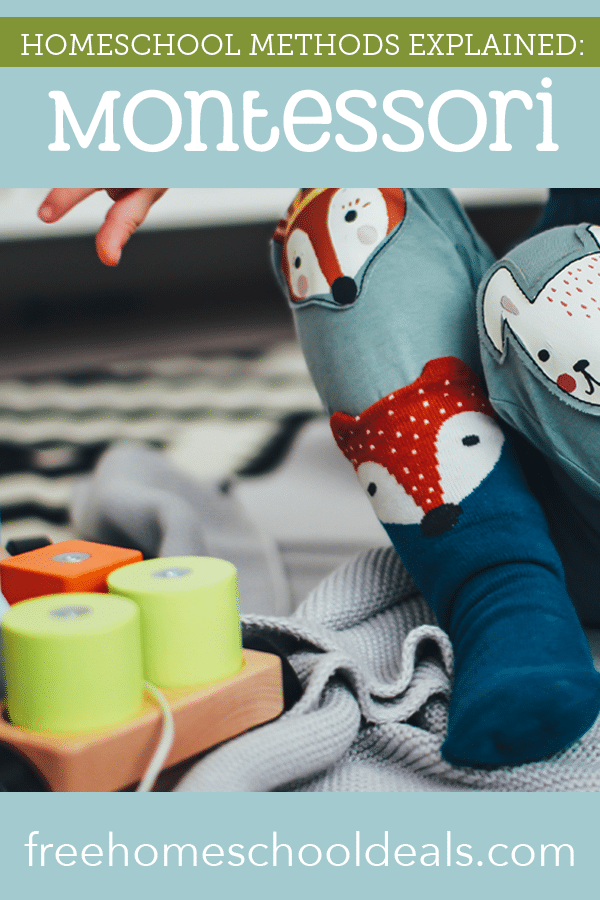 Maria Montessori was both a doctor and educator in Italy. She was living and working in the late 19th and early 20th century and really focused on how children learn and what is the best possible way to help them learn. This method is completely child-centered, and it believes that each child is different in who they are and how they learn.
Children should experience and explore their world, not simply be stuffed with knowledge. Dr. Montessori believed that people should be given purposeful work to help them learn. You can find this same belief in other homeschooling methods such as unschooling. A Montessori educator should be providing tools and opportunities for children to explore their interests as well as begin their learning journey. They use different tools such as plastic letters, toys, counting blocks and more to create activities for the child to learn.
This type of education style focuses on these areas: Practical Life Skills, Mathematics, Sensory, Language, and Culture & Science. So, when you go to set up your learning area or classroom, make sure there are tools and experiences available for each subject area.
A child who is raised under a Montessori system should be able to work independently, self-regulate their behavior, and be constantly curious about the world. They learn from their educators, so you, as the parents, must be their guides. Model the behaviors you wish your child to exhibit.
Dr. Montessori's goal was that children should be prepared through their education to go out into the world with the skills necessary to be independent thinkers and be able to regulate themselves. This method is especially catered towards younger learners.
Benefits
This is hands-on learning at its finest. Your child will be able to explore the world using wonderful hands-on activities using manipulatives and organized activities that help them retain skills and concepts.
There is a very low emphasis on the use of technology such as TV and computers, especially when the child is very young. So, your child gets the opportunity to develop their curiosity and imagination.
Children will gain the skills they need to regulate themselves and their behavior and learn to work independently since they are allowed the freedom to discover and explore.
Because this is a method and not a curriculum, as a parent, you can take this method and make it your own in your own classroom. Find the resources you need online and away you go!
Since the learning is focused on a child's level rather than their age, you can have a functioning homeschool classroom with multi-children homes.
Drawbacks
This is a lot of work on the parent's end to plan, find, and create their own resources as well as build and design the learning space.
High-quality manipulatives can cost quite a bit of money.
It can be stressful to know what your child should be learning as they go along because there is not a prescribed curriculum. So, it takes effort on your part to find the materials that you need.
Conclusion
This is one of the more popular homeschool styles out there. Parents often at least use it partially and then mix it with other styles as their children get older. If you want to help foster independence, self-guided learning, and creativity away from the influence of technology overdose, then this is the method for you!
Montessori websites, blogs, and resources!
Montessori Homeschool – Time 4 Learning
Homeschool Methods: Montessori – The Canadian Homeschooler
Montessori Homeschool Program – Montessori Training
Montessori Programs & Materials for Homeschoolers – A2Z Homeschooling
Montessori: The Ultimate Guide to Homeschooling Styles – Fearless Homeschool
Montessori Homeschooling – Montessori Edu
The Overwhelmed Mom's Guide to Montessori Homeschooling – Living Montessori Now
Suggested books
Dr. Montessori's Own Handbook by Dr. Maria Montessori
Teaching Montessori in the Home: The Pre-school Years by Elizabeth G. Hainstock and Lee Havis
Teaching Montessori in the Home: The School Years
Montessori At Home Guide: 101 Montessori-Inspired Activities for Children Ages 2-6 by A.M. Sterling
Check out our Homeschool Methods Explained Series
The following two tabs change content below.
Keri
Keri is a former elementary and middle school teacher who's worked overseas for 4 years. She loves to write and so decided to pursue her writing dream!