Are you thinking about starting to homeschool your children or trying to think of the best methods to input in your own currently running homeschool? Well, you have plenty of choices, but first, FHD has put together a description of the classical method: what it means, what it entails, and what examples there are out there of it, to help you decide if this method suits your child's learning style! Take a look at Homeschool Methods Explained: Classical.
This method is one of the most popular choices by homeschooling families. And, it often works well with Christian homeschoolers as it applies many biblical concepts and can involve Latin and Greek texts. The Classical Method of teaching was developed by a Latin writer. His name was Martianus Capella, and the method he devised is composed of three parts. They are called the Trivium.
Every teaching method has an overall goal, right? This one is to teach children to think for themselves, or become "independent thinkers". Every homeschooling parent wants their child to leave their homeschool knowing how to think on their feet. You want them to be prepared for future education, jobs, and life with the skills they've learned in your homeschool.
The process flows something like this, and we are constantly doing this. Your child will gather the information and knowledge that they need, begin to arrange and order that knowledge, and then apply it to practical situations. These three process points are organized as follows: The Grammar Stage, The Logic Stage, and the Rhetoric Stage. You can also think of them as Knowledge, Understanding, and Wisdom.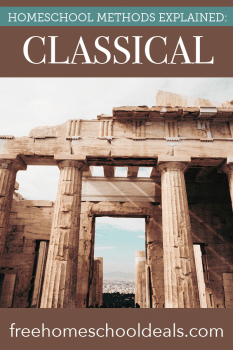 The Grammar Stage:
This is the beginning stage of learning. In this stage, you are teaching your child foundational and concrete knowledge and skills that they can take with them through the next stages. In this part of the learning process, children take things at face value. You can fill them with all of the knowledge they'll need, and they'll accept it.
So, your focus in your teaching will be on repetition and memorization. Take math skills for example. Constant practice and repetition of these skills will solidify them in your child's mind at this stage. Lay the groundwork for their future in this stage by supplying them with the knowledge they need. Your are helping your child develop their abilities in reading, writing, observing, listening, and measuring especially. This stage can last around three years.
The Logic Stage
You can tell when your young learner has arrived at this stage because they will begin to ask "why?" whereas before, they would just accept what is given to them. You can be frustrated by this OR you can use it to build and develop your child's knowledge in amazing ways.
In this stage of learning, you want to develop your child's ability to separate between the subjects and analyze and assess them. Think of this as your investigation stage.
During this second three-year period, begin to develop activities that allow your child to ask why and then help them to make their own conclusions about certain things. These can include research projects, outdoor skills, and more!
The Rhetoric Stage
At this stage, your child will be using what they've learned in the last two stages: concrete knowledge and the ability to follow their own conclusions to work through this third stage of learning.
The focus here in this stage is learning how to communicate. So, there will be a lot of essay writing, speaking, discussion, debate, and more. Your child will be taking knowledge that they have, building on it, analyzing it, and presenting it with their own opinions attached.
A lot of their focus will be on ideas and philosophy. Now your child will be applying their knowledge and skills in practical situation, learning to work and think independently.
Their wisdom will always continue to grow throughout their lives, but now that they've reached the end of the Trivium, their three stages have united as one. They have the knowledge, they developed the understanding, and they've fostered wisdom that they can take with them as they move on.
Pros
Every method has both positives and negatives. But considering this to be one of the most popular choices of methods, the pros are definitely are larger draw.
People love it! It's been used for so long that it has been well tested and proven to be successful.
You can find so many resources out there to help you as you begin to implement. You won't be left floundering.
Not only can you find a wealth of resources, you can also find a wealth of connections to help you and your child. There are so many other families that are using this method, so you can get into communication with other parents, groups, or co-ops for support.
Reading is a huge focus, and your child will be required to read classics that will have been used for years to stimulate and inspire. Your child will emerge as extremely well-read, a rare achievement in today's world.
There is also a great focus on language learning, so your child will get the chance to explore both ancient and modern languages.
Critical thinking is an essential skill to be able to function as an independent thinker. Critical thinking, analysis, and logic will be highly developed in your child if you employ this method.
Cons
Because reading is such a focus, there will be a lot of reading to do! That can be a drawback for some students or parents and can be a time constraint. And if your child has reading issues, then that could also cause problems and stunt the progress of the method.
There is the argument that some of the resources or styles are too old and not as applicable today, hence the use of the word classical. For example, learning Latin may be prestigious and add to your child's understanding of language, but they may not be able to use that often in the real world.
There is less time spent on other subjects as well as interactive learning due to the heavy focus on academic study. So, if you like this method, but still wish to add in other parts from different methods, you could use a mixed approach.
Conclusion
Overall, the classical homeschooling method is a tried and true teaching style that is employed by many homeschooling parents with great success. It's popular, it's effective, and your child will leave your homeschool armed with the knowledge, understanding, and wisdom they will need to take on the world.
Great resources for the classical learning method:
Time 4 Learning – Classical Learning: Get the information you're looking for about this method as well as links to Time 4 Learning's related resources that can help you put this method into action at your homeschool.
They Call Me Blessed – Our Relaxed Classical Homeschool: Get some ideas on how to implement this method into your homeschool from Ana!
Great Homeschool Conventions – The Classical Homeschooling Style: Find background information on the style as well as read a guide on how to decide whether or not its right for your family.
The Best Schools – Homeschooling: Which Model is Right for You?: Take a look at all the different methods and their pros and cons to help you decide if the classical style is your style for your homeschool.
Homegrown Learners – 100 Resources for the Classical Homeschool: This site is an absolute gem for those who are interested in a classical method. Find information, links, ideas, and so much more!
Classical Conversations – What is Classical Conversations?: Many homeschooling families are enrolling in this program to supplement their classical education.
Life Abundantly Blog – A Day in Our Gentle, Classical Homeschool: See the method being put into action in this homeschool family!
Suggested Books:
Supplement your knowledge in this homeschooling style with these popular and well-reviewed books you can find on Amazon!
Check out our Homeschool Methods Explained Series
The following two tabs change content below.
Keri
Keri is a former elementary and middle school teacher who's worked overseas for 4 years. She loves to write and so decided to pursue her writing dream!