On the hunt for the best possible homeschool method for your child? Let us help you out! Take a look at Homeschool Methods Explained: Waldorf. This just might be the method for you!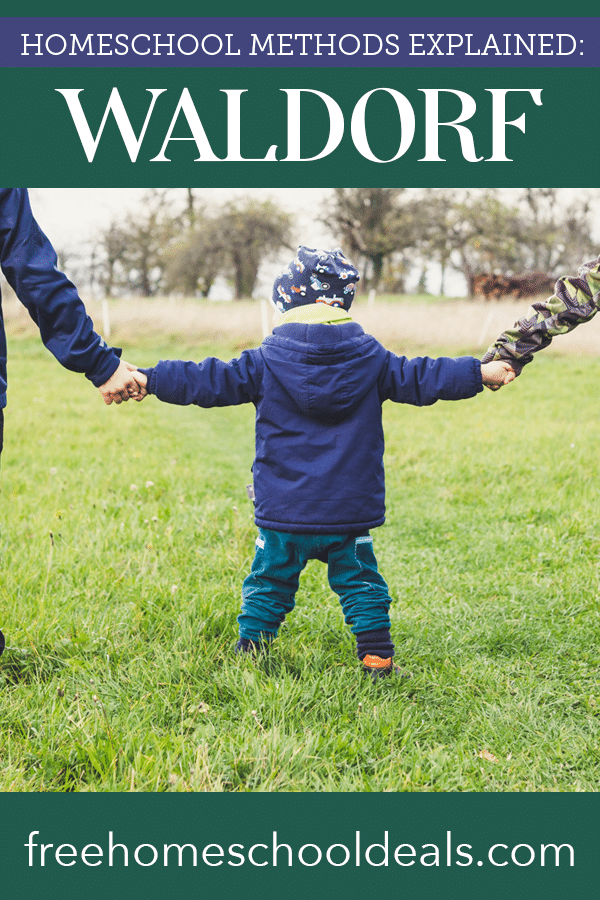 The Waldorf method was made popular by Rudolf Steiner from Austria, at the turn of the 20th century. Similar to other homeschool methods, it's broken down into different levels or stages and meets the child where they are at. The stages are broken down into sections: early education (up to 7 years of age), elementary education (7-14), and secondary education (14 and up).
The focus is different in each stage, but they link together and help the child progress and transition smoothly from stage to stage. The beauty of this method is that it believes in holistic education, developing a child's mind, body, AND spirit. Therefore, you will find that there is a focus on teaching children morality throughout each stage.
The early education stage is about allowing your child to explore their world. Give them time to play, discover, and enjoy the world around them. It should be an active time, focused on giving your child hands-on experiences.
There is no real formal instruction during this time. Let them play; give them a routine, and get them to help with chores both inside and outside of the house. Read together and allow them to explore books on their own. Provide them with toys and tools to spark their imaginative play. Do not allow them to sit in front of the television, computer, or iPad.
During the elementary stage is when they begin to explore the world of academia. They will learn to form letters, read, and build new skills. They will use main lesson books that are broken down into weeks of units. Often it is topics that are under an umbrella theme, similar to other methods such as unit studies.
This is a time for reading fairy tales, legends, and epic stories that help your child's morality build and develop. They will also create what is called a 'Good Book' in which they record all of the activities, projects, etc. that they've created for each topic. It could be stories, drawings, poems, whatever they've worked on throughout their learning. This helps to develop their imagination and artistic ability, connecting with their spirit.
As they move into the secondary stage, the learning becomes more rigorous. But even though they've begun to use textbooks and occasionally the internet to supplement their education, they need to keep making their own 'Good Books'. The Waldorf method is truly a liberal arts education: time is given to each subject and children aren't allowed to simply focus on one because they are good at it.
There is a curriculum that goes with this method for each of the grades that help your child progress easily from step to step. So, if you decide to choose this method, you will be able to find all the resources and guides you need to create a full Waldorf homeschool.
Benefits
Because there is a focus on all subjects, your child will receive a well-rounded education.
Due to the fact that there is a focus on morality and spirituality, it is very simple to weave Christian lessons into the curriculum.
This method focuses on exploration and using the imagination, so it can work very well for those students who have trouble sitting still.
There is a focus on the arts and developing creativity, so your child will be able to express themselves in a myriad of ways they may not be able to in other education styles.
There is a curriculum that can guide you through as you help your children progress.
Drawbacks
This different style may not work for every child. Some children work better with more structure and scheduled lessons.
There is not a lot of technology used and many families do not agree with this or find it very difficult for the upper grades to use limited technology.
It could be expensive to find everything you need to teach, especially if you are homeschooling multiple children.
Conclusion
This particular method has recently grown in popularity. You can see that many Waldorf schools have begun to pop up around the nation! Many parents enjoy this method for its focus on imagination, curiosity, exploration, and the spirit of the child. There is a layer of teaching morality woven into the method that appeals to many families. If this is of interest to you, then you should give the Waldorf method a try!
Websites, blogs, & resources for Waldorf
Waldorf Homeschool – Time 4 Learning
Waldorf Homeschooling – The Homeschool Mom
Just Starting with Waldorf Homeschooling? – Waldorf-Inspired Learning
Waldorf Homeschool Curriculum – Oak Meadow
Exploring Homeschool Methods: Waldorf – The Canadian Homeschooler
Suggested books
The Waldorf Homeschool Handbook by Donna Ashton
Understanding Waldorf Education: Teaching from the Inside Out by Jack Petrash
Waldorf Education: A Family Guide by Pamela J. Fenner and Mary Beth Rapisardo
*You will also find the curriculum materials you need for Waldorf on Amazon as well!
Check out our Homeschool Methods Explained Series
The following two tabs change content below.
Keri
Keri is a former elementary and middle school teacher who's worked overseas for 4 years. She loves to write and so decided to pursue her writing dream!