FHD's Homeschool Methods Explained journey is coming now to a close, but we have one final method to tell you about. For a low-cost, easy-to-use method, check out Homeschool Methods Explained: Moore Formula!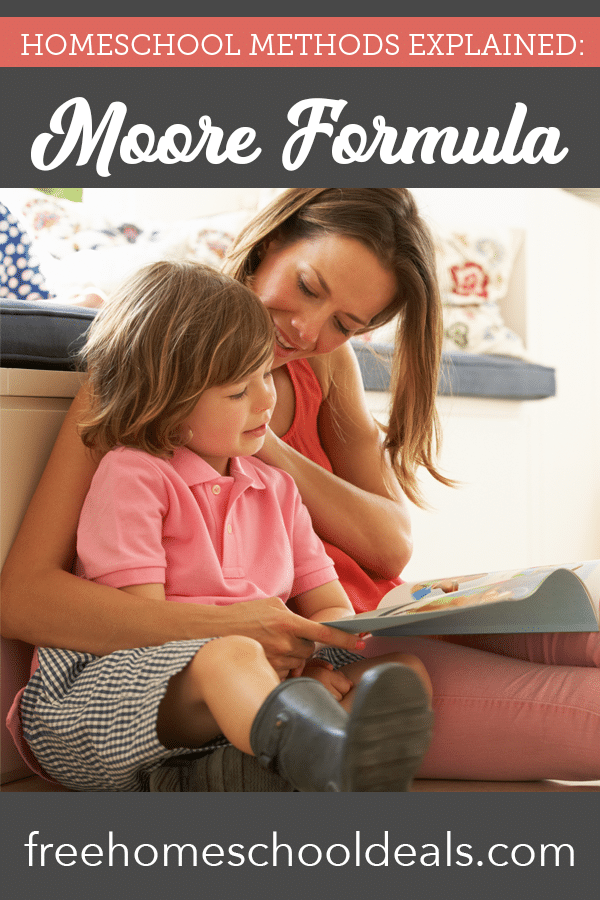 This is a wonderful homeschool style for parents who are looking for ways to get out of traditional, stressful, education that focuses on forcing the child to learn perhaps before their time rather than guiding them towards their interests and waiting until they are ready. It also works great for Christian homeschooling families as there is a large focus on family interaction, hard work, and morality.
The Moore Formula was developed by Richard Moore, Ph.D. and his wife Dorothy in the 1960s. They were deeply interested in education styles and after extensive research by Richard in the field of education, they turned their minds and focus to home education. His book Better Late Than Early started a homeschooling movement!
The Canadian Centre for Home Education states that "This educational philosophy is inspired by the educational principle established by the Adventist pioneer, Ellen G. White: an education should use the intellectual faculties as much as the manual and spiritual. Therefore, the Moore Formula is based on the concept that a program divided between the study of science, math, and language is a way of earning a living, stimulating creativity and forming character."
A child can learn things at home that they wouldn't be able to in a conventional school, or they might not even have time to do the same activities. With the Moore Formula, the focus is in the home. The child communicates mostly with the family. They are involved in daily chores that use manual labor; they work on community projects, have a regular schedule, and participate in family devotions.
The Moore Formula advises that a child not begin formal education until around 8 or 9. The formula believes that it is better not to force formal learning too early, and this is a perfect age to begin. But, before then, your child will have gotten used to schedules as well as life skills and tasks.
Once you begin formal subjects, you will still create opportunities for your child to be involved with community projects and manual labor. As the parent, you will act as their social and moral guide, and the home should be a loving place of learning and understanding. Workbooks can be used from different curriculums, but they are not the sole focus of their education.
The daily structure looks something like this: studying will take place daily ranging between a few minutes to several hours. It depends on your child's level. The child should complete manual labor each day at least as long as they've studied, and they should do home projects or volunteer work an hour or so per day.
Benefits
Your child will not be forced to begin learning too early which could impede your child's future progress, reduce their motivation, or squelch their creativity. They will start formal education right at the proper time!
The focus is on life skills, the community, hard work, and developing moral and social understanding.
You can create learning opportunities that center around your child's interests.
Your relationship as a family will grow strong.
Despite the low-stress style, your child will still have a scheduled and structured environment. They won't be left to their own devices!
Drawbacks
Your child could appear to be "behind" other children of their age since they don't start formal education until a bit later. It could cause some confidence problems.
In this method, you are intended to be the sole guide and educator for your child. Their eyes are always on you, and it could be a lot of pressure for busy parents!
Conclusion
This is a very popular homeschooling method for families who want to teach good values that are often lost in traditional education. If you wish to allow your child to work at their own pace and level, build life skills and a heart for volunteer work, then this is the method for you and your family!
Websites, blogs & resources for Moore Formula
Moore Formula – Moore Homeschooling
Moore Formula – The Homeschool Mom
Raymond & Dorothy Moore: Homeschool Pioneers – Canadian Centre for Home Education
The Moore Formula Homeschool Method – Homeschool Learning Network
Implementing the Educational Methods of Dr. Moore – SDA Homeschooling
The Moore Foundation and Academy – Moore Foundation
Suggested books
Better Late Than Early: A New Approach to Your Child's Education by Raymond S. Moore, Dennis R. Moore, and Dorothy N. Moore
Home Grown Kids by Raymond Moore and Dorothy Moore
The Successful Homeschool Family Handbook by Richard & Dorothy Moore
Check out our Homeschool Methods Explained Series
The following two tabs change content below.
Keri
Keri is a former elementary and middle school teacher who's worked overseas for 4 years. She loves to write and so decided to pursue her writing dream!