So, you've decided to homeschool! Or maybe you've been pushed into it, and now you're really excited about getting started! The only problem is, there are so many choices out there about how to do it.
Right now, your mind might be flooded with questions like what do I want my homeschool to look like? How do I want my children to learn? What can my family afford? What style will my children most enjoy and most flourish in?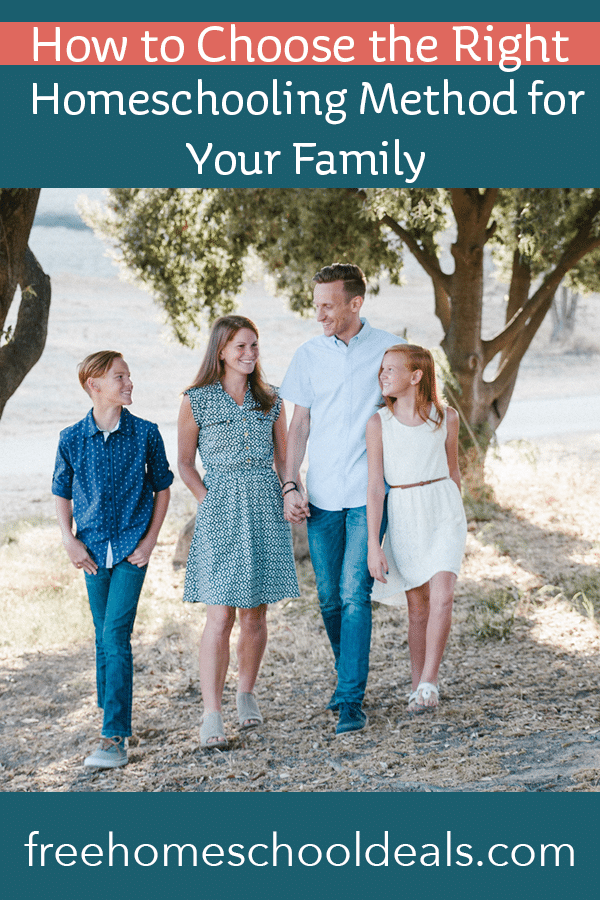 The questions are endless. But, how about we spin things around to a more positive angle. There are so many options for you to choose from. You are spoiled for choice! If you have a style in mind, you will most likely be able to find just what you need!
But before you choose a homeschool method, here a few good points to keep in mind when you are thinking about How to Choose the Right Homeschooling Method for Your Family.
Think about your family situation
This is probably the first consideration you should have when thinking about homeschool methods. Are you a traveling family? Do you live overseas? Do you have a large budget for homeschooling materials? Once you have the answer to these questions, you can begin to sift through a few methods. For example, if you are not a traveling homeschooling family, you would not choose Roadschooling as your method.
Also, think about yourself and your children. Do your children have special learning needs that you must consider when choosing? Are you willing to spend a lot of time guiding and instructing your child? Do you have time to create extensive plans and schedules and activities? For example, if you're a busy parent who works from home or part-time, you might consider Online Homeschooling.
Are you a religious family and wish to include those themes and lessons in your child's education? You might consider Charlotte Mason or the Moore Formula. You can also think about your own educational philosophy and how you wish to pursue learning in your own home.
Check out your state's requirements
Maybe you have a few ideas in mind for what you want your homeschool style to be. Start researching your state requirements, so that you can be certain your style will fulfill all the guidelines and regulations. You may want to implement a more non-traditional style, but you just need to check to make sure your child's progress remains on track. Check out Homeschool Laws in Your State.
Observe your children
Despite the world's current situation, it is not advised that you jump into homeschooling without a lot of thought and preparation. Before then, you should observe your children to try to find out which method would work best for them and their learning. For example, what are their interests? What motivates them and what doesn't?
Will they actually enjoy being homeschooled or they prefer to be with others? What skills have they already acquired, and what needs more focus? How will you fill in the blanks of their public school education (such as extracurriculars, etc.) By watching your children and thinking about their needs and interests, you can select the best method or find an effective method mixture.
Research, research, research
Don't underestimate the value of a good bit of research! Start here and inform yourself about the types of homeschooling. You can sift through the most popular methods and see what appeals to you. Find out just how much work you will need to do to prepare and build this style in your homeschool.
Figure out how much money it will cost roughly for each method per year. Find research that supports the effectiveness of the method, and find reviews from other families that have successfully implemented the method. Research is a great way to give yourself the confidence to make an informed choice.
Join a homeschool community
Homeschools are not islands. Even though they are not involved in public education, homeschooling parents need support, help, and encouragement! There are so many websites to find homeschool communities where you can share your concerns, ask questions, and get links to great resources. Start by checking out Homeschool.com to find homeschool support groups and events near you!
Use trial and error
Once you're ready to get started, you may find it useful to do a little trial and error. Most homeschooling families grow and develop their methods as they go along. And many also use a mixture of methods to cover their bases for state standards as well as pull out the best of each method. So, do not feel bad if you try a method and find it doesn't work for you. Try a new one or blend methods together, and start again!
Believe in your choice!
Homeschooling families sometimes get a lot of flack for what they have chosen to do. Other families might think they are just letting their kids 'do whatever' or are not giving them 'proper education'. But, as you very well know, this is simply not true! If homeschooling your child is important to you, and you feel it is the best choice for your family, then believe in it! Go with your gut and start out. Assess your child and your family situation, beef up your knowledge on different methods, then make your choice and enjoy the journey.
Check out our Homeschool Methods Explained Series
Other websites, blogs, & resources to help you choose!
Types of Homeschooling – Time 4 Learning
How to Choose the Best Homeschool Curriculum – The Homeschool Mom
Homeschooling: Which Model Is Right For You? – The Best Schools
7 Simple Steps to Choosing Homeschool Curriculum – Autistic Mama
How to Choose the Right Homeschool Curriculum – Homeschooling Along
Choosing a Homeschool Curriculum – Focus on the Family
Suggested books
102 Top Picks for Homeschool Curriculum by Cathy Duffy
Homeschooling Methods: Seasoned Advice on Learning Styles by Paul & Gena Suarez
The Everything Guide to Homeschooling: All You Need to Create the Best Curriculum and Learning Environment for Your Child by Sherri Linsenbach
Homeschooling in America: Capturing and Assessing the Movement by Joseph Murphy
Homeschooling: The History and Philosophy of a Controversial Practice by James G. Dwyer & Shawn F. Peters
The following two tabs change content below.
Keri
Keri is a former elementary and middle school teacher who's worked overseas for 4 years. She loves to write and so decided to pursue her writing dream!