Now, we finally get to arguably the most popular of homeschooling methods. This is the one that combines different styles to create its own beautifully balanced one! This is Homeschool Methods Explained: Eclectic or Relaxed!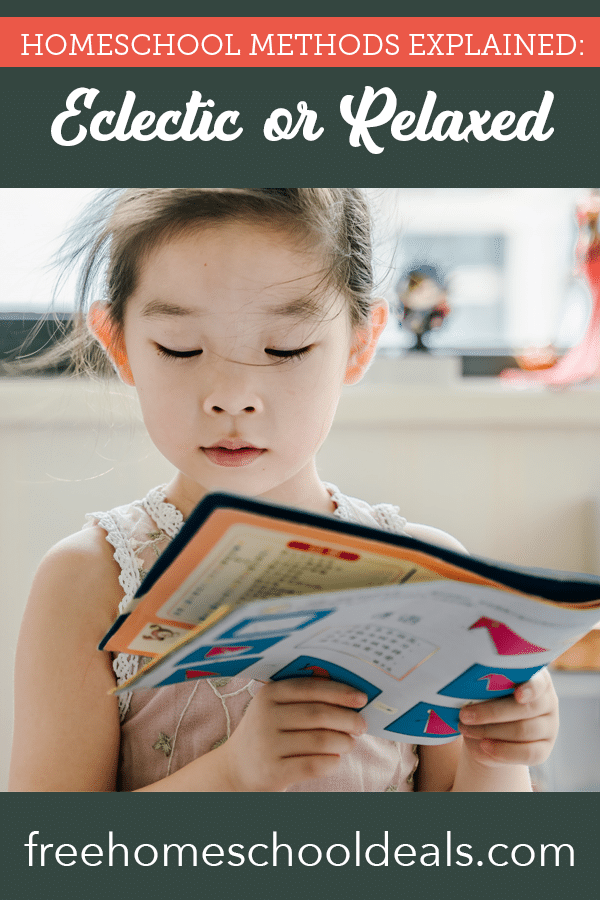 Homeschooling parents who choose this method mix between both conventional and non-traditional methods so that they can find the best of both worlds. So, they might use worksheets, textbooks, etc. for subjects like math and science, but then use another style such as unschooling for the rest of the subjects.
Parents are comfortable with this method because it gives them the feeling that they are covering their bases. They don't have to fully commit to just one method, and they can pull what they like from different ones to create a balanced education system that works for their family.
Because you're mixing and matching, you can create a customized learning plan for your child. For example, you might wish to use the Classical method and add classic literature to your child's reading list, but then you might switch to Charlotte Mason for science and have your child explore outdoors trying out their hypotheses.
Benefits
You can create a learning environment that fits your child perfectly and will help them progress in ways they might not be able to in a one-size-fits-all classroom.
This method is wonderful for gifted children and those who have some learning disabilities or even just children who can't sit still!
You have the flexibility to build your homeschool as you please. There doesn't have to be that same rigidity with other styles or conventional schooling. You rule the schedule; the schedule doesn't rule you.
This method works great if you have multiple children in your homeschool, and you can adjust your mixed and matched approach to fit each of your children.
Drawbacks
You can't simply jump into this style after you remove your child from a traditional school. It will take a lot of observation of your child to figure out how they learn best. And, you might want to test out a few different homeschooling styles first to see what works.
There is quite a bit of initial setup, but once you have things going, you can sit back and 'relax' and let it flow.
Since it's not so traditional and rigidly scheduled, this method could lend itself to schooling all year round. This might work for many families, but for some, it wouldn't be convenient.
Conclusion
If you don't like to commit solely to one style of teaching, or you don't find yourself or your child connecting with any one method, then Electic or Relaxed Method may be the right choice for you. You can enjoy a flexible homeschool style that takes away all the stress of conventional schooling and helps your child bloom.
Relaxed eclectic websites, blogs, and resources
Why You Should Choose the Relaxed Eclectic Homeschooling Method
Eclectic Homeschool: Curriculum That Works – Time 4 Learning
10 Reasons for Our Relaxed Eclectic Homeschool Method – Real Life At Home
The Eclectic Homeschooling Style – Great Homeschool Conventions
Exploring Home Education Methods: Eclectic/Relaxed (Mixed) – HSLDA
Suggested books
Relaxed Homeschooling: How to Unlock the Secrets in Books and Life's Hidden Curriculum by Christine Owens
The Relaxed Art of Eclectic Homeschooling by Amber Oliver
The Eclectic Homeschooler's Plan Book: Planner and Organizer – A 180 Day Plan by Sarah Janisse Brown
Check out our Homeschool Methods Explained Series
The following two tabs change content below.
Keri
Keri is a former elementary and middle school teacher who's worked overseas for 4 years. She loves to write and so decided to pursue her writing dream!