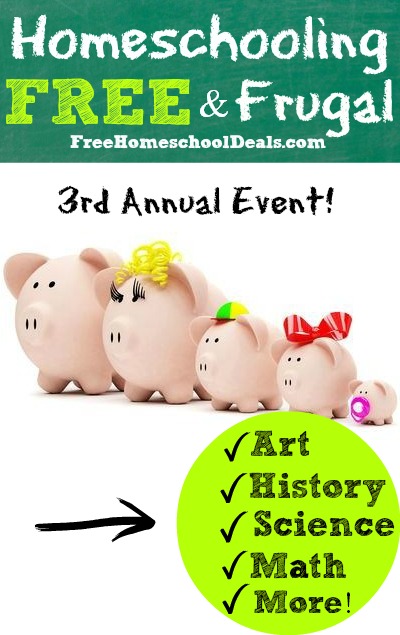 WELCOME to the 3rd Annual Homeschooling for Free and Frugal series!
What is the Homeschooling for Free and Frugal Series?  Every Spring I invite some of the most creative and resourceful homeschooling moms to share methods and tips for frugal homeschooling at its best. This year you're going to learn about saving on teaching art, resources for free history lessons, how to make science fun using everyday items in your home, creating memorable learning with free homeschool lapbooks and so much more!
3rd Annual Homeschooling for Free and Frugal Series
*All of the posts from the 2014 series will be found here.  Come back tomorrow for the first post!
Day One: How to Add Fun into Your Homeschool Lessons for Free
Day Two: College Scholarships for Homeschool High School Credit
Day Three: How to Teach Homeschool Art Without a Curriculum
Day Four: Finishing Out the Homeschool Year When You are Way Behind
Day Five: Homeschool for Free Using the LEGOs your Child Already Owns + FREE LEGO Writing Printables
Day Six: The Big List of Free and Frugal Bible-based Homeschool Resources
Free and Frugal Homeschool Art for All Ages
Day Seven: How to Teach History in Your Homeschool for Free
Day Eight: How to Write Your Own Homeschool Literature Study Guides for FREE
Day Nine: The Secret Ingredient Every Homeschool Should Utilize
Day Ten: 50 Homeschool Science Experiments (that cost next to nothing)
Day Eleven: Free (and unexpected!) Library Resources for Homeschoolers
Day Twelve: Free Homeschooling with Netflix, Amazon, and YouTube
Day Thirteen: Affording Single Mom Homeschooling
Day Fourteen: Frugal Ways to Teach Music in Your Homeschool
Day Fifteen: Frugal Homeschool Preschool
Day Sixteen: How We Homeschool for Next to Nothing
…more posts to come – check back each day!
If you're new to this series start with the 2012 Homeschooling for Free and Frugal Series:
Day One: How Our Family Began to Freely Educate
Day Two: Four Frugal Ways to Teach Preschool
Day Three: Our $50 Homeschool Year-Part One
Day Four:  Finding Cheap or Free Homeschool Curriculum
Day Five: How to Create Homeschool Printables
Day Six:  Don't Let Fear or Money Steal Your Joy of Homeschool 
Day Seven: Homeschooling on the Homestead for Free & Cheap
Day Eight: Frugal Homeschooling: A Lifestyle Of God's Best
Day Nine: Our $50 Homeschool Year (Part Two)
Day Ten:Tips for Planning Your Free & Frugal Homeschool Year
And then read through the 2013 Homeschooling for Free and Frugal series:
Day One: Free & Frugal Ways to Learn Art in Your Homeschool (as a bonus we also have 20 Do-It-Yourself Homemade Art Supplies for you!)
Day Two: Preschool for Free at Home
Day Three: Homeschooling for Free and Frugal on the Homestead
Day Four: 50 Free Bible Based Learning Resources
Day Five: Elementary Homeschooling for Free
Day Six: Six Nearly Free Ways to Learn a Second Language
Day Seven:A Day in the Life of our Free Homeschool
Day Eight: How Homeschoolers can Save Money by Waiving SAT/ACT/College Application Fees
Day Nine: Affording to Homeschool a Special Needs Child
Day Ten: Teaching Home Economics for Free
If you need more frugal homeschooling inspiration read through the growing collection of Homeschooling for Free and Frugal posts on Free Homeschool Deals!
Image credit: andresr / 123RF Stock Photo
The following two tabs change content below.
We are here to help families afford the homeschool life by providing the BEST homeschool freebies, deals, resources we can find & encouragement as we walk this journey together!
Latest posts by Free Homeschool Deals (see all)