Welcome back to the 2nd annual event of 10 Days of Homeschooling for Free and Frugal. You can read the entire series from the beginning on the Homeschooling for Free and Frugal series beginning post.
  This post is brought to you by Katie Hornor of Paradise Praises!
Learning a second language can open your eyes and heart to innumerable opportunities for growth. In spite of it being a high school requirement, I would recommend it to anyone! And if you can learn more than one language, great! You've just significantly multiplied your potential for life changing experiences and outreach opportunities!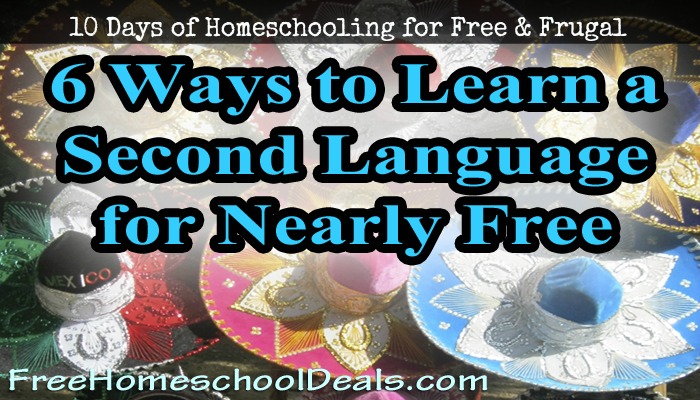 When I was in high school I became very interested in learning Spanish. I fell in love with Mexico and my goal was to live, work and minister there in the future. God has more than fulfilled that dream as my husband and are now doing what we love, in a country that we love, speaking the language that we love.
Here are the things I did (most of them free) to become fluent in my second language. These could apply to any language.
Take a Class – find a class at a local high school, community college, church, online, self-study, whatever you can find available in the desired second language. Some may have fees, but some will also be offered free. Take advantage of whatever formal training is available to you.
Teach English – If you volunteer to, or get paid to teach English to speakers of other languages you will by default learn bits and pieces of their language. Ask about opportunities to get involved with these programs at your local public elementary and high schools, community colleges and churches.
Make Conversation – If you know a native speaker of your desired language or if you know someone else who is also trying to learn that language, arrange a time to meet for conversation, where you strictly speak to each other in the desired language. This may be halting and feel unnatural at first, but as your vocabulary and confidence increases, this will be one of your best free language learning tools! You may also consider joining a sports team or other group that is made up largely of people who speak the desired language. I asked to be matched with a Spanish speaking roommate one semester in college and the language benefits of our casual conversation during the few hours a day we were both in the room together were huge!
Attend Church – Find a church hosting services in the desired language and attend regularly. Take notes to follow the speaker, write down the main points and the unknown words and phrases that you hear. Look up the unknown later in a dictionary, or ask a native speaker to explain it to you. I did this for several semesters and my grasp of the language increased dramatically!
Listen – Fluency in a language will not come until the ear has been trained to distinguish and interpret the unique sounds of the language. Regular listening to sermons, radio, audio books, movies, music etc. in the desired language will help you grasp the language sooner than if you had not done this.
Read – Often the eye can interpret the second language sooner than the ear or the tongue. Reading in the desired language is good practice. Look for words that are familiar and try to grasp the message of the text. Look up unfamiliar words in a dictionary or English version of the book/literature. There are many Bilingual Books and Bilingual Bibles printed so you can see both languages side by side. I still enjoy using my Spanish/English Bible because so often the other language adds meaning to the text or gives a fuller description to the passage.
If you are interested in learning Spanish, here are two great places to find free internet based resources:
This series is part of iHomeschool Network Hopscotch 2013.
Katie Hornor is an Educator, Writer, Speaker and Blogger making her home in Tropical Mexico. Her favorite things include peanut butter balls, elephants, and the hammock in her living room. She is a missionary wife, a homeschooling mama of 4, and author of Loving You Long Distance. She blogs for your encouragement at Paradise Praises and for Spanish Home Educators at Educando en el Hogar.
The following two tabs change content below.
We are here to help families afford the homeschool life by providing the BEST homeschool freebies, deals, resources we can find & encouragement as we walk this journey together!
Latest posts by Free Homeschool Deals (see all)