*This post was originally published on Apr 15, 2014.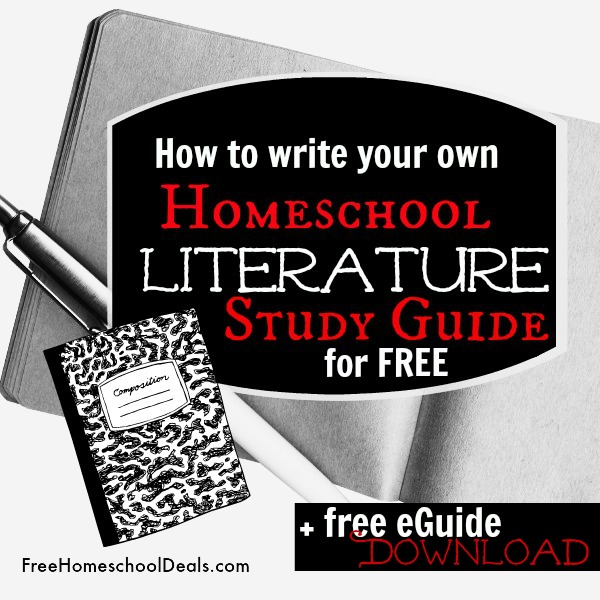 Welcome to FHD's 3rd annual event, Homeschooling for Free and Frugal Series! Click here to begin reading all of the new Homeschooling for Free and Frugal articles. This article is by contributor, Stacey Lane
 How to Write Your Own Homeschool Literature Study Guides
Most homeschool moms love literature. With this love there comes a desire to find a study guide that will help establish a deeper level of understanding. There are homeschool companies built around providing only study guides. The cost of guides can range from $2 to $25 dollars each.
Yes, there is excitement when a good quality guide can be found for FREE!
In homeschooling for free, I have written a guide on how to write your own. This guide is directions and questions to help students write their own study guide. Sorry, this freebie requires providing your own work.

Write your own study guide:
First select a book from your local library or your personal collection.
I would recommend a children's book for elementary students.
Middle school kids can chose between a children's book or a chapter book.
High school students should start with a middle school chapter book.
Brainstorming session for study guide:
Looking at other study guides, discuss what were your favorite and least favorite parts of the guide. This will help you decide what you would like to include in your own guide.
Read "How to Write Your Own Study Guide." Discuss any questions you have with the guide. Determine a deadline for when your study guide needs to be completed. It can take one to two weeks to complete writing your own guide.
Students might find it beneficial to discuss learning styles in the brainstorming session. They should try to include different kinds of activities for each style of learning. Yes, sometimes study guides only consist of questions and answers. It will be the choice of the parent and student to determine what they want to include in their guide.
Expanding the lesson on writing your own study guide:
After the guide is completed, discuss the publishing steps. Look at the jobs of editors, proofreaders, layout designers, and graphic artists.
Research the costs of printing. Compare the cost difference between an e-book and printed book.
Begin a Study Guide Co-op. Invite friends to write study guides with you. Then share everyones's guides at an author's party.
The following two tabs change content below.
Stacey Lane
 is a wife, mother, teacher, jill-of-all-trades, and a member of the Bright Ideas Press team. Her many gifts include visual thinking, bringing order out of chaos, thinking outside the box, and taking charge (when needed). When she's not developing curriculum or contributing to her blog at
 Layered Soul
she homeschools her own four children. 
She is notoriously, amazingly frugal and has shouted, "I'm Debt Free" on the Dave Ramsey show!