This post was originally published in April, 2013 during the 2nd annual event of 10 Days of Homeschooling for Free and Frugal. You can read the entire series from the beginning on the Homeschooling for Free and Frugal series beginning post.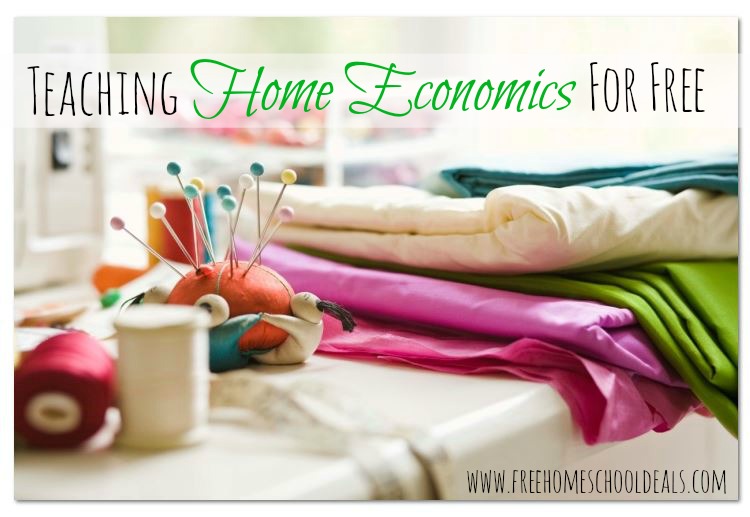 This post is from Rachel of Surviving The Stores and How To Homeschool For Free.
I still remember my one and only home economics class. I was in 8th grade when I took it and I distinctly remember 3 things about the class: (1) doing a needlepoint pattern – at least I think it was needlepoint, it might be called something else (see how much I learned?) (2) toasting marshmallows in the oven and (3) hanging out with 3 of my good friends who were in the class too – most of the time hanging out in the kitchen talking and toasting marshmallows in the oven.
And that pretty much sums up my before-marriage home economics learning.
When I got married almost 13 years ago I started completely from scratch. I knew next to nothing about cleaning, cooking, organizing, sewing, or money-management. Raising kids? Nope, I was an only child who wasn't really interested in babysitting as a teen.
So when my husband and I started planning out what we wanted our kids to learn by the time they graduated high school, home economics played a big role in that list (yes, for both our girls AND our boys).
Thankfully, with all of the resources online, I don't have to worry about trying to make sure that I know everything before my kids learn it. We have made home economics a priority in our homeschool day and hope that our children will go into adulthood with the resources not only to manage a business well but to manage a household well too!
Below is a list of online resources that I've found very helpful on the road to teaching home economics to children.
Money Management
We want our kids to have a good understanding of where money comes from, how it works, how YOU work to get the money, and how you use the money that you know you will be receiving each month to set a budget.
You can do this through regular life lessons, or by sitting down and researching questions together about what it means to make money and to have a job.
Or you can follow some of the money-management lessons that are free online!
Financial Literacy For Everyone has lesson plans, quizzes, and tests for all ages covering money, budgeting, and bill paying!
Center for Economic Education has many free lesson plans that go along with books that you can get from your local library.
Hand-On Banking has lesson plans for all ages, including adults! This one even has fun interactive games.
Cooking Skills
The first part of cooking skills that should be covered before anything else is food safety. The US Deparment of Health & Human Services has put out a food safety course that's free for anyone to use.
Kids Cooking Activities has a ton of lesson plans for kids from toddler-age up through 18 years old. The lesson plans are pretty comprehensive and cover everything from pouring (for the younger ones) to planning and making meal plans to preserving food!
Dress Up 121 has several fun online games where you make different recipes virtually. Let's take sushi for example – you have to mix up the ingredients, cut the veggies, steam the rice, roll up the sushi rolls, and put it into a nice visual presentation! I could see this being a blast for younger children who are not ready to do things on their own in the kitchen, but would love have some hands mouse-on experience.
The Activity TV cooking section called "Let's Eat" has lots of fun videos with short lessons on how to make different food items. They have everything from breakfast to dinner to dessert!
Sewing
Sewing isn't something that I've ever been very interested in, but I think at least a few basic sewing skills are necessary for everyone to have.
Thankfully, there are many places online where you can learn right along with your kids!
Kids Sewing Projects has a ton of great lessons online! It begins with age-appropriate projects that focus on fine motor skills and getting kids interested in the mechanics of hand-sewing. This one goes all the way from preschool up through an intermediate level.
Craft & Fabric Links provides sewing lessons for you and your child(ren) to learn together! It starts with learning basic tools, how to choose fabrics, and how to read patterns. The website also offers several free patterns and other crafty ideas.
Sewing.org has printable sewing information for learning the basic tools of sewing and working up to serious projects. You can print these .pdf files and use them to accompany any video or audio tutorial as a reference.
Cleaning & Organizing
I know I'm guilty of just giving the kids a chore chart and making sure they check off what they need to do each day without really giving them the tools that they need to develop what I never did: organizational skills. I know that it comes naturally to some, but if you have a kid that's like me then they need some very practical skills and tools to use to keep things clean and organized.
Starting around Jr. High I plan on taking my kids through the Fly Lady lessons. Most of them are available online, and there are many YouTube videos to go along with the lessons. The Fly Lady has helped millions of people around the world learn how to structure their cleaning schedule!
The free & cheap ebook lists on Free Homeschool Deals are very helpful in finding out when a new cleaning or simple-living eBook is available for free. I read through a simple-living eBook earlier this year with my 10 year old and we both learned a ton through it! You can find free ebooks for decluttering and simple-living in the Home Design and Interior Design sections on Amazon.
Check out the completely FREE eBook from Dana White of A Slob Comes Clean specifically on Teaching Your Kids To Clean! In it she has lesson plans, supply lists, age-appropriate task lists, and printable to help to teach your kids the necessary cleaning skills.
There are many more great resources for teaching home economics too! With an internet connection, a library card, and a little bit of creativity, we can teach our kids all kinds of fun skills – whether we know how to do them or not!
Rachel Holland is a homeschool mom of four, a wife to one incredible husband, a blogger, and a speaker who has a passion for helping others save money! She is dedicated to helping you be able to bring more of your hard-earned money home and has set up two websites to help with that: Surviving The Stores and How To Homeschool For Free. You can subscribe to Rachel on Facebook, Twitter, and Pinterest.
The following two tabs change content below.
We are here to help families afford the homeschool life by providing the BEST homeschool freebies, deals, resources we can find & encouragement as we walk this journey together!
Latest posts by Free Homeschool Deals (see all)