Welcome to FHD's 3rd annual event, Homeschooling for Free and Frugal Series! Click here to begin reading all of the new Homeschooling for Free and Frugal articles. This article is by Heather, of Only Passionate Curiosity.
Art is one subject many homeschoolers struggle to teach. There are a lot of well-done programs on the market, but to be honest with you, all you really need to teach art is a few reference books, art supplies, and time to explore!
This post contains affiliate links.
Find Artwork that Speaks to your Child
Start your art studies by going to an art museum. If possible, go often! Let your child lead the way as you look at the paintings and sculptures. (If you don't have an art museum near you, there's an App for that.) Encourage them to take their time, and find a piece they really like.
It doesn't really matter which picture it is, as long as it speaks to them. When they tell you they have found their favorite work of art, ask them a couple questions about it. What do you like about the picture? What do you think the picture is about?
Write down the name of the piece and the artist, and when you get home, run a quick Google search on it. Save the biggest image of the piece you can find, and print it off. Place this picture in a binder, just for them, of their favorite works of art, which will be their main art notebook.
Learn About the Artist and Their Time Period
If you would like to teach your children more about art history, pick up The Annotated Mona Lisa. This book is ten bucks, and has everything you really need to know about art history. This book is my favorite because most famous artists are well-represented, and it's written in a clear tone.
I use it in my elementary art classes because it shares stories the kids can relate to, and it's easy for me to read the information for myself and then teach it to my kids. Older students can read it for themselves, and if you'd like, take notes to put with the picture in their art notebook.
Check the index for the artist your child selected at the museum and read up on that artist's time period. If the artist they selected isn't represented in the book, try looking up the art movement.
Imitation Inspires Creativity
Next, get out some paper and supplies and sit down with your child to imitate the work of art. I've learned with my younger art students that it's best to imitate the style rather than the art itself. For example, if you're looking at Starry Night, you want to see if you can imitate the swirly, whirly, short lines instead of trying to paint something that looks like the original. If you're looking at a Picasso, ask if your child can draw a picture of you in the same style.
20 Do-It-Yourself Homemade Art Supplies
Help your child see the details that make that particular painting special. Is it the colors that they love? Is it the subject? Or the way the lines move across the paper? Even if they can't pinpoint it, most children will be able to put something on their paper if you sit down with them and say, "Let's make our own picture like this!"
Let them decide how they want to accomplish the task, and encourage them no matter how the art turns out. They can imitate the art as many times as they want!
If you'd like more guidance and examples on how to do this, you can see examples I've done with my art students for these Artists: Van Gogh, Pollock, Daumier, O'Keefe, Cezanne, and Picasso.
Improve Skills
The more art your children make, and the more masterpieces they see, the more their own art will improve. If you want an inexpensive book to give them more skills and techniques to use, consider picking up DK Art School. This huge book covers everything you need to use many different mediums, and is appropriate for older kids to self-teach.
In art, there really isn't a wrong way to do things. Even the Masters are constantly changing their technique and trying new materials as they create. In my art classes, I only have one big rule, and that rule is you don't say negative things about your work.
Nothing is a mistake, it's just an opportunity to try something new! If your child gets upset by a wayward stroke, or something that doesn't turn out exactly the way they anticipated, try and encourage them to see what they could turn their mistake into!
Surround Them With the Right Tools
If you really want your children to learn more about art, the best way to do so is to provide them with good quality materials in a place they have easy access to. Set up a shelf or drawer in your home with charcoal drawing pencils, watercolor pencils, paints, pastels, and all sorts of creative goodies.
Don't forget to also place water cups, paper towels, and cleaning wipes with the art supplies so your children can properly care for their supplies.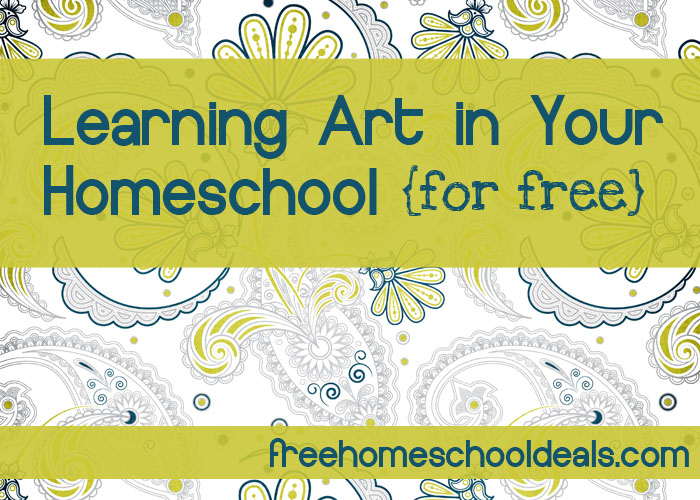 Free & Frugal Ways to Learn Art in Your Homeschool
Then comes the hard part. Let your child use their art supplies whenever the mood strikes them.
I know it's hard to just let your kids get creative sometimes, especially if they tend to be messy. Teach them early to respect their materials, and put the responsibility to care for brushes, paints, and pastels on their shoulders. Even young children can be taught to wash out their brushes carefully, wipe up paint spills from the bottles, and clean up pencil dust from their workspace.
If supplies are well cared for, they will last a long time, which will save you money!
Continue Enjoying Art!
Repeat these steps often with your children. In our house, we try and choose a new work of art each week to focus on. You can either pick the art for your children, especially if you are learning about a specific place or time period, or follow the instructions above for your child to pick a piece of art that speaks to them personally.
Encourage your kids to add art to their Art Notebooks whenever they come across something they love, and use their notebooks for inspiration when they sit down to make their own art. They can also add a section to their binders just for work they made from their own imaginations!
Don't forget that Picasso said, "Every child is an artist." Help your child see the value in their beautiful creations.
Be sure to check Free Homeschool Deals for additional free art curriculum and resources for your homeschool!
Heather is a military wife and proud mama of three kids. She blogs at Only Passionate Curiosity all about homeschooling and their adventures in Europe. She loves art, photography, and saving money! Check out her Free Homeschooling List, full of quality resources to help you homeschool on a budget.
The following two tabs change content below.
We are here to help families afford the homeschool life by providing the BEST homeschool freebies, deals, resources we can find & encouragement as we walk this journey together!
Latest posts by Free Homeschool Deals (see all)