It's time for another BIG list of How to Homeschool for Free and Frugal!  This week, you'll find some amazing elementary math printables for your young learners.
In this Free & Frugal series here at FHD, we provide you with tons of links about a particular homeschool topic.  It is possible to homeschool without spending a fortune, and we want to help you do just that!
Before we get to the elementary math printables, make sure you don't miss these other Free & Frugal posts:
→ How to Homeschool for Free and Frugal: History
→ How to Homeschool for Free and Frugal: Math for All Ages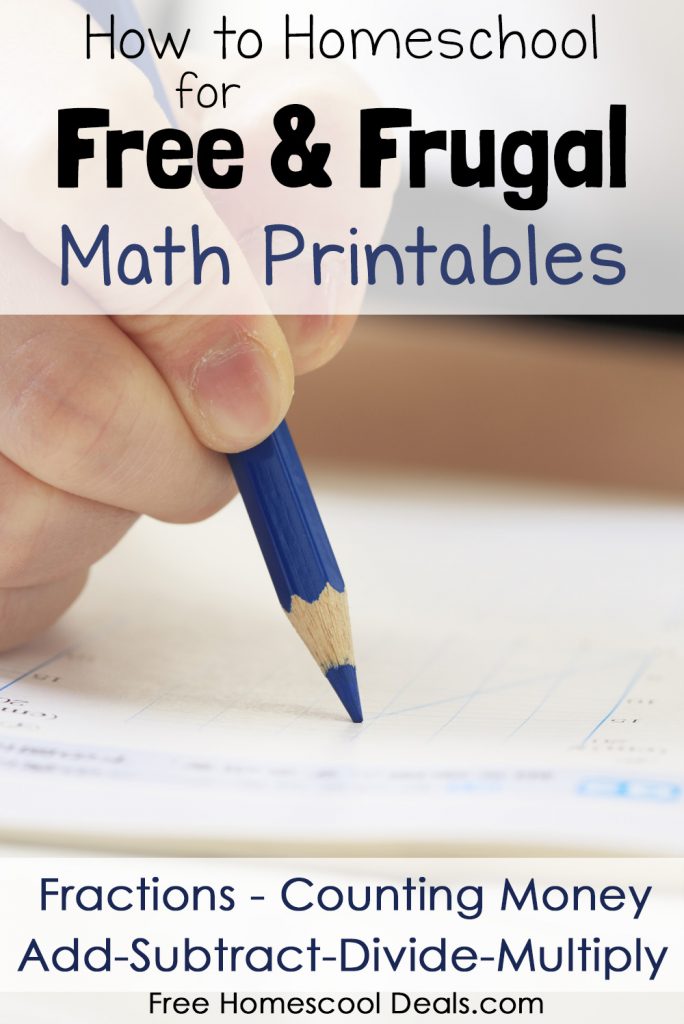 You'll find printables for the following math topics:
► Addition
► Subtraction
► Multiplication
► Division
►Mixed Operations
► Counting Coins and Money
► Printables to Practice Fractions
► Miscellaneous Math
Addition Printables
Addition Worksheets for K and 1st – Number Bonds, add to count how many, cut & paste to make your own equations
Spring Birds Math Activity – Addition file folder game with a fun bird theme
Add it Up! Addition Worksheets – Simple addition using picture clues; includes sums to 5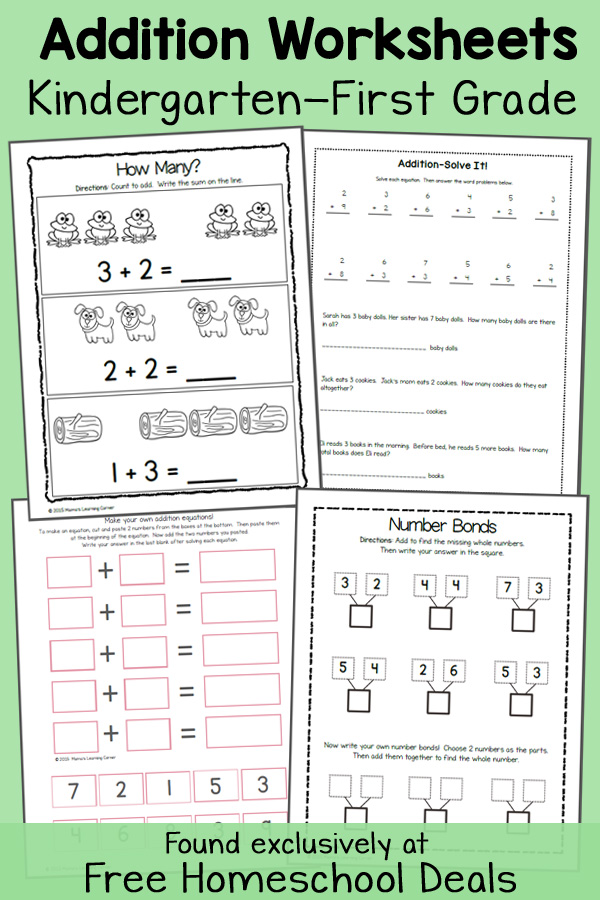 Addition Shapes – Solve the equations and then color the shapes that add up to 10 or 12
Printable Addition Bingo – So fun! Includes sums to 12; 6 game cards
Number Line Addition Game – Print the number line, find some dice, and add it up!
Star Wars Addition Pack – Includes word problems, puzzles, addition graphing, and more
Doubles Addition Game – Printable game to practice doubles to 10 in addition
LEGO Addition Cards – Match the LEGO pieces and add to find the result
Dinosaur Addition Game – Practice sums of 10 to 20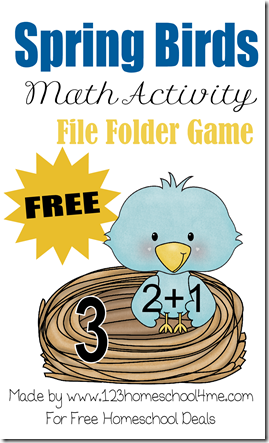 Clothespin Addition – Use clothespins to clip the correct answer to the printable cards
Addition File Folder Game – Practice simple addition with sums to 10; fun apple theme
Counting on from 10 (and 20) – Practice adding by counting on from 10; just add dice
Hot Cocoa Addition Game – Simple addition practice; can use cotton balls for marshmallows!
Subtraction Printables
Subtraction Worksheets for K and 1st – Determine which equation is correct, simple subtraction with picture clues, and more
Subtraction Flash Cards – Multiple colors available; scroll down to access the printable sets
Dr. Seuss Subtraction – Fish bowl printable (One fish, two fish…) to practice subtraction with whole numbers to 20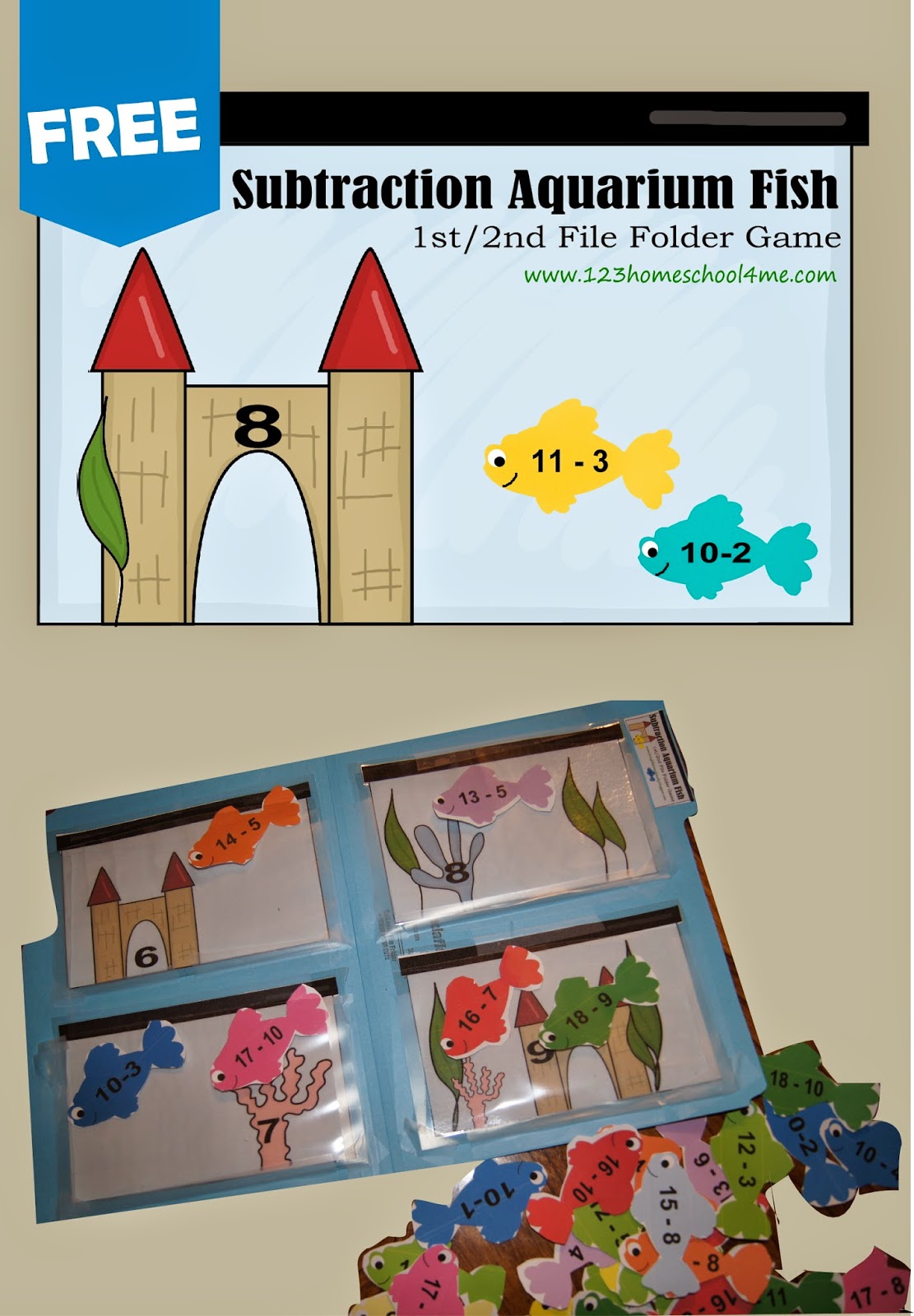 Subtraction File Folder Game – Cute pear-themed file folder game to practice simple subtraction with whole numbers to 10
Subtraction Bingo – Includes whole numbers to 15 and includes 6 board games
Subtraction Practice to 5 – Simple subtraction practice, including picture clues
Subtraction File Folder Game – Practice subtraction with whole numbers to 20; cute fish theme!
Subtract It! Math Game – Includes printable game board, directions, and flash cards through 9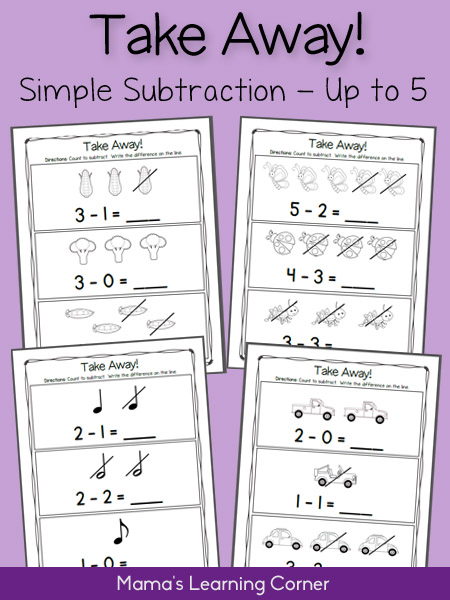 Multiplication Printables
Deck of Cards Multiplication – Use a deck of cards to create new multiplication equations each time
Multiplication Worksheets – Practice multiplication facts with numbers 1 through 12
Multiplying with LEGO – Download the printable, break out the LEGO, and multiply!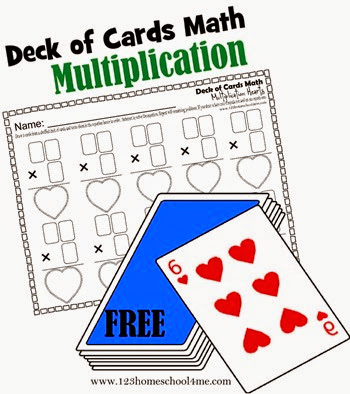 Printable Multiplication Games – Printable multiplication games; download the game boards (fits on 8 1/2 x 11″ paper)
Multiplication Match Game – Match each product to the correct equation on the game board
Multiplication Houses Game – Cute printable houses to practice multiplication facts!
Multiplication Checkers Game – Solve the multiplication equations checkers-style!
Multiplication Grids – Contains factors for 1 through 10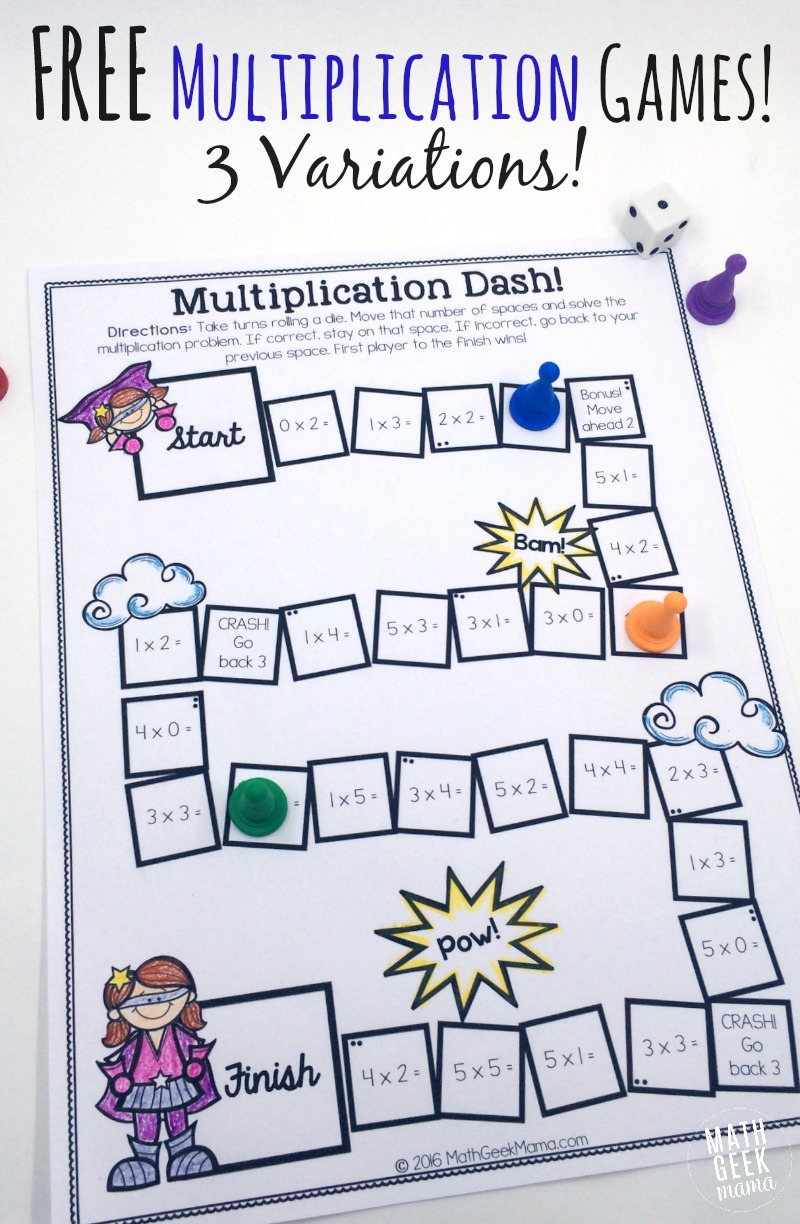 Multiplication Color By Number Worksheets – Fun robot theme; factors up to 12
Multiplication Doubles – Card game for learning multiplication doubles up to 12×12
Multiplication High Fives – Fun way to learn multiplication facts – with a high five! Great for kinesthetic learners
Free Multiplication Chart – Includes products for up to 10×10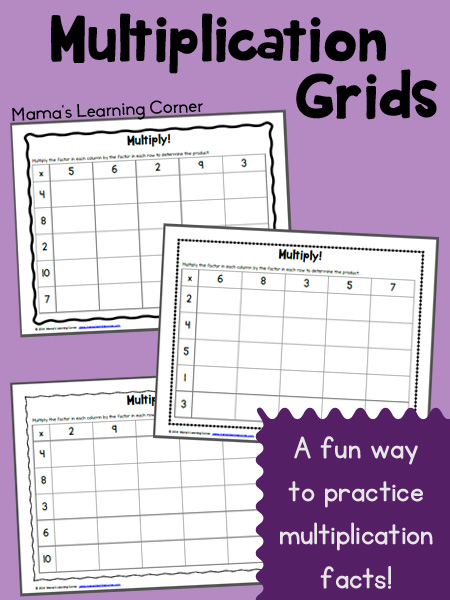 Division Printables
Division Bookmarks – Division facts for 1 through 12
Division Spinning Printable – Use a paper clip to spin and make division equations; scroll down the page to access the printable
Division Mini Book – Fill in the mini book to practice facts, then use as a reference
Free Division Graph Paper – Graph paper with large blocks to help teach long division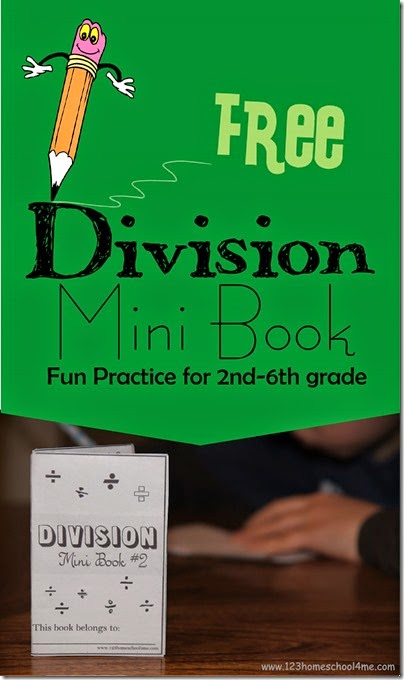 Division Lapbook – Division practice for lapbook fans!
Home Run Division Math Game – Baseball themed game; needs to players; practice with factors up to 12
Division Racing Game – Division facts game that uses match box cars to "race" – fun!
Printables with Mixed Operations
Little Math Books – Just fold and add or subtract – super cute!
Hot Chocolate Addition and Subtraction – Practice addition and subtraction math facts
Addition and Subtraction Number Sentences – Roll the dice to form addition and subtraction equations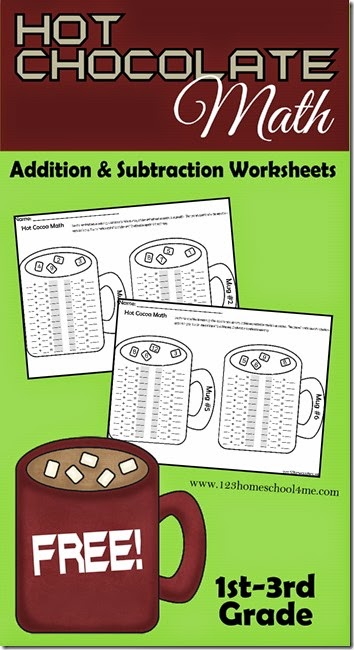 Fact Family Booklets – Use the three numbers to write addition and subtraction equations from the same fact family; includes 1 through 10
Cootie Catchers for Math – Practice addition and subtraction with a cootie catcher! Lots of suggestions for use.
Addition and Subtraction Equation Search – Add plus, minus, or equals to make true equations
Roll and Write: Multiplication and Division – Roll the dice and write the equations
Multiplication and Division Number Bond Mat – Includes number chart from 1 – 150 to create your own multiplication and division number bonds
Board Slam Battleship – A fun variation on the game Battleship; can use any four of the operations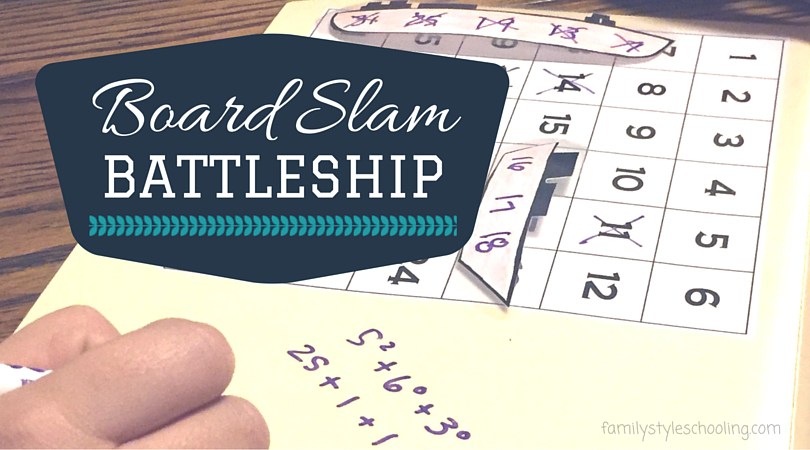 LEGO Addition and Subtraction – Print these LEGO games to practice simple addition and subtraction
Adding and Subtracting Large Numbers Game – Practice adding and subtracting including borrowing/regrouping
Space Counting Mats – Practice addition and subtraction with a neat space theme
Counting Coins and Money Printables
Money Math Activity – Cut the strips apart and fill the containers with the correct amount – neat!
Counting Change Worksheets – Set of 4 printable pages to practice counting change
Discovering Money Lapbook – Practice counting coins lapbook-style
Money Mini-Book – Assemble and then your young learners can use as a reference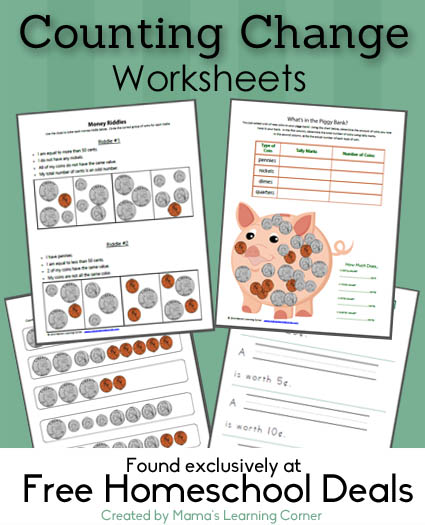 Coin Value Clip Cards – Count the change correctly and clip the answer
Money Lapbook – Practice the value of coins with this lapbook
Counting Coins: Do I have enough money? – Determine if you have enough money to buy the candy!
Money Booklets – Download a set of mini money booklets
How Many in a Dollar? – Visual reminder of how many coins it takes to make a dollar
Printables to Practice Fractions
Equivalent Fractions Worksheets – Practice with basic equivalent fractions
Fraction Clip Cards – Practice fractions with a fun pizza theme
Apple Fractions File Folder Game – Practice simple fractions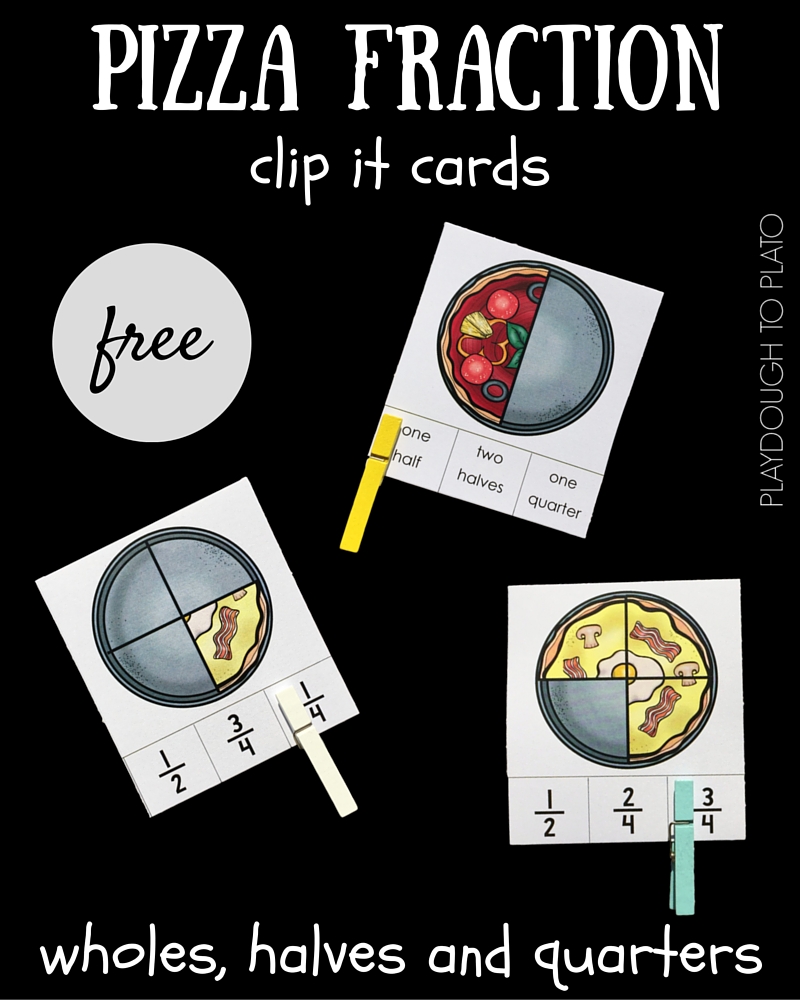 Fun and Easy Fractions Game – Just print and play to practice simple fractions
Equivalent Fractions Game – Players must find the missing numerators of the fractions to win; printable game board with instructions
Fractions Bingo Game – Just add dice and pencils and play!
Printable Fraction Circles – Suggestions for use included
Printable Fraction Bars – Includes several different fraction games to play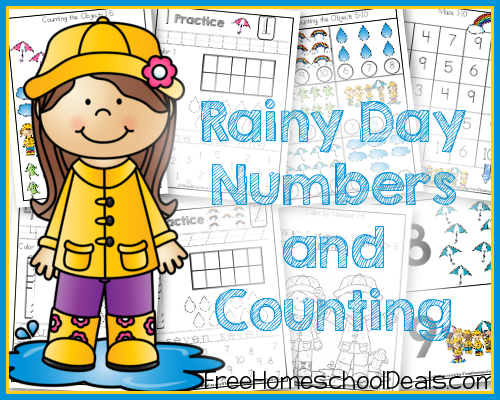 Miscellaneous Math Printables
Rainy Day Numbers and Counting Pack – Counting to 10, counting book, color by number, and more
Spring Flower Counting Book – Make a counting and coloring book with a spring flower theme
Number Practice Worksheets – Practice numbers 1 through 5 and numbers 6 through 10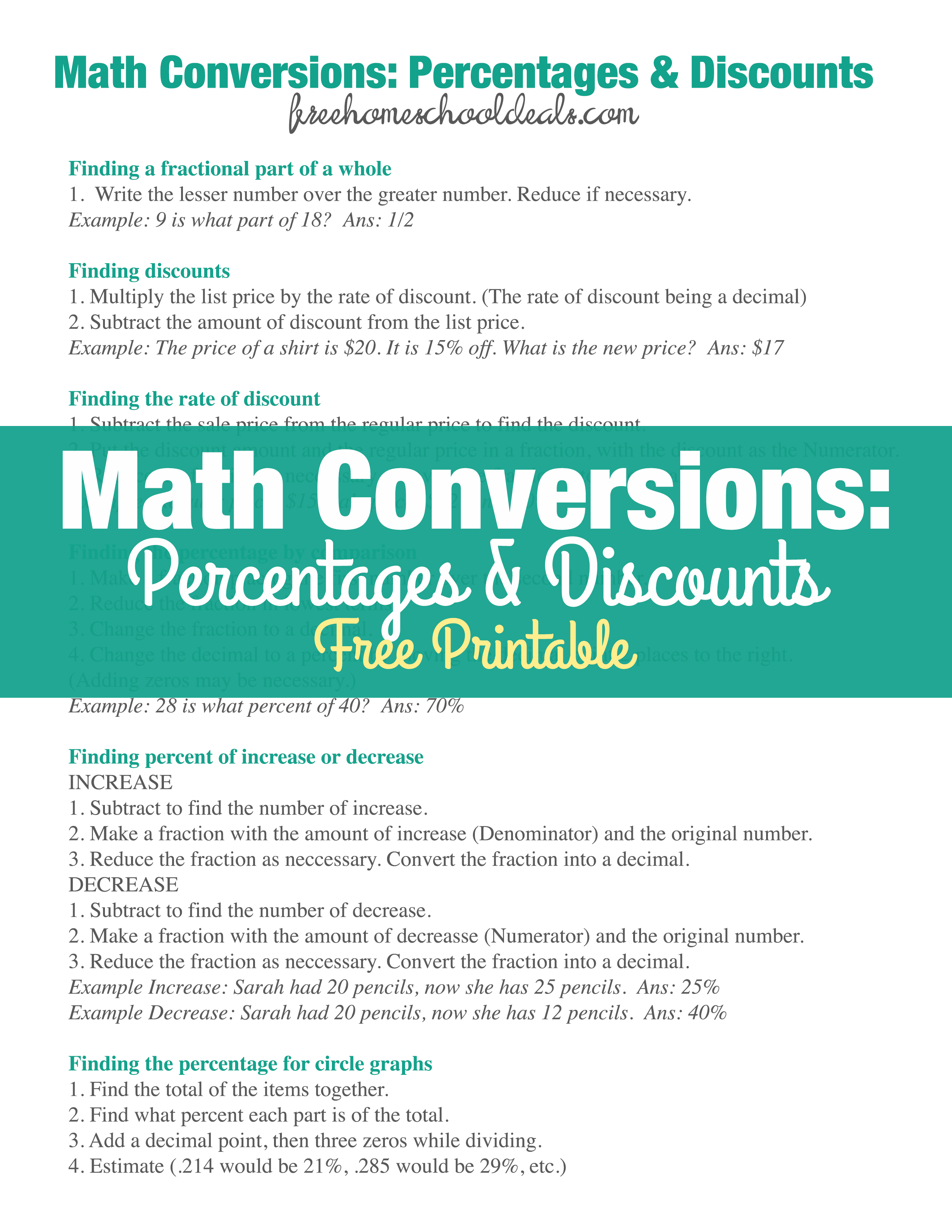 Math Conversions: Percentages and Discounts – Easy cheat sheet!
Spring Number Activities – Number cards, sort by size, count & color, and more
Number Card Puzzles – Match the number with the correct amount of shapes; includes numbers 1 through 12
Number Tracing Pages – Help your young one learn correct number formation; includes ten frames
Heart Number Puzzles – Match the number to the correct number word and correct amount of tally marks
Place Value War – Download the printable, grab a pencil, and play!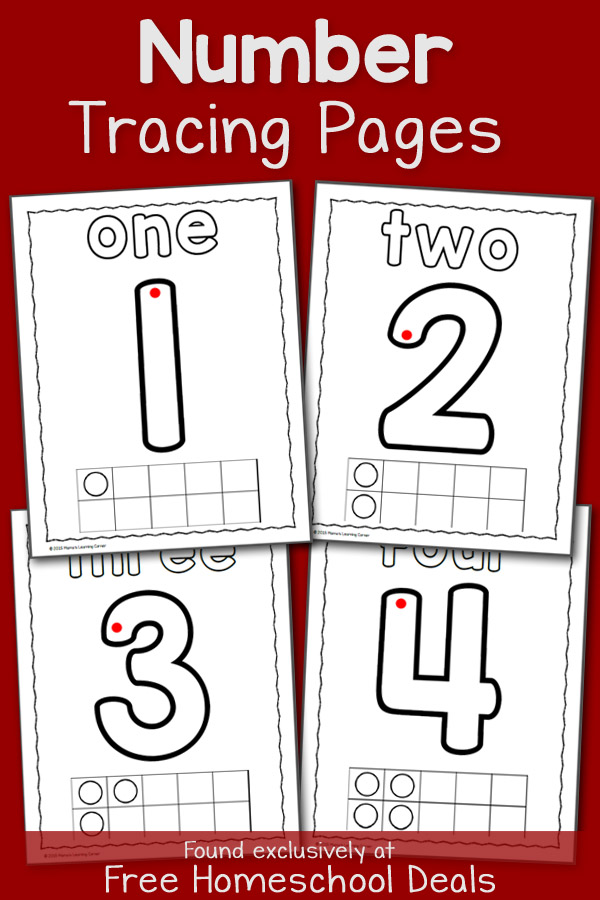 Math-U-See Mini Offices – These are so neat if you use Math-U-See curriculum!  Available for Primer and Beta
Finger Hopscotch – Number recognition activity for preschoolers – very cute!
Roll and Dot the Number – Roll the die and then mark the number with a Bingo marker; perfect for number recognition practice
Don't forget to take a peek at these other FREE AND FRUGAL resource lists!
→ How to Homeschool for Free and Frugal: History
→ How to Homeschool for Free and Frugal: Math for All Ages
→ Here is a growing selection of Free Themed Homeschool Unit Study Resources!
The following two tabs change content below.
We are here to help families afford the homeschool life by providing the BEST homeschool freebies, deals, resources we can find & encouragement as we walk this journey together!
Latest posts by Free Homeschool Deals (see all)