Most students enjoy studying the weather because it can be dangerous and unexpected, and it's all around us. It's fun to learn about the mysteries of our world, and it's also an excellent topic to use for cross-curricular instruction!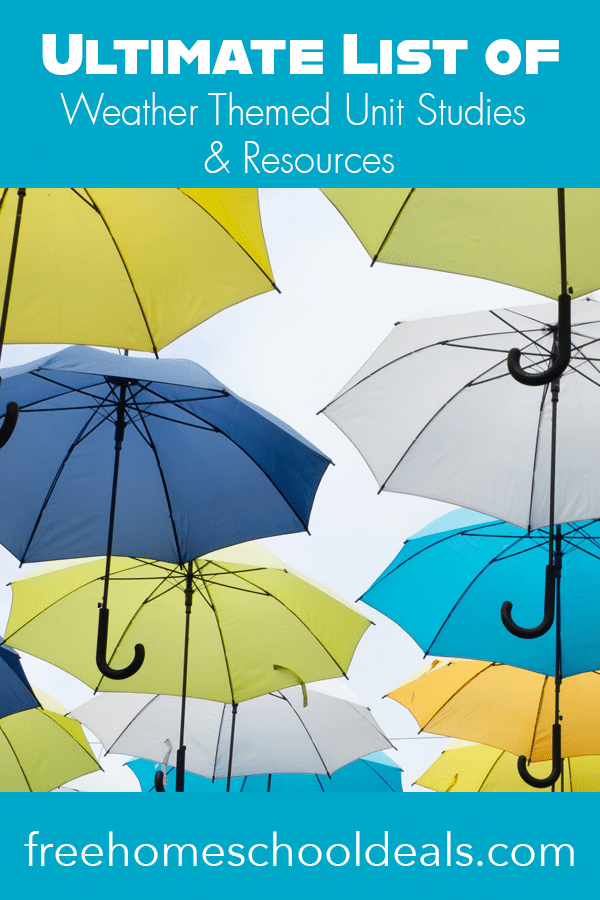 These weather freebies are organized by their applications in the subjects literacy and science so that you can easily find what you need! Check out our Ultimate List of Weather-Themed Unit Studies & Resources!
Literacy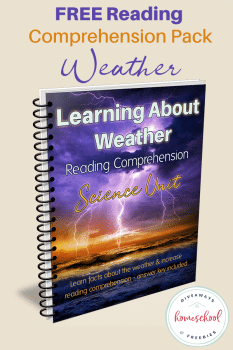 Weather Reading Comprehension Science Unit: This resource from Homeschool Giveaways has multiple short tests on different kinds of weather as well as comprehension questions to accompany each passage!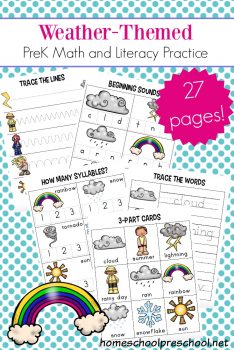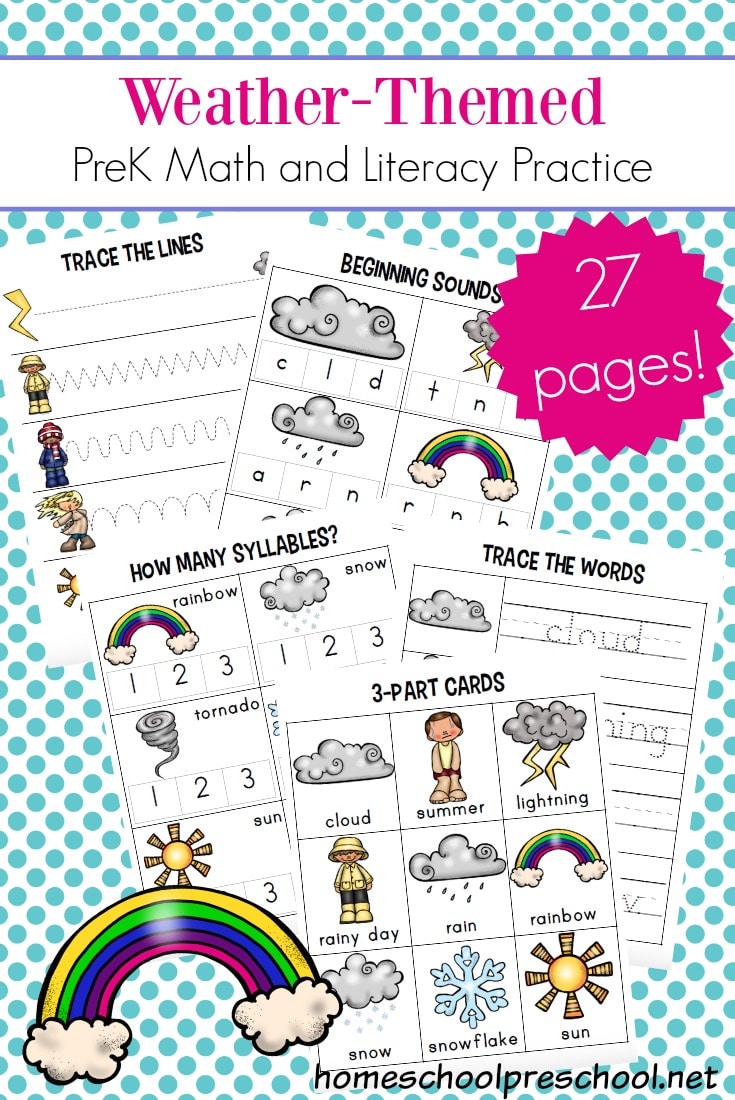 Preschool Weather Worksheets: Start introducing your young learners with these worksheets from Homeschool Preschool!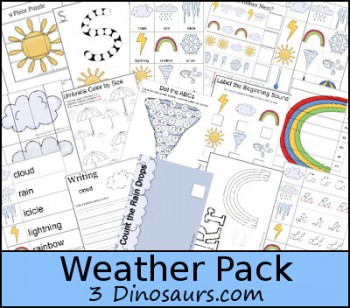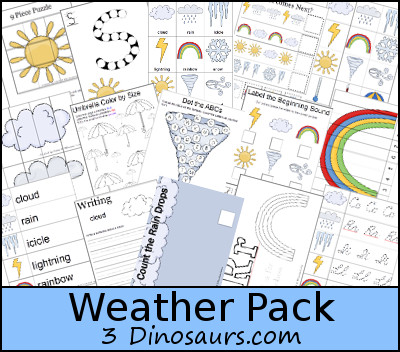 Weather Learning Pack: This 70-page resource from 3 Dinosaurs is perfect for ages 2-9. Most of the pages are literacy-related from handwriting to word puzzles to tracing and more! (But some are also math-related)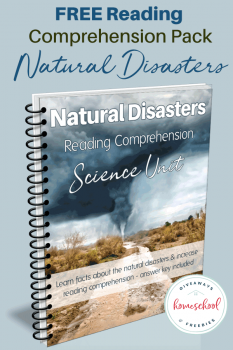 Natural Disasters Reading Comprehension Science Unit: This is another great reading resource from Homeschool Giveaways, specifically focused on different types of natural disasters!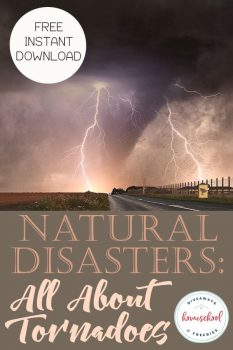 Worksheets: All About Tornadoes: You will love these wonderful tornadoes worksheets full of great literacy activities such as how to write a conclusion and vocab word research (from Homeschool Giveaways!)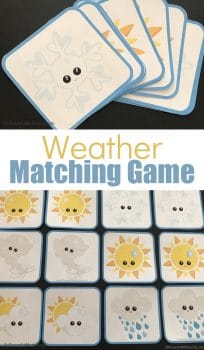 Weather Card Matching Printable Game: Print the cards and play a weather matching game! It's perfect for young children learning weather basics: sunny, rainy, windy, and more! Get it from Powerful Mothering!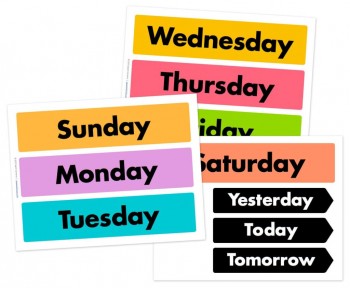 Days of the Week and Weather Wheel Printables: Practice observation and recording skills with your young learners with this great resource from A Haven of Chaos!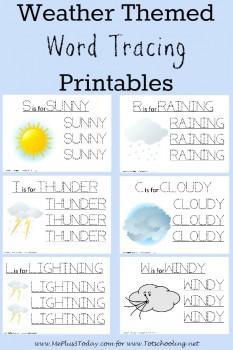 Weather Word Tracing Printables: Practice handwriting with a weather theme with this freebie from Tot Schooling!
Science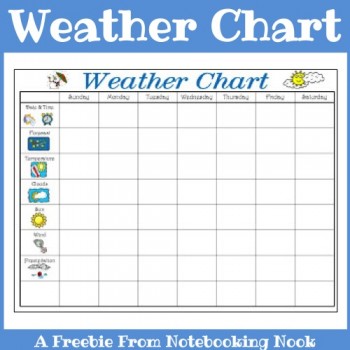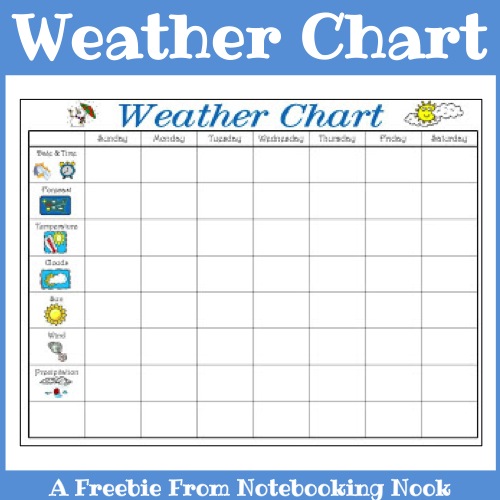 Weather Chart Printable: Track the weather with your child with this awesome resource from Notebooking Nook!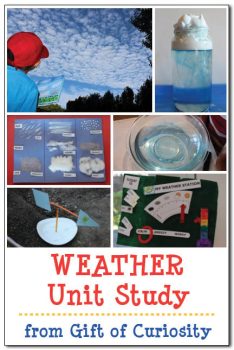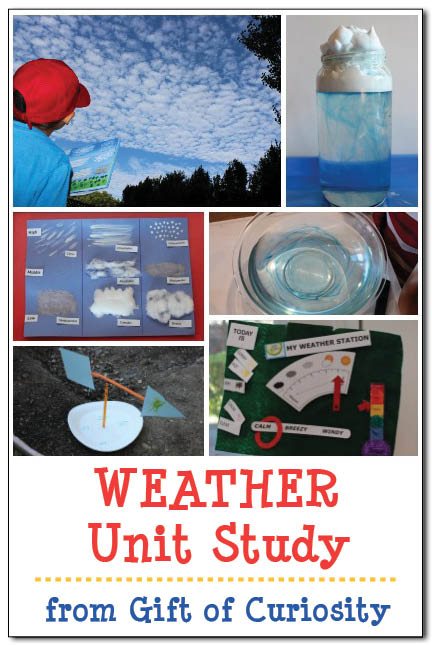 Weather Unit Study: Study all about weather from different types to forecasting with this unit study from Gift of Curiosity!
Weather Bingo Printables: Add a little fun to your science lessons with a weather bingo game from Gift of Curiosity!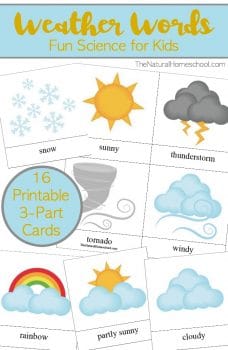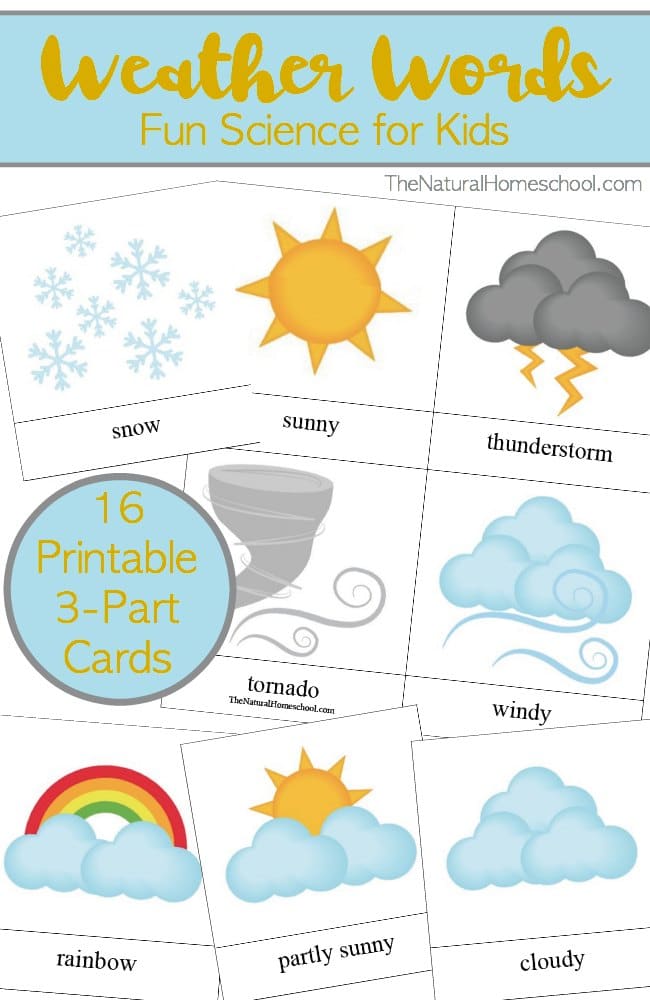 Weather 3-Part Cards: Your young one can learn to identify the different types of weather with these 3-part cards from The Natural Homeschool!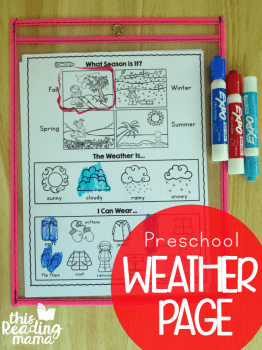 Preschool Weather Page: Practice tracking weather with your preschool daily with this lovely weather page from This Reading Mama!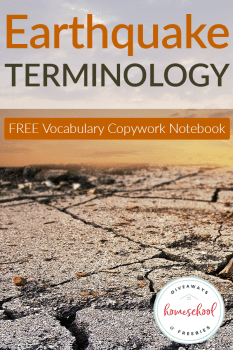 Earthquake Terminology Copywork Notebook: Learn about the different important terms all related to earthquakes in this great resource from Homeschool Giveaways!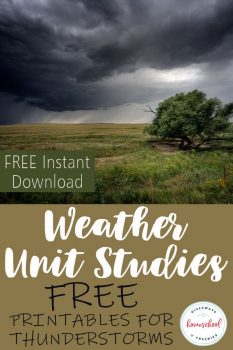 Weather Unit Studies: Thunderstorms: Find amazing resources on thunderstorms all from Homeschool Giveaways!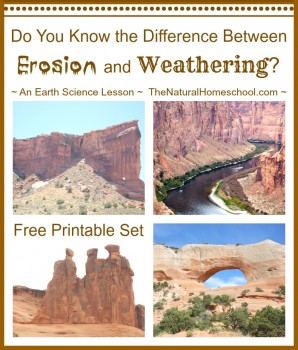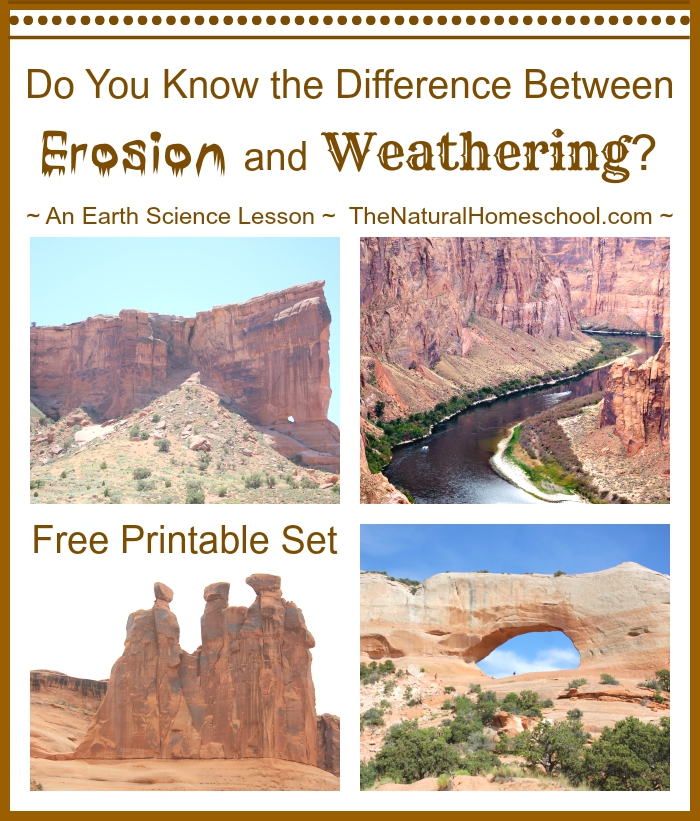 Weather and Erosion Printables: Learn the difference between weather and erosion in this printable set from The Natural Homeschool!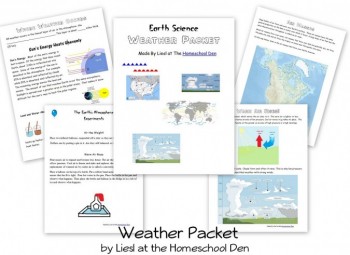 Weather Packet: Find loads of hands-on activities in these pages from Homeschool Den!
Weather Science: How to Make a Cloud in a Jar: Recreate clouds with this activity from Gift of Curiosity!
Additional Weather-Themed Freebies:
Printables to Teach Kids about Weather from Homeschool Giveaways
Weather Activities and Printables from True Aim Education
Earthquakes Notebooking Research Journal from Homeschool Giveaways
Weather-Themed Unit Studies and Resources from Homeschool Giveaways
Homeschool Weather Lesson Ideas from The Homeschool Mom
Weather Unit Study Resources from The Homeschool Scientist
How Clouds Make Rain from The Happy Housewife
Weather Unit Study Printable Worksheets from How to Homeschool For Free
The following two tabs change content below.
Keri
Keri is a former elementary and middle school teacher who's worked overseas for 4 years. She loves to write and so decided to pursue her writing dream!