When doing a new science topic or unit, it can be difficult to remember all of the related vocabularies. But, with this Earthquake Terminology Copywork Notebook, your child will be able to remember and work with terminology all about earthquakes!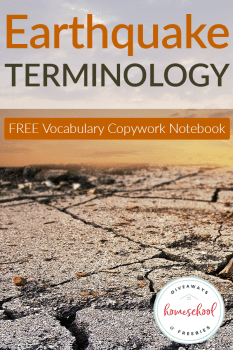 Carrie at Homeschool Giveaways has created this great notebook to help you your child(ren) with their science lessons. It's especially useful if you don't have earthquakes in your area, and this vocab is a bit foreign to your child. They will learn all about faults, seismic waves, tectonic plates, and more! There are twelve pages total included in this notebook.
For other earthquake or earth study resources, check out:
The following two tabs change content below.
Keri
Keri is a former elementary and middle school teacher who's worked overseas for 4 years. She loves to write and so decided to pursue her writing dream!