History can be fun for kids if presented in a fun, engaging way. Use this American Revolution flip book activity to teach or review with your children.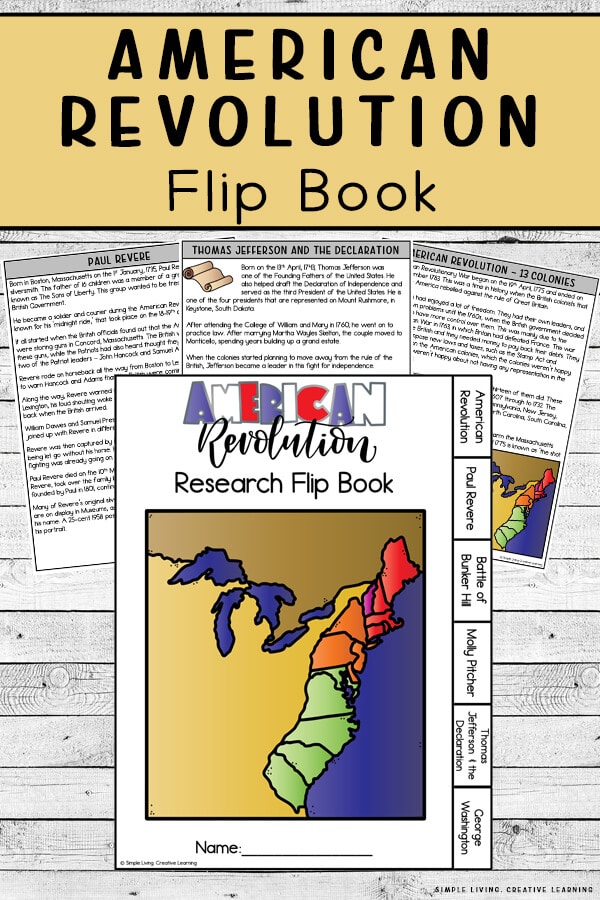 Colonists went to war against Britain in April of 1775. This was the start of the American Revolution.
After a horrific eight-year war, the colonists defeated the British in 1783.
A new form of government was ushered in where the people ruled, not a king. All leaders were elected by the people.
The United States was born and continued to grow into the country it is today.
This flip book will teach your child about some of the amazing moments in our nation's history.
Key topics covered in this activity are:
The Revolutionary War's beginning and end.
Paul Revere's Midnight Ride.
The Battle of Bunker Hill.
Molly Pitcher and her contributions.
Thomas Jefferson and the Declaration of Independence.
George Washington, the first U.S. President.
Your child will have a page of information on each topic. These pages can be used for the flip book, or your child can practice researching on their own.
There are places for your child to record their thoughts and even create sketches.
Grab more free flip books for your students below:
The following two tabs change content below.
Jeannette is a wife, mother and homeschooling mom. She has been mightily, saved by grace and is grateful for God's sovereignty throughout her life's journey. She has a Bachelor in English Education and her MBA. Jeannette is bi-lingual and currently lives in the Tongan Islands of the South Pacific. She posts daily freebies for homeschoolers!
Latest posts by Jeannette Tuionetoa (see all)