Why kids like reptiles and snakes I will never understand. For your snake and reptile loving kids, you won't want to miss these free snake life cycle flip books.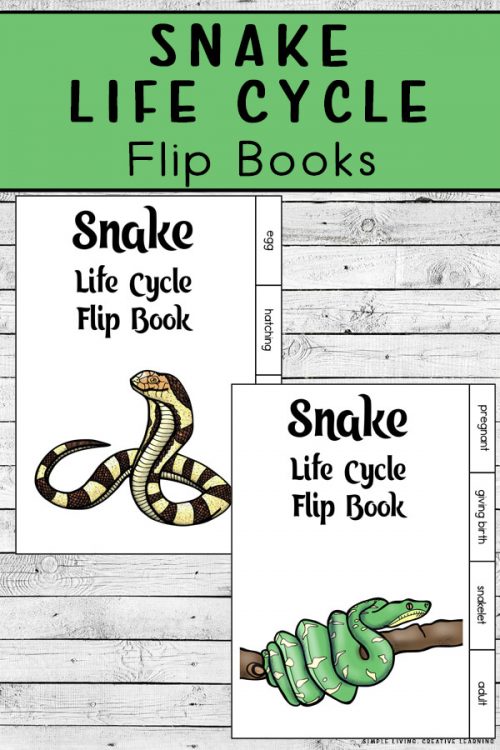 THANKFULLY, in the island we live in there are absolutely no snakes at all. That's right, no snakes whatsoever.
I remember living in Florida with a creek in my backyard. It was just a normal day of the week to see Coral Snakes, Water Moccasins, or Black Racers sneak into my sunroom.
It was NOT fun and definitely one thing I do not miss about living in America. I guess you can say I am not a fan.
However, to my surprise, my daughter is and wants a pet snake when she is an adult. I sure that is not a good idea and will never happen while she is in my home.
So weather you are just studying reptiles or your kids enjoy snakes for some reason, this flip book will be a hit.
These free snake life cycle flip books teach your students the four different parts of a snake life cycle – egg, hatchling, snakelet, and adult OR pregnant, giving birth, snakelet, and adult.
So, you read that correctly, some snakes give birth and some snakes lay eggs. This is one of those facts your kids will be especially intrigued about.
Each page includes the life cycle part, a space for drawing, and lines for writing.
Grab more life cycle freebies to go alongside this snake flip book.
The following two tabs change content below.
Jeannette is a wife, mother and homeschooling mom. She has been mightily, saved by grace and is grateful for God's sovereignty throughout her life's journey. She has a Bachelor in English Education and her MBA. Jeannette is bi-lingual and currently lives in the Tongan Islands of the South Pacific. She posts daily freebies for homeschoolers!
Latest posts by Jeannette Tuionetoa (see all)