Learning about word families helps a child strengthen reading skills. Use this word family learning activity for a sweet way to practice this skill.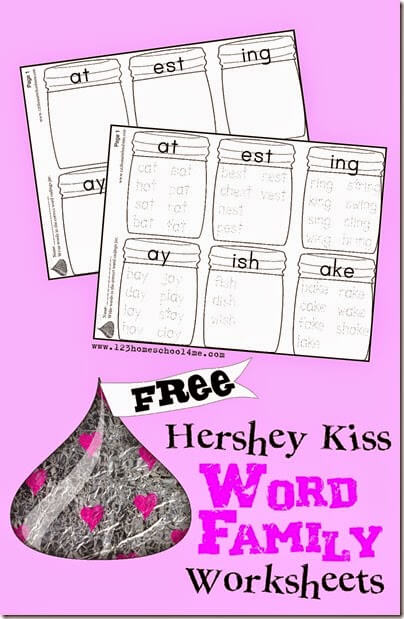 Word families are groups of words that all have the same ending. For example: ball, hall, small, and call belong in a family because they share the "a-l-l" ending.
Building skills with word families help make reading similar words easier and more efficient.
If a reader recognizes the ending, they don't need to sound out the whole word. They only need to sound out the first letter of the word.
These fun worksheets are themed with Hershey's Kisses. They pair with another word family freebie in the same theme through the same link.
Each page includes pictures of six jars labeled with a different word family ending. A few blank jars are included so you can create your own word families.
One set has blank jars, the other set has traceable words inside the jars.
To do this activity, print the Hershey's Kisses pages from the second link. Your child will sort the words into the correct jars based on the word endings.
Grab more word family printables below:
The following two tabs change content below.
Jeannette is a wife, mother and homeschooling mom. She has been mightily, saved by grace and is grateful for God's sovereignty throughout her life's journey. She has a Bachelor in English Education and her MBA. Jeannette is bi-lingual and currently lives in the Tongan Islands of the South Pacific. She posts daily freebies for homeschoolers!
Latest posts by Jeannette Tuionetoa (see all)