CVC words are single-syllable words made with a consonant, a vowel, then another consonant sound. Will you be teaching your kids CVC word families this year? Is your child ready for reading? If so, these CVC word family bookmarks (FREE) will go great alongside your lessons. The bookmarks are sorted by word family and by beginning sounds.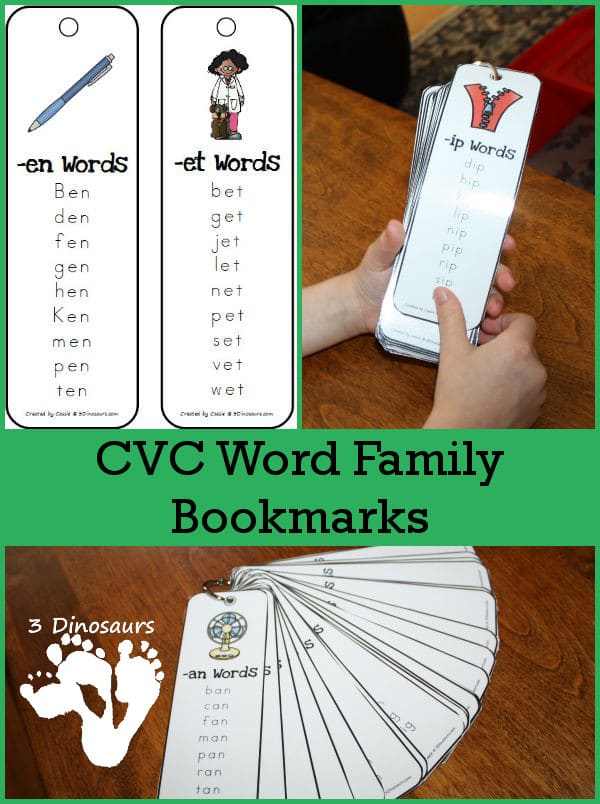 CVC words are great for introducing children to reading because kids can sound out each letter then bland them to form the three-letter word (decoding). Reading/decoding these three-letter words improve phonemic awareness and the ability to manipulate the sounds in the words.
There are 6 pages of printables with 4 bookmarks per page. The CVC Words families include -ad, -ag, -am, -an, -ap, -ar, at, -ed, -en, -et, -ig, -in, -ip, -it, -og, -op, -ot, -ow, -ox, -ug, -un, and -ut.
Grab these resources to help you teach all about CVC words and word families.
The following two tabs change content below.
Jeannette is a wife, mother and homeschooling mom. She has been mightily, saved by grace and is grateful for God's sovereignty throughout her life's journey. She has a Bachelor in English Education and her MBA. Jeannette is bi-lingual and currently lives in the Tongan Islands of the South Pacific. She posts daily freebies for homeschoolers!
Latest posts by Jeannette Tuionetoa (see all)