This post is from contributor, Jenn Hoskins
(This post contains affiliate links)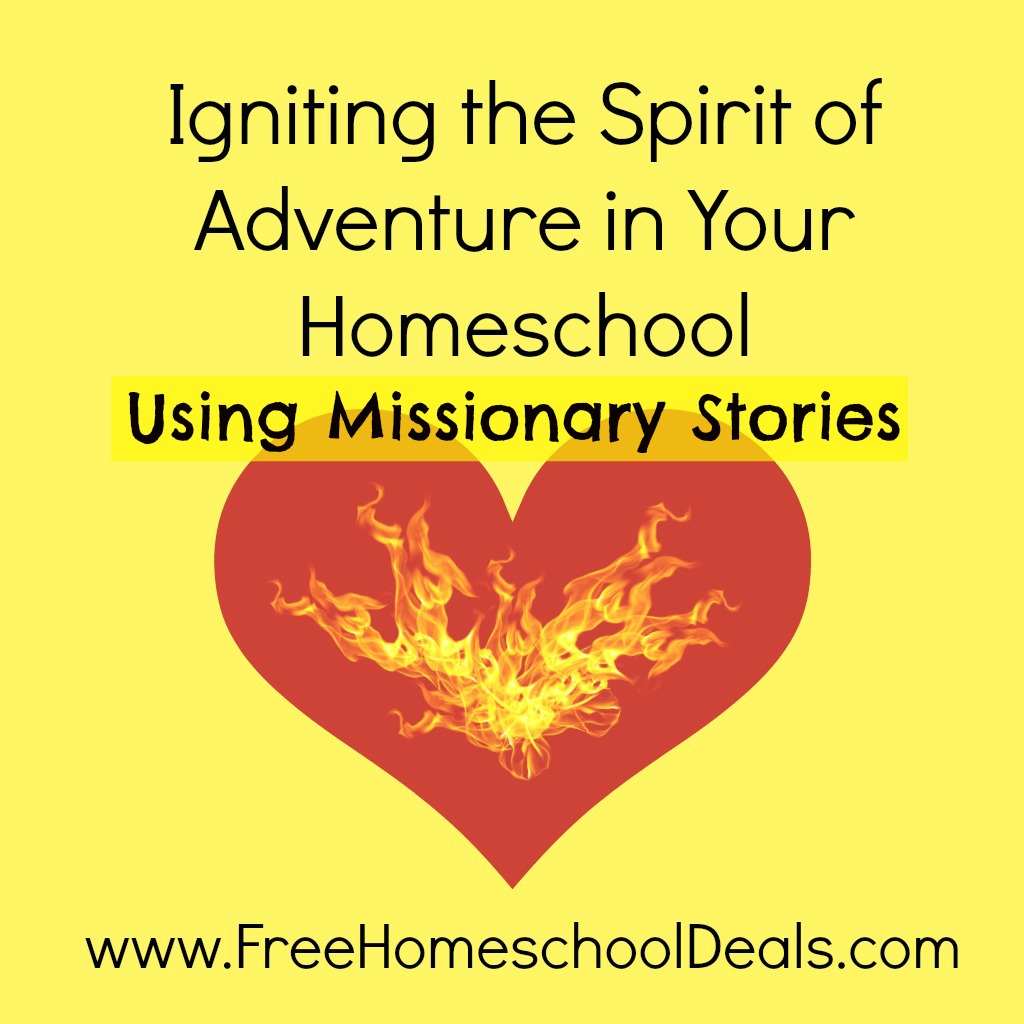 Who doesn't love a great adventure story?
Ones with far-off, exotic places, amazing people who dare to push the envelope, ending with great achievements in the characters' lives.
Deep down, I think we all desire to live the adventurous life. In the Christian faith, we call these adventurous heroes missionaries. They're the unsung heroes who bring the Gospel to the ends of the earth. What better way to engage a child's love of adventure than through the biographical books of real Christian heroes?
High-quality books are an important part of homeschooling.
All books should be chosen with care. Challenging books should be presented to our children as they grow in ability and wisdom through their years of schooling. We need to choose the books which will not only grow their education but ones that will push them beyond the walls they live in, opening the world in ways only a nonfictional story can.
Missionaries often live lives that rival the fictional lives of Hollywood movies! The best part is they are true stories of real people who dared to do big things for the cause of Christ. What an incredible message to feed our children!
As I have homeschooled my children, I have watched as they engaged these real-life stories far more than the fictional books I gave them. This has impacted us so much so that I now base my entire curriculum around biographies of great people. Their heroes have shifted from the manufactured heroes of Hollywood to the heroes of Christianity like George Muller, Jim Elliot, Gladys Aylward, Brother Andrew, and many more! Who doesn't want real life heroes for our children to look up to?!
Igniting the Spirit of Adventure in Your Homeschool Using Missionary Stories
Since I have a variety of ages of children, this is how I have implemented missionary stories at every age level:
Birth through 1st grade–Never underestimate the power of a picture book. One of our favorites is Pilipinto's Happiness. This is the true account of Valerie Elliot, Jim Elliot's daughter, and how she and her mother brought the Gospel to the tribe of people who killed her father. It is a very engaging book for even the littlest of ears. A series from YWAM publishing, Heroes for Young Readers, is a great basic series on many different missionaries. They also have a series for historical people.
2nd through middle school–I use very few books other than YWAM publishing's Christian Heroes: Then and Now. These books are not only written extremely well but they cover a huge variety of people, all with adventure-filled lives that started when they said yes to God's call. Janet and Geoff Benge are amazing writers who truly pull you into the story. We use these books as both read-alouds and independent reading. We even have all of the audiobooks and play them throughout the day.
Middle school through high school–We use YWAM's International Adventure Series. A bit more advanced and mature, the stories are even more adventurous and daring, and are amazing testimonies of how God works in people's lives. We also read the books great people have written. George Muller's books, Gladys Aylward's The Little Woman, Jim Elliot's diary, and Bruchko by Bruce Olsen are all written by the people who lived these adventures. All are classic books your children will love.
There are 2 fantastic DVD series that will ignite adventure in every home. The first is Growing Up Wild. A real-life missionary family, dad, mom and 4 boys, who live in the jungles of the Wano Valley on the adventure of a lifetime, while declaring the Gospel. In this 5 part series, you get an amazing glimpse into a missionary family's daily life. I will warn you, they have a Lego loft that is super cool and your children may be ready for missions based on that alone!
The second series is Travel the Road, which is available on their website and also on Netflix. This is the worldwide adventure of 2 men bringing the Gospel to remote areas. Since this series has a bit more danger, and also covers some of the martyrdom around the world, I suggest it for children ages 10 and up as long as you have discussed the dangers for Christians in other parts of the world.
That's just a sampling of great, real-life, adventure-filled books and stories. I know these real-life adventures will ignite in your children's hearts a love for both reading and God's work throughout the world.
The following two tabs change content below.
Jenn Hoskins
is a wife, homeschooling mom of 6 and daughter of the great King! Her ministry, Mommy Evangelism, runs with the mission statement One Family, One Gospel, One Mission. Motivating moms to ensure their children are part of one family, God's family, sharing the one true Gospel and focusing on the one mission, to Go and make disciples. You can find her at
www.MommyEvangelism.org
.
Latest posts by Jenn Hoskins (see all)