This post is from contributor, Jenn Hoskins.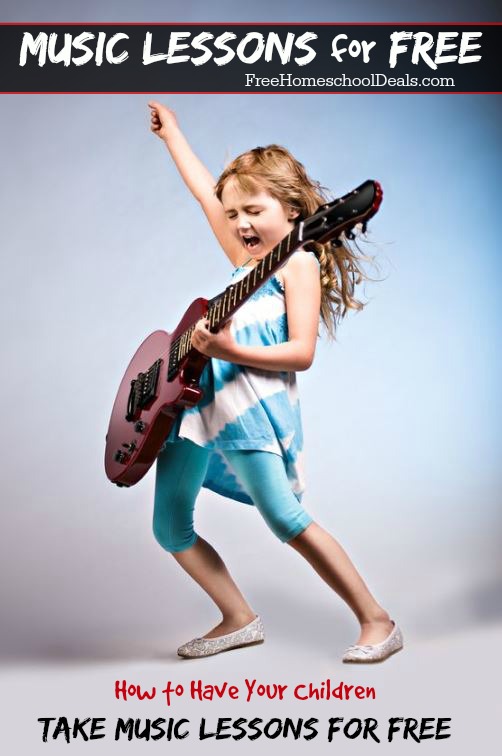 This post contains affiliate links.
Recently, one of my children expressed interest in learning to play drums. Another has been begging to play the violin.
I realized two things pretty quickly. One, I don't have any musical talent to help them. Two, and most important, I cannot afford to pay someone for lessons. I felt like a terrible mom, not being able to teach them to play, but sometimes you just have to face the facts.
Learning to play any instrument is expensive!
If this was 10 years ago, I would have said, "Sorry kids! Teach yourself if you really want to learn." Since we live in 2014, I looked to the greatest source of free knowledge (and funny videos) out there: YouTube. There are so many lessons on there, totally FREE!
Yes, free music lessons. That is a price we can all afford.
Here are some of the best channels I found:
Now for your next question: how to get instruments free or cheap?
My go-to shopping place is pawn shops. You can buy them for half, or less, of retail cost and usually in great shape. Call around to a few in your area. I bet you will find some good deals. Make sure you do not pay more than 50% of retail for a used one. Be smart and thrifty at the same time!
If you choose to buy the instrument new, I highly recommend buying from Amazon. You can shop for best values easily, and some have great bundles that include tuners and sheet music. Here are some of my top picks from Amazon:
Drums, harp, keyboard, saxophone, guitar, recorder, violin, flute and bass guitar.
So which instrument are you going to pick now that you can get the lessons for free?
I am thinking drums. I am also thinking I will take the money saved and invest in some good noise canceling headphones. Good ones. Some things you don't go cheap on!
Now enjoy your free music lessons!
Copyright: thoermer / 123RF Stock Photo
The following two tabs change content below.
Jenn Hoskins
is a wife, homeschooling mom of 6 and daughter of the great King! Her ministry, Mommy Evangelism, runs with the mission statement One Family, One Gospel, One Mission. Motivating moms to ensure their children are part of one family, God's family, sharing the one true Gospel and focusing on the one mission, to Go and make disciples. You can find her at
www.MommyEvangelism.org
.
Latest posts by Jenn Hoskins (see all)