This post is from contributor, Jenn Hoskins. Originally published on Feb. 2014.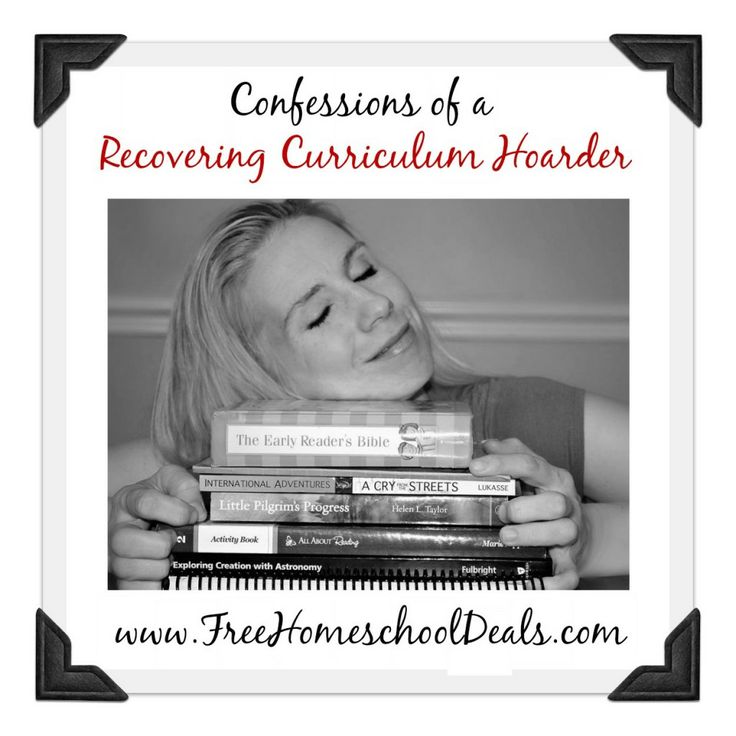 *This post contains affiliate links*
"Hello, my name is Jenn and I am a recovering curriculum hoarder."
Say it with me: "Hi Jenn!"
Yes, it is true. I once collected curriculum like a bee collects pollen. I skipped gleefully down the aisles of homeschool conventions. I scoured the bins at used curriculum sales. My heart would soar as I read curriculum reviews. I knew there was something always missing yet desperately needed. I had an unquenchable appetite for educational books.
A few years ago, we went through Dave Ramsey's Financial Peace University. Part of the course was being forced to reevaluate all of our spending. That's where it happened.
Arrogantly, I went into this thinking I was saving so much money on curriculum by buying used. "I am always buying used. Always at least half price!" is what I told myself as I wrote down the numbers on that page. After grabbing a calculator and tallying the figures, I almost cried. Not only had I spent way, way…way more than I thought but I was also faced with the reality that much of the curriculum had never been used. In spite of my best intentions, I had found myself way over budget with a ton of unused books.
I looked honestly at what I had used with each child. What was I truly using? I figured out that for the best language arts curriculum, I was willing to pay full price. For math, I saved a few dollars on eBay but it was still over $100 a year. Science, full price. History, full price. The YWAM biographies we use, I got at conventions brand-new each year. Click N'Read is a lifetime license I have been using since my 7th grader was learning to read.
So what was the rest? Nothing. Good ideas. In reality, I used none of it!
I stepped back and reevaluated. What do I really NEED each year? That's what I now budget for and it has cut my curriculum costs in half. Plus, I have the added bonus of shelf space. No more guilt staring back at me when I go to pull a book off a shelf.
When I finally got rid of all the extra books, I had a mini Braveheart moment as I yelled, "FREEEEEEDOM!" and looked at my neat and tidy bookshelves, now whittled down to just two sets.
The greatest lesson I've learned on my path to recovery is that you always save the most money when you don't spend it.
Yes, you heard it right. The best bargain is walking away, keeping your hard-earned money!
I now put that extra money into our vacation fund. Since finishing FPU, we've vowed to take our yearly vacation to the Teach Them Diligently convention, debt-free.
I encourage you to reevaluate your shelves. See what you need and what you don't. Are you harboring guilt over not using something? Do you keep saying, "Next week I will start that book"? If it's been more than a year and it's still unused, free yourself! Don't let your bookshelves weigh you down. You will be amazed how much your curriculum budget grows when you make the commitment to only buy what you use and not just the things you want.
In fact, you can take that advice over your whole budget and find a lot of money you didn't realize you had.
Now it's your turn. Stand up. Repeat: "Hello, my name is ______ and I am a curriculum hoarder." Welcome to the first step on the path to recovery!
The following two tabs change content below.
Jenn Hoskins
is a wife, homeschooling mom of 6 and daughter of the great King! Her ministry, Mommy Evangelism, runs with the mission statement One Family, One Gospel, One Mission. Motivating moms to ensure their children are part of one family, God's family, sharing the one true Gospel and focusing on the one mission, to Go and make disciples. You can find her at
www.MommyEvangelism.org
.
Latest posts by Jenn Hoskins (see all)