This post is from contributor Jenn Hoskins.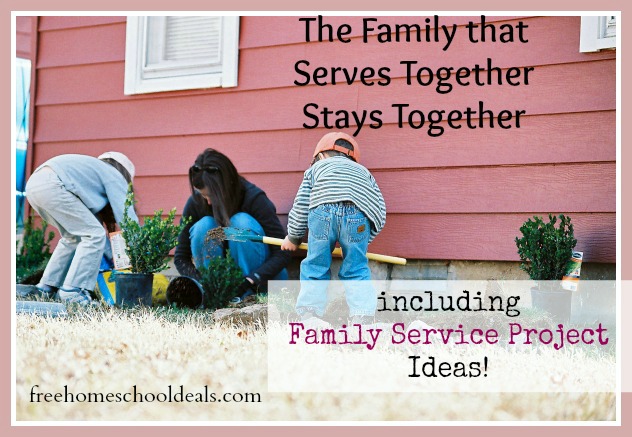 All moms have similar goals for their children.
We desire them to grow to be successful people who are unselfish, loving, and confident. We try to buy the right curriculum, have the right talks, and find ways to grow them.
One of the best things we discovered as a family is that we serve well together. We make a great team when we focus on the same goal. When we don't? Well that is a different story!
Several years ago when the tornado devastated Joplin, MO, we went and participated in disaster relief efforts there, helping alongside people who had lost everything. It was something that really bound our family together as a team.
At our old church, we ran the coffee/breakfast bar. My children and I shopped for supplies, got there early and set up and served our fellow church members hot coffee and bagels. At our current church, we help out with the food pantry every week. My older boys have mowed lawns in our church's neighborhood to serve the community God has planted us in.
One common thread in our lives is we are always looking for a place to serve as a family.
I know what you are thinking, not every serving opportunity allows a family to serve together, but there are many more than you may realize, even for little ones.
My little ones, ages 2-7, help sort cans and pack bags at our church's food pantry each week. Our older ones carry things to the cars of people picking up food. When we volunteered in Joplin, my little ones helped me put things on tables, even the 11-month-old.
Teaching them young by serving people together shows them they not only can serve but they can belong to something bigger. You are training them to look beyond themselves, shaping their character.
Here are a few ideas for what you can do to serve together as a family:
(This list is gathered from my fellow large family moms and things they have actually done!)
Family Service Project Ideas
~ care packages for the military
~ packing food for disasters in other countries
~ care packages for the homeless
~ serving food at a local rescue mission
~ sidewalk counseling at a local abortion mill
~ passing out Gospel tracts at parades
~ cleaning your church, making food or cleaning homes for new moms, elderly, or the sick
~ helping build a home with Homes for our Troops
If all of these overwhelm you, then start small. A friend trained her children in the ministry of a smile. She taught her children to look strangers in the eye and smile. A simple smile can go a long way to a person's heart, especially from a child.
It's not difficult to find places to serve as a family. The benefits of serving go far beyond the activity.
Tell me, how have you served as a family? What are some ideas you have had?
The following two tabs change content below.
Jenn Hoskins
is a wife, homeschooling mom of 6 and daughter of the great King! Her ministry, Mommy Evangelism, runs with the mission statement One Family, One Gospel, One Mission. Motivating moms to ensure their children are part of one family, God's family, sharing the one true Gospel and focusing on the one mission, to Go and make disciples. You can find her at
www.MommyEvangelism.org
.
Latest posts by Jenn Hoskins (see all)