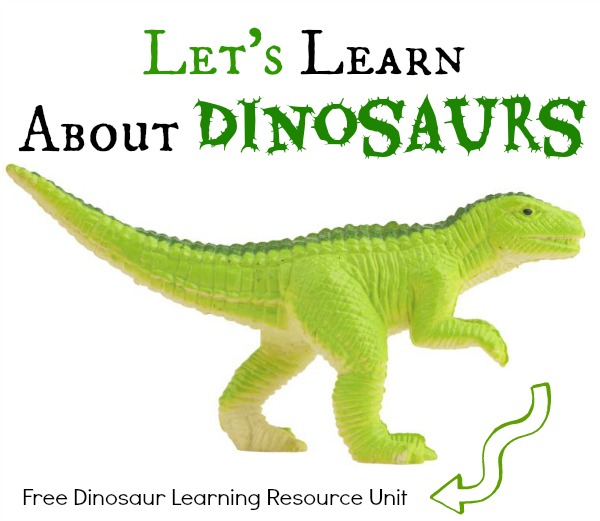 Let's Learn About Dinosaurs is a free resource unit put together by Stacey of Layered Soul.
If you really want to learn facts about dinosaurs before you get carried away with activities try researching your questions at Answers in Genesis.
If you are pressed for time read the blog post on Top Ten Dinosaurs Activities.
Discovery Education has a lesson plan to discuss different theories about what dinosaurs looked like. National Geographic has lesson plans for the older students. Here is a dinosaur book list, warning some of the books have evolution content. Teachers Pay Teachers has free lesson plans on dinosaurs with math, handwriting, and determine the size of a dinosaur.
PBS Kids has an interactive dinosaur page.
Do your kids love lapbooks? Try making a dinosaur lapbook.
Let's watch some videos with dinosaurs in action. (Please note there is 13 second advertisement at the beginning and some clips show dinosaurs being eaten so may not be suitable for young children.)
Dinosaur coloring pages can be a hit, try gluing some grass and dirt to your pictures, or putting some bark underneath your coloring page for a textured look. Maybe you just want to draw dinosaurs.
Use up your empty toilet paper rolls with these dinosaur crafts. If you don't have any empty toilet paper rolls try making a dinosaur out of junk. If you want to get your hands messy make a dinosaur out of paper-mache. If paper-mache is to messy try making a dinosaur out of Crayola Magic.
If you are the most amazing crafter, build a dinosaur habitat inside an old suitcase.
Try using dried macaroni in clay to make fossils. Popsicle sticks can be used to make dinosaur skeletons. Dog bones can be hidden in the yard for a dinosaur bone hunt. Construct a sensory tub with a dinosaur theme. Make some dinosaur eggs and fossils.
Pre-schoolers love dinosaurs. Make a dinosaur out of basic shapes. Print out some pre-school pages on dinosaurs. I love dinosaurs puppet shows and songs. Learning the ABCs, make dinosaur ABC fossils.
A huge list of dinosaur themed dot-to dot, word searches and mazes.
If you are trying to get more work out of your kids there is even a dinosaur chore chart.
My kids enjoy themed food. Read this huge list of dinosaur themed food. Try an icky dinosaur treat. For a healthy dinosaur treat try making hard boiled dino eggs.
For a fun afternoon throw a dinosaur themed party. More dinosaur themed party ideas. Dress like a dinosaur with this foot pattern. Don't forget the dinosaur cupcakes or mini volcano cupcakes.
Tell some dinosaur jokes to end your day.
Thank you dinosaur cards seem like a great way to end this post.
The following two tabs change content below.
Stacey Lane
 is a wife, mother, teacher, jill-of-all-trades, and a member of the Bright Ideas Press team. Her many gifts include visual thinking, bringing order out of chaos, thinking outside the box, and taking charge (when needed). When she's not developing curriculum or contributing to her blog at
 Layered Soul
she homeschools her own four children. 
She is notoriously, amazingly frugal and has shouted, "I'm Debt Free" on the Dave Ramsey show!