This post is from contributor Stacey Lane.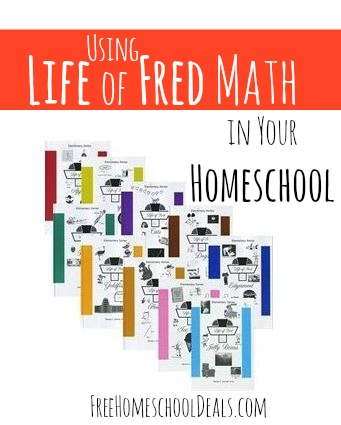 (This post contains affiliate links.)
Have you been thinking about using Life of Fred math in your homeschool? (If you've not heard of it, find it here: Life of Fred 4-Book Elementary Set # 1 : Apples, Butterflies, Cats, Dogs
.) If you decide to use Life of Fred exclusively, or even as a supplement to other math programs, here is round-up of Life of Fred ideas.
Life of Fred Math Ideas for the Elementary Level:
If you are looking into Life of Fred and are wondering how it works, I would suggest reading the review on Blog She Wrote. You can do a Google search for other reviews of the program. I wanted to focus on resources and ideas for teaching Life of Fred math.
Maybe you would like to know more about the author of the series. Here is an interview with Mr. Stanley Schmidt. Or you might like to check out his TV episodes from the 1990's.
If you are looking for a group of others who use Life of Fred, join the Facebook group, Life of Fred Fans. Do not forget to check the files section. You can find worksheets, reviews, and extra tips. If you post a question you might find a lady who is actually selling Life of Fred dolls.
I found some summaries of each book and what concepts are covered in each at Old Ways Made New.
It seems Life of Fred Apples wins the most-popular-book, based on blog posts:
I found a few Life of Fred math boards on Pinterest:
These boards were loaded with math ideas:
If you are looking for free Life of Fred notebook pages, Growing a Garden of Girls has pages for the first eight books.
Maybe you want a YouTube video on the music written about in the Life of Fred Cat book, You are My Kitty.
I enjoyed the write-up on "Is Life of Fred Enough." For the sake of research I purchased the app, Speed, mentioned in the blog post. My son has enjoyed trying to go faster than the computer. I have to admit, when I first opened the app and did not realize I was on the "trainee" level for Speed, I thought the game was super slow. Then I switched levels and was quickly shocked by how fast it could go.
If you are a planner and want to look ahead at the upper series, here you can download samples at Moving Beyond the Page.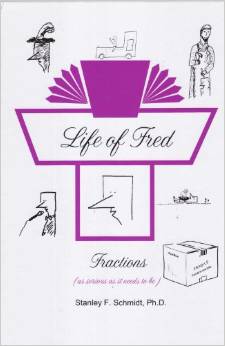 Of course, my favorite Life of Fred math posts are my own. I have created notebook pages and extra pages to teach concepts in each book:
Have you ever used Life of Fred in your homeschool? Do you have comments or questions about it?
The following two tabs change content below.
Stacey Lane
 is a wife, mother, teacher, jill-of-all-trades, and a member of the Bright Ideas Press team. Her many gifts include visual thinking, bringing order out of chaos, thinking outside the box, and taking charge (when needed). When she's not developing curriculum or contributing to her blog at
 Layered Soul
she homeschools her own four children. 
She is notoriously, amazingly frugal and has shouted, "I'm Debt Free" on the Dave Ramsey show!