If your family has a struggle with selfishness or discontentment, this time of year is ideal for teaching about gratitude. Use this free Thanksgiving family Bible study to help guide your family toward an attitude of thankfulness.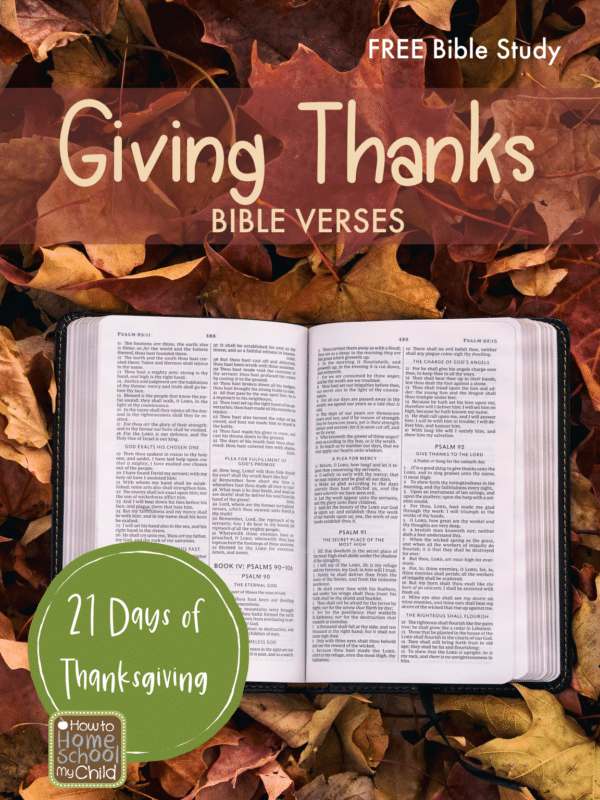 Thanksgiving is upon us, and children know that coming up right behind it is Christmas time. Perhaps your children struggle with self-centeredness or ingratitude, or perhaps even mom and dad struggle.
We all have a hard time setting aside "me" and acting in selflessness for the benefit of others. Sometimes we forget how blessed we are and get caught in the trap of thinking we need more to be happy.
Children learn from us, and it is our example they follow, good or bad. What a perfect time to sit together as a family to talk about gratefulness and how attitudes can improve.
This free printable Bible study will be a wonderful resource to guide you on your thankfulness journey.
There many Bible verses to share and talk about, and plenty of space to write down what you have learned from them.
At the end of the study, spend time discussing how you can apply what you've learned to your family life.
Find more free Bible studies for your family in addition to this Free Thanksgiving Family Bible Study:
CLICK HERE for hundreds of free homeschool printables
Be sure to follow the Free Homeschool Printables and Worksheets board on Pinterest!
Be sure to follow the Free Homeschool Printables and Worksheets board on Pinterest!
The following two tabs change content below.
Jeannette is a wife, mother and homeschooling mom. She has been mightily, saved by grace and is grateful for God's sovereignty throughout her life's journey. She has a Bachelor in English Education and her MBA. Jeannette is bi-lingual and currently lives in the Tongan Islands of the South Pacific. She posts daily freebies for homeschoolers!
Latest posts by Jeannette Tuionetoa (see all)