Are your children spellbound by fish aquariums? To learn all about fresh and saltwater fish, use these fish notebooking and research pages.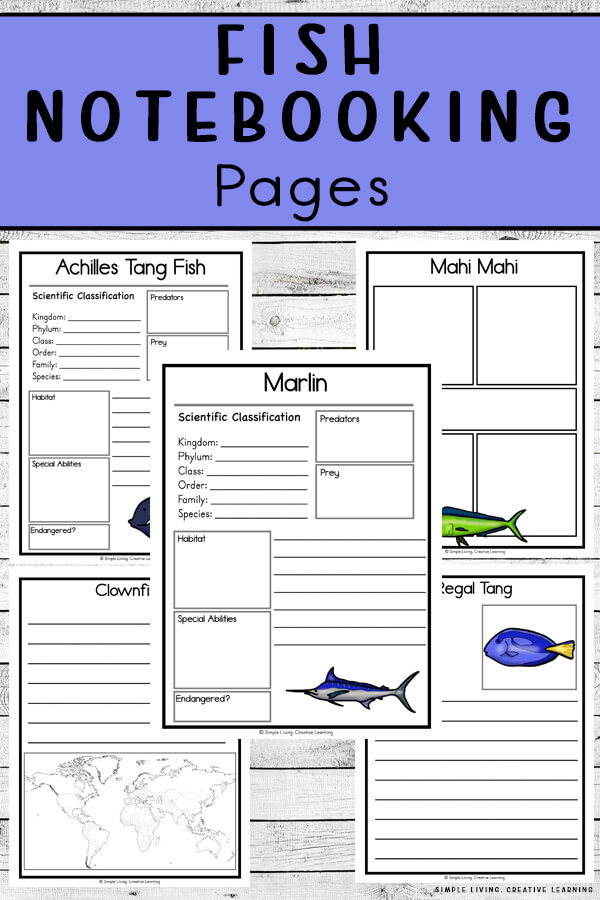 There is something that draws me to an aquarium with fish swimming around in it. It is peaceful and relaxing to watch them do what fishes do.
Saltwater fish, like clownfish or blue tang, are especially intriguing. Their bright colors and unique shapes really capture our interest.
There are some mean-looking fish out there, too, like barracuda and catfish. I wouldn't want to come face-to-face with either of those.
This huge 140+ page collection of notebooking pages will be a fun project for your child to work through. Do them all, or just choose your favorites!
The first page of each set includes a section to record scientific classification data. You'll find space for information about predators, prey, habitat, special abilities, and endangered status.
On the second page, your child will determine where that fish is found. A map is included.
The last two pages are for any fun and fascinating information your child learns about the fish.
Use the spaces to sketch or add printed pictures!
Grab more free notebooking pages below:
The following two tabs change content below.
Jeannette is a wife, mother and homeschooling mom. She has been mightily, saved by grace and is grateful for God's sovereignty throughout her life's journey. She has a Bachelor in English Education and her MBA. Jeannette is bi-lingual and currently lives in the Tongan Islands of the South Pacific. She posts daily freebies for homeschoolers!
Latest posts by Jeannette Tuionetoa (see all)