Compared to other places around the world, deserts have some of the most extreme characteristics. Don't miss these free desert notebooking pages to add to your geography lessons.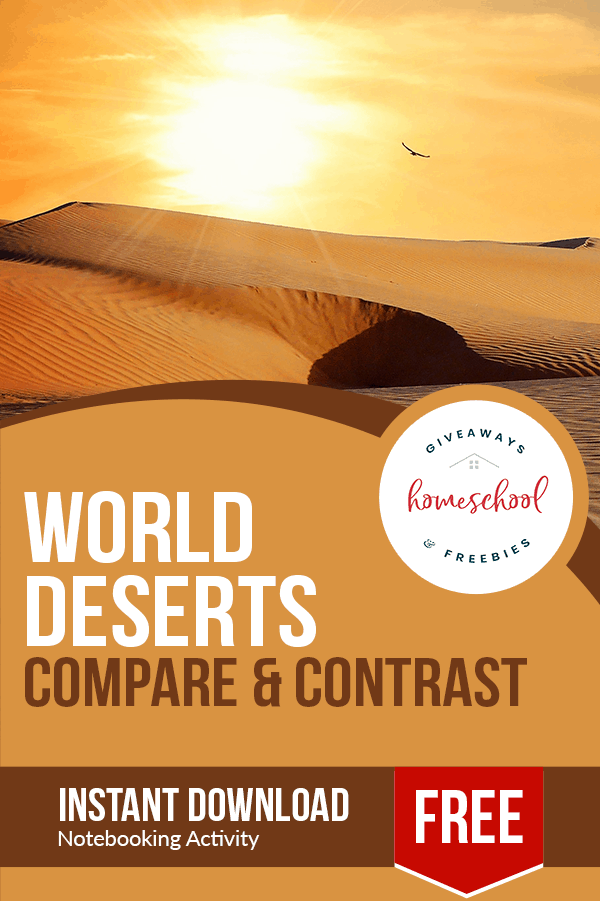 Deserts are typically known for being hot, dry, and barren. Did you know that there are "cold deserts" that have hot summers, but extremely cold winters?
Antarctica is sometimes considered a desert by scientists. Even though it is very cold there, Antarctica receives hardly any snow or rain.
The common characteristic of all deserts is that they are all arid, or very dry.
I enjoy living where there is warmth and humidity. In drier climates my skin gets dry and I am always thirsty.
Even though I live where it is humid year-round, I do have to remember to hydrate often!
This huge set of notebooking pages will take your child around the world to learn about deserts.
They will explore deserts on every continent and gather information. The printed pages will guide them to look for specific facts.
These pages include compare and contrast exercises. This means that your child will look at the differences and similarities of two deserts at a time.
Grab more free printables about deserts below:
The following two tabs change content below.
Jeannette is a wife, mother and homeschooling mom. She has been mightily, saved by grace and is grateful for God's sovereignty throughout her life's journey. She has a Bachelor in English Education and her MBA. Jeannette is bi-lingual and currently lives in the Tongan Islands of the South Pacific. She posts daily freebies for homeschoolers!
Latest posts by Jeannette Tuionetoa (see all)