Enjoy the variety of multiple different types of trigraph bookmarks with this free printable set for your kids to cut out and use.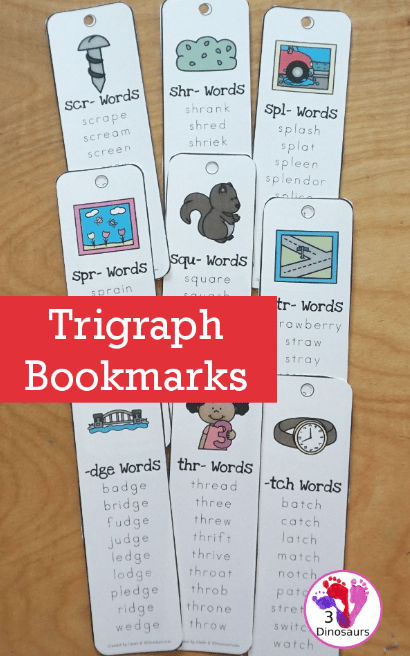 These trigraph bookmarks are free to print and great to use for all of your reading needs whether it's in school or for your own personal reading. Kids of all ages and even adults too can find these trigraph free printable bookmarks useful.
The great thing about these special free printable trigraph bookmarks is that while you can use them just for being bookmarks, they also help teach your kids about trigraphs and words that start and end the same.
These free printable trigraph bookmarks include a list of words with similarities as well as illustrated pictures for your kids to follow while learning. These are great for using as review for your students who are going over learning about trigraphs in school.
A hole puncher and/or a laminator work really well with this free printable pack for cutting out a hole in the top of a bookmark and also laminating the bookmarks for better durability and to last longer.
If you punch holes at the top of all of the bookmarks then you can either tie pretty colored ribbons to the top of the bookmarks or you can attach them all to a key ring for studying purposes.
Check out these links below for more free printable bookmarks.
The following two tabs change content below.
Latest posts by Isa Fernandez (see all)