Check out these excellent free printable multiplication worksheets that are perfect for your third graders to be able to use for learning and extra practice and review purposes.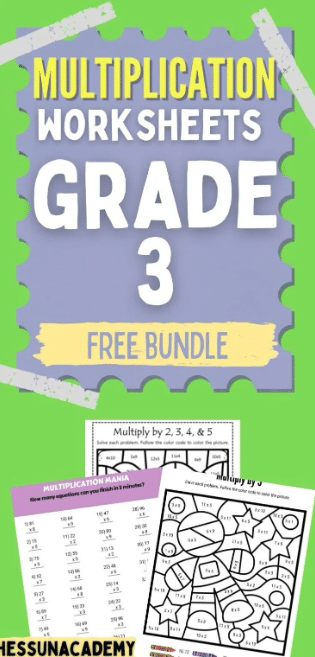 These are the perfect free printable multiplication worksheets to add to your students third grade current math study lesson plans for the extra practice and help or use for reviewing purposes.
You can easily download and print these free multiplication worksheets for your third graders to be able to use for teaching and learning either from being in the comfort of your own home, or to use in a classroom full of students who are learning together.
Elementary ages students get to practice building their multiplication skills with these fun and free printable multiplication worksheets. These free printables have easy to follow instructions for students to understand what they're learning instead of getting frustrated.
Make learning easy and fun for your elementary aged students with the help of these free printable multiplication worksheets that are just perfect for your students in third grade to be able to use.
Your kids get to pick out colored crayons, markers, or colored pencils to be able to use after multiplying the numbers together to find out what colors to use to color the page correctly. Make sure to read and follow directions carefully on the pages so that your students know where to color.
Check out these links below for more free printable math worksheets.
CLICK HERE for hundreds of free homeschool printables
Be sure to follow the Free Homeschool Printables and Worksheets board on Pinterest!
The following two tabs change content below.
Latest posts by Isa Fernandez (see all)