Take a look at these totally awesome and free printable crab themed math worksheets that are absolutely perfect for your elementary aged students to be able to have fun while learning with.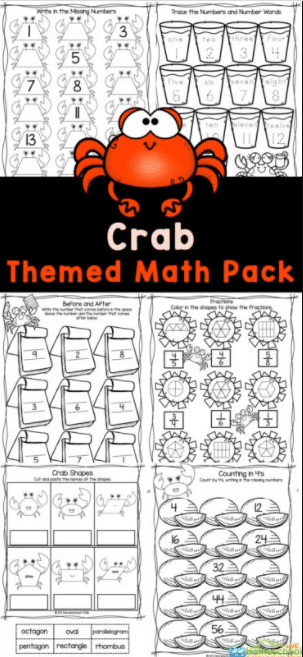 This free printable crab themed math worksheet pack comes with a ton of different fun learning math exercises for kids to be able to use for possibly learning new things or reviewing old things they already learned.
All that you have to do is download and print this free printable math worksheet pack with a fun summer time crab theme to it and then your students can learn and practice studying fractions, shapes, writing numbers, and more.
You can easily use these free printable math worksheets for teaching your kids at home or use them in a classroom full of students at school or a homeschool co-op.
These worksheets you can easily add to any kind of math curriculum study lesson plans that you may already have for your children. They come with very basic homework questions to give your kids a little extra study time if they need help learning some concepts. Also keep your kids busy, entertained, and occupied with this awesome free printable crab math worksheets.
Check out these links below for more free printable math worksheets.
The following two tabs change content below.
Latest posts by Isa Fernandez (see all)