Use these fun and free printable outer space themed math worksheets, perfect for your elementary aged students to help practice their fractions, decimals, and percentages.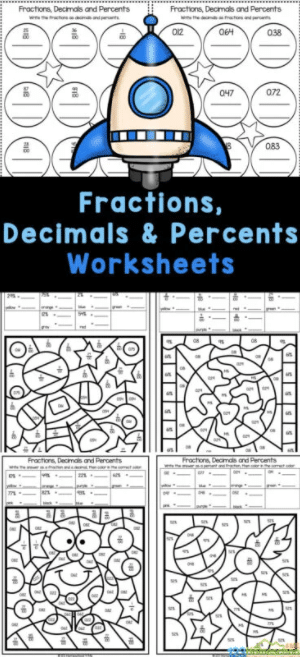 Learning their decimals, fractions, and percentages for the first time can be challenging for some students. These fun free space themed printable math worksheets are a great way to help your students learn by adding them to your study lesson plans.
These excellent free printable outer space themed math worksheets are great for helping your third, fourth, and fifth graders with learning, solving, and understanding decimal, fraction, and percentage problems.
You can choose to print off these free printable math worksheets to use for studying and teaching at home, or they also work really well in a classroom setting for multiple students to use.
Kids can be able to have fun while learning new challenging topics at the same time with these great free printable math worksheets.
Let your students pick out their favorite colored crayons, markers, and coloring pencils to use to color and decorate their black and white math worksheets. This can be like a reward that they get to look forward to after completing all of the math problems.
If you are looking for more great free printable math worksheets like this one then check out these links below!
The following two tabs change content below.
Latest posts by Isa Fernandez (see all)