The weather's changing, and so is the vibe in your homeschool! All your kiddos are getting excited for the holidays, so include it into your daily activities with this Ultimate List of Christmas Activities for 2018!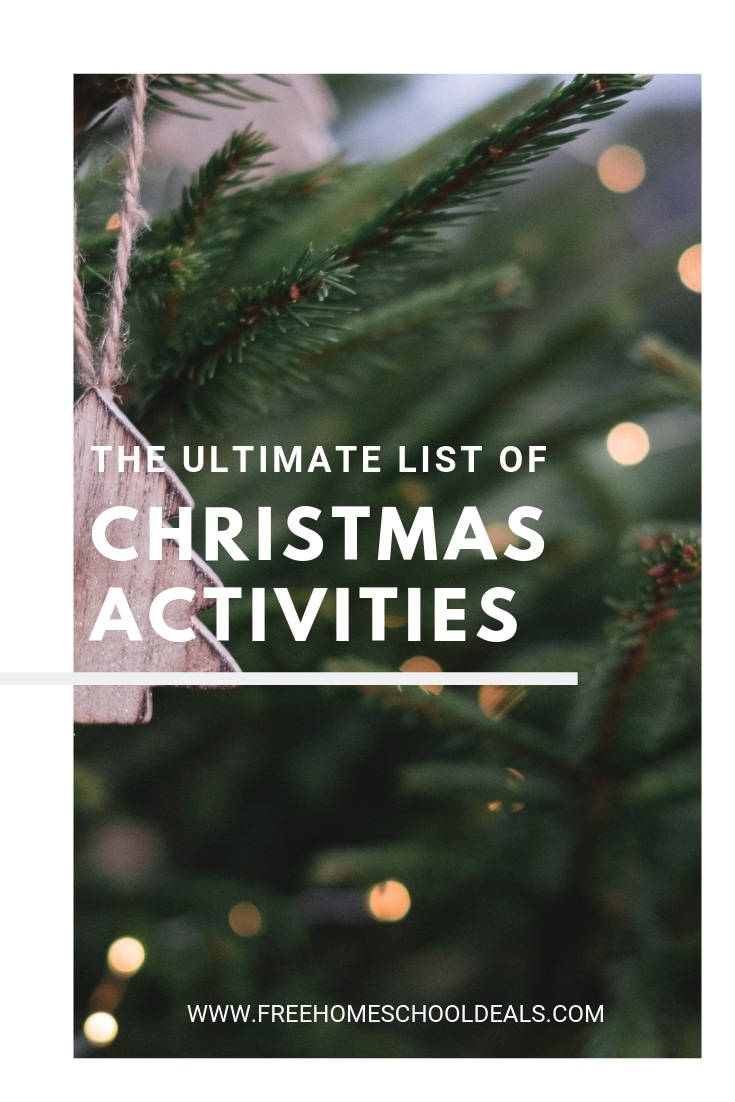 Check out our following activities, broken down into easy-to-find categories:
Preschool
Math
There are 10 worksheets in this resource from 123 Homeschool 4 Me to help preschoolers (and even Kindergartners) practice their counting 1-20!
These printables from Crystal and Comp are perfect for young learners to practice their math skill of "one-to-one correspondence". And they're fun!
Give your preschooler the chance to practice their cutting and other fine motor skills with this Christmas Shapes Printable thanks to 123 Homeschool 4 Me! They will also get to work on their shape recognition.
Print out the Christmas trees and stars from Motherhood On a Dime and practice counting 1-20 with your child! They can put the number in the star at the top of the tree and then put the right amount of stickers or buttons on the tree!
Literacy
Your little one can have fun tracing Christmas images to practice their pre-writing and fine motor skills thanks to Homeschool Preschool!
Practice letter hunt recognition with this 14-page alphabet hunt resource for preschoolers from Homeschool Preschool!
Enjoy the Christmas theme with this lovely ABC coloring and tracing preschool pack from the Intentional Momma!
Mixed
This packet from Life Over C's is great if you're looking for some no-prep math and literacy practice for your preschooler or early elementary student!
In these printables from Tot Schooling, your young learner can practice counting, the alphabet, shapes, and more, all with a Christmas theme!
If you're looking for something for your preschooler to work on before the holidays, you will love these lesson plans from Fun Learning Ideas! There are ones for counting, the alphabet, reading, writing, and more!
From cutting to tracing to counting, this pack is full of great preschool activities to do around the holiday time! You won't be left without ideas this holiday season thanks to Confessions of a Homeschooler!
Your preschooler can work on their shape and pattern recognition, spelling, phonics, number order and more all in this one resource from 2 Teaching Mommies!
Games and Activities
If you're looking for some fun holiday games to play with your young learners, then check out these printable games from Itsby Bitsy Fun which have counting, matching, puzzles, and more!
Your child can practice their counting and visual perception skills with these fun hide and seek mats from 123 Homeschool 4 Me!
Elementary
Math
Practice your higher level addition with these addition and subtraction worksheets with lovely Christmas borders! Check them out at Only Passionate Curiosity!
Another resource from Only Passionate Curiosity! Make rounding decimals just a little more fun with these Christmas-themed decimals worksheets!
Resource #3 from Only Passionate Curiosity! Practice adding and subtracting 3-digit numbers with this Christmas math worksheet!
Take a break during the day and practice with some Sudoku or grid-style puzzles from Math Geek Mama! It's great for free time or over the holidays!
Perfect for 1st-3rd graders, here is a great pack from 123 Homeschool 4 Me filled with math activities for before or over the holidays! It's all about addition and subtraction fact families.
Literacy
Practice Christmas-themed vocabulary with these beautiful watercolor 3-part word cards from The Natural Homeschool!
Have a little fun coloring and learning sight words with these coloring sheets from 123 Homeschool 4 Me!
Keep track of your child's reading this holiday with these reading charts from 3 Dinosaurs!
Practice a little Christmas phonics and create your own book with this Christmas-themed easy reader from 3 Dinosaurs!
This resource from Kindergarten Worksheets and Games could be for advanced preschoolers, but your child can match the image with its beginning sounds! It's a great way to practice new words!
Thanks to 123 Homeschool 4 Me, your kids can learn about how they celebrate Christmas in over 30 countries around the world!
Mixed
This is a lovely pack from Meet Penny which is chock full of excellent resources for math and literacy activities, all with a Christmas theme! There are printables for telling time, finding the main idea, subtracting, and more!
Games and Activities
For a few fun activities like connect the dots or coloring pages, etc., check out this Christmas Activities Workbook from Currclick! (for a small price)
Practice phonics, math and more with this Christmas Games from Walking by the Way!
Get your kids out and moving this season with these fun Gingerbread Gross Motor Dice activities from 3 Dinosaurs!
Get into the music of the season with these 12 Days of Christmas Coloring Pages from 123 Homeschool 4 Me!
The following two tabs change content below.
Keri
Keri is a former elementary and middle school teacher who's worked overseas for 4 years. She loves to write and so decided to pursue her writing dream!