It's very important to include gross motor skills practice in your homeschool. It gets the "wiggles" out so that your children are better motivated and more focused, but it's also helpful to encourage their body's development.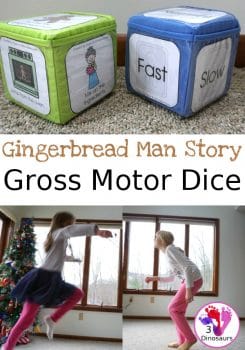 And it's fun! If you're living in a cold area but need some physical outlet, then check out these Gingerbread Man Gross Motor Dice! They fit with the story, and there are characters and motions to imitate. Maybe consider rereading the story before you play, so your children can use their imaginations to make the characters come alive! You will have lots of fun acting out the story and getting a little exercise with these gross motor dice from Cassie at 3 Dinosaurs!
For other gingerbread man resources, check out Gingerbread Man Printable Packs and Gingerbread Man Unit Study.
For another gross motor activity, take a look at the Christmas-Themed Gross Motor Dice Game.
The following two tabs change content below.
Keri
Keri is a former elementary and middle school teacher who's worked overseas for 4 years. She loves to write and so decided to pursue her writing dream!