Enjoy this pretty and free printable Ten Commandments wall art that you can hang anywhere in the house or in the school room for your kids to be able to learn.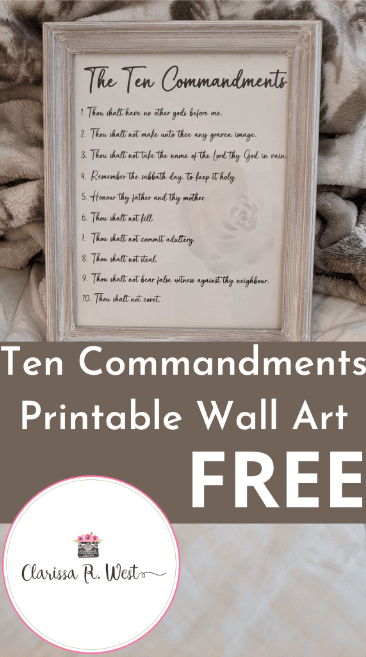 This wonderful free printable Ten Commandments wall art is an excellent addition for your family to be able to have to use during devotional time. Whatever the occasion may be, teaching your children the Ten Commandments is a great place to start for setting rules and moral guidelines.
The Ten Commandments are an excellent thing to use for memorization and, or copywork practice for your children which makes this free printable wall art perfect for!
You can easily download and print out your free printable Ten Commandments wall art poster and have your children copy each individual commandment in order until they can recite them perfectly and have them memorized, and copying them helps build strong handwriting skills.
You can buy a frame cheap at any craft store to be able to use for framing this beautiful free printable Ten Commandments wall art to use as decoration in your home on the walls. This will fit perfectly in an office, living room, bedroom, kitchen, or bathroom.
Check out these links below for more free printable Bible printables.
The following two tabs change content below.
Latest posts by Isa Fernandez (see all)