Check out this link for helpful Bible journaling writing prompts to share with your family and kids.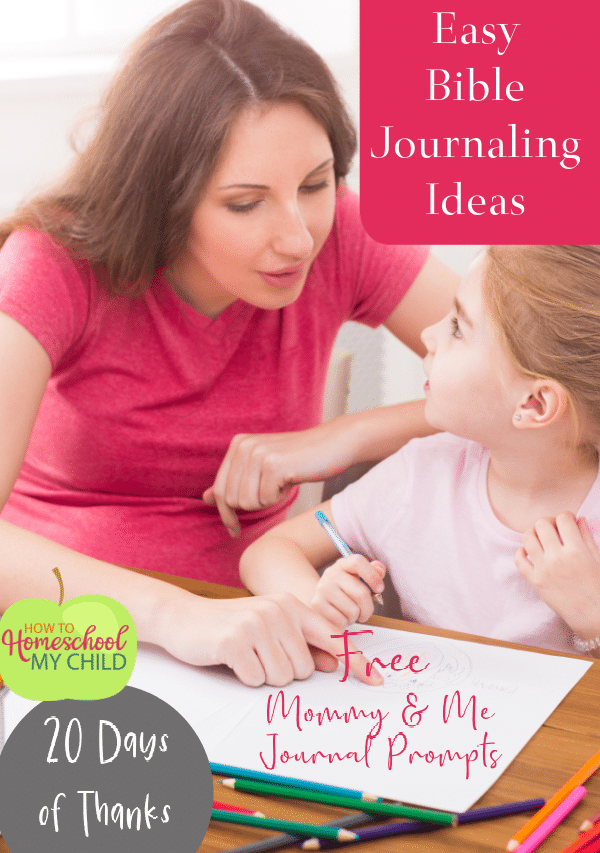 Bible journaling is a great addition to family worship time. Check out this link for great journaling ideas to share with the whole family.
Spending time in the Bible with your kids is so important. Read to them and ask them questions to keep them engaged and paying attention.
These free printable mommy and me Bible journaling pages are great to add to your daily Bible studies. Grow closer to God together. Take your time going through verses of the Bible and talking together.
Some more great free ideas for Bible study time would be introducing relevant Bible story related coloring pages, using Bible verses to practice copy work, and painting pictures inspired by which Bible story you just learned.
It's important to spend Bible time together with your kids and as a family to make sure everyone is getting spiritually fed as they should be and growing closer to Christ together is such a good feeling.
In addition to these free printable Bible journaling sheets, a great idea is to write down your favorite Bible verses on index cards and hang them on the walls inside the rooms in your house, your office, the bathroom mirrors, even in your car. That way your favorite Bible verses are always around you when you need reminders that Jesus is there.
Looking for more free Bible study ideas for the whole family? Check these out.
The following two tabs change content below.
Latest posts by Isa Fernandez (see all)