Use this super awesome fun and free printable synonyms and antonyms worksheets for kids to be able to learn and study the differences.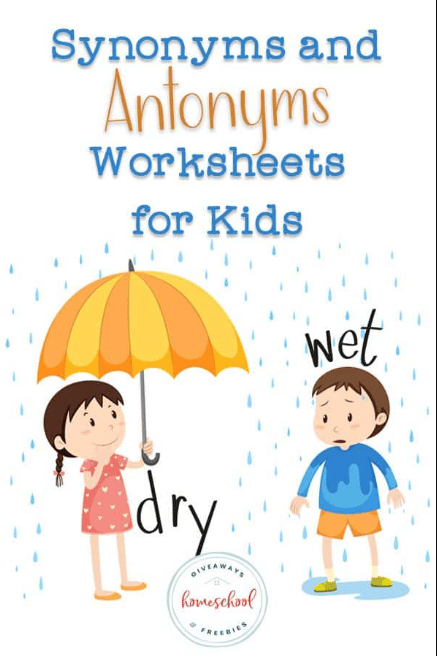 A good way to learn and remember the differences between synonyms and antonyms is that synonyms are the same thing and antonyms aren't.
Use these awesome, helpful, free printable synonyms and antonyms worksheets to teach your kids new things or use them for reviewing purposes whether you are teaching your kids from while being in the comfort of your own home, or using the worksheets in a classroom full of students who are all learning at the same time.
Talk about and discuss different examples of synonyms and antonyms with your students to see what they are able to come up with as well as seeing if they understand the meaning of the two and correcting them if they are wrong.
It's best to use illustrated picture examples while trying to explain the differences between what synonyms are and what antonyms are so that way your children can really see what exactly it is that they are learning.
Understanding what synonyms are and what antonyms are really helps build stronger skills in your students to be able to read better and have a better understanding of vocabulary in general while possibly learning new words at the same time.
Check out these links below for more free printable learning worksheets.
CLICK HERE for hundreds of free homeschool printables
Be sure to follow the Free Homeschool Printables and Worksheets board on Pinterest!
The following two tabs change content below.
Latest posts by Isa Fernandez (see all)