Group games can be such fun activities for parties and holidays. If you have fun activities planned for Valentine's Day, don't miss this fun Scattergories game!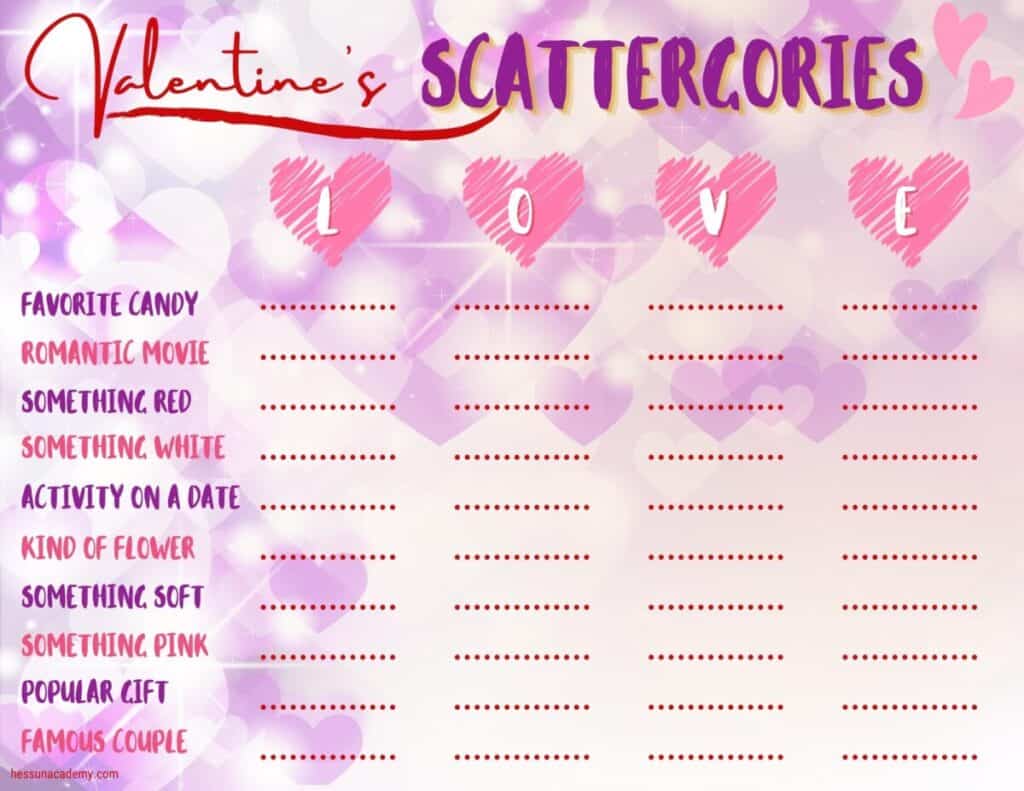 We all love to celebrate Valentine's Day with treats, crafts, and cards. Games and activities make it even more exciting for our little ones.
Scattergories is a great game for getting little minds working. Teachers are experts at finding ways to combine skills challenges with the fun stuff!
To get started, you'll need a timer, pencils, and a copy of the game for each player. If you have enough people it might be fun to group up into teams.
The word "love" is divided by letter into four columns. Players will move down the column choosing words that fit the category using one letter.
To make the game more challenging, reveal only the first column, and cover the others. This way, players can only work on one column at a time!
The idea of the game is to come up with less common answers. If two people or teams give the same answer, it cancels out and no one gets a point.
Save your game for future activities by laminating it and using dry erase markers.
Find more resources to be prepared for Valentine's Day this year to go alongside your scattergories for Valentine's Day.
The following two tabs change content below.
Jeannette is a wife, mother and homeschooling mom. She has been mightily, saved by grace and is grateful for God's sovereignty throughout her life's journey. She has a Bachelor in English Education and her MBA. Jeannette is bi-lingual and currently lives in the Tongan Islands of the South Pacific. She posts daily freebies for homeschoolers!
Latest posts by Jeannette Tuionetoa (see all)