Before too long, spring will be here and new plants will be sprouting. Use this set of plant life cycle worksheets to teach your children all about how plants grow.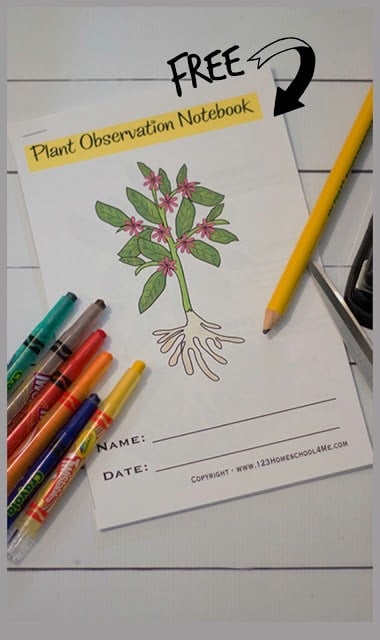 Growing plants from seeds is an exciting thing to watch. It is a great activity for teaching children about the perfection of God's creation.
Learning about a plant's life cycle helps us understand how seeds become plants. We also learn how plants make more seeds, starting the cycle over again.
This fun observation notebook guides your child through the planting and germination process. It also explains the importance of bees and the wind for pollination.
Each page includes a blank for what day your child records information.
There is ample space for sketching what your plant looks like. Also included are questions your child can answer about their plant or other growing things.
A vocabulary section of the notebook lists terms and definitions related to your seedling.
This notebook activity would make a great family project. Flowering plants or vegetables are great choices, and everyone will enjoy the growing process.
Find more plant-themed and plant life cycle printables for your nature studies.
The following two tabs change content below.
Jeannette is a wife, mother and homeschooling mom. She has been mightily, saved by grace and is grateful for God's sovereignty throughout her life's journey. She has a Bachelor in English Education and her MBA. Jeannette is bi-lingual and currently lives in the Tongan Islands of the South Pacific. She posts daily freebies for homeschoolers!
Latest posts by Jeannette Tuionetoa (see all)