This fun and free printable pirate themed maze activity is going to be so fun for your students to be able to do in and out of school.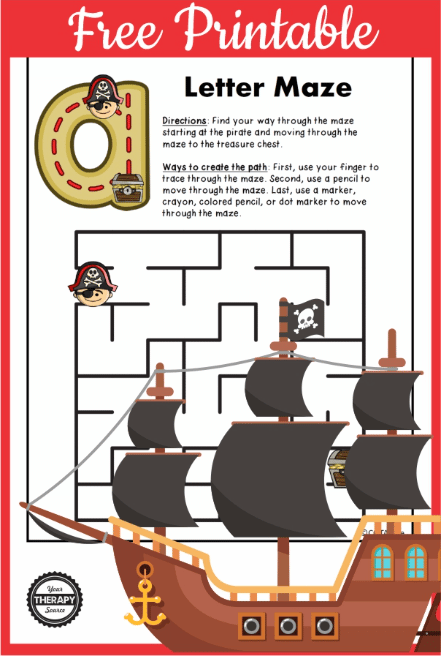 This free printable pirate and letter themed maze activity helps your children be able to build and strengthen their fine motor skills, letter recognition skills, and handwriting skills with these two pages.
These pages are great for multiple reasons, one of them being that it is super easy to download and print out, another reason is that it takes very little to no preparation or things required to enjoy it. All that you will need is a printer machine, printer paper, and writing utensils of some kind for your kids to be able to use.
This is a great free printable pirate themed maze activity to be able to use with your young students for fun and for practice in and outside of the classroom. Whether you are inside the comfort of your own home, in a classroom at school full of students, or bring it with you to be able to use anywhere.
You can either trace the maze with your finger, with a writing utensil, or laminate the page if you can to be able to use draw erase markers on it to use over and over again.
Check out these links below for more free printable tracing pages.
CLICK HERE for hundreds of free homeschool printables
Be sure to follow the Free Homeschool Printables and Worksheets board on Pinterest.
The following two tabs change content below.
Latest posts by Isa Fernandez (see all)