We are loving this ocean life printable art + flashcard set! Enjoy this set of educational wall art for your homeschool space. Sheila has a space in her home that she likes to call the "front room" just for it.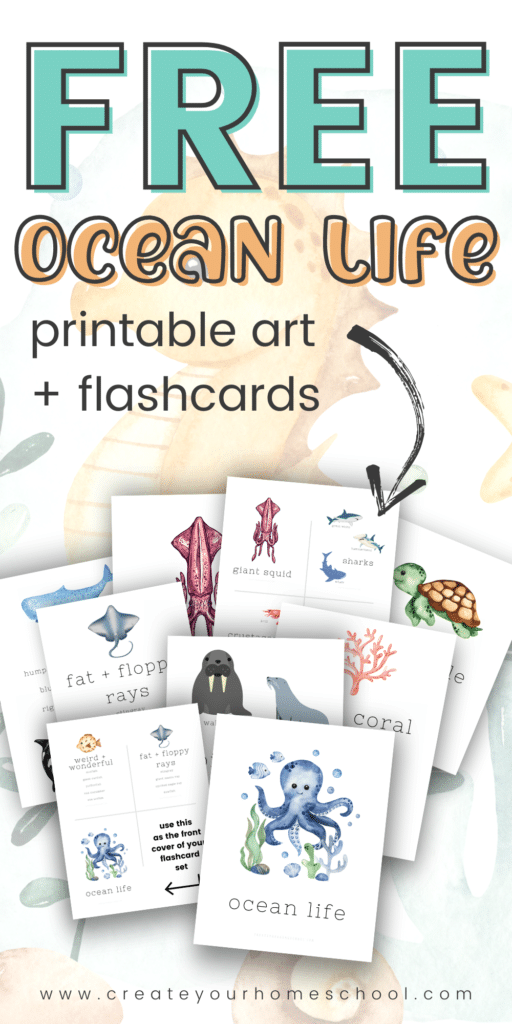 When they were looking at their house, she imagined putting a desk there and creating a cute little sitting nook – Then they made the decision to homeschool and she wanted, so badly, to make it a functioning homeschool space for her family.
Nothing extravagant, but something that's organized and gives them room to do school together.
Now that it's starting to look more like a homeschool space, Shela is ready to ad fun decor elements to keep the space creative and beautiful while they learn!
She's in the process of making a more generic set of educational wall art for that space (which, hopefully, she will share here!) but, they just started an Oceans Unit Study and wanted to create something to make that space a little more on-theme.
We could not be more proud of how this set turned out! The artwork is stunning, and each page / card reminds us of all the fun animals in the ocean there are to learn about!
However, there are SO many things you could do with this set, without doing a unit study. Shela shared three ways you could do something with the set as soon as you download!
| Related: Shop the 2021 Traceable Calendar Set in print + cursive
Use the flashcards to learn a new animal's name each week!
Print the cards and find a new fun fact about the animal each time you go through the deck – write it on the back!
Hang the artwork up just for fun or to create an on-theme bedroom or bathroom!
She really could keep going – they're so versatile!
But to really see how great they are.. you have to download them! So, stop waiting around. These are absolutely FREE to download!
Thanks, Shela!
Grab some more ocean-themed resources to go alongside your Ocean Life Printable Art + Flashcard Set.
The following two tabs change content below.
Jeannette is a wife, mother and homeschooling mom. She has been mightily, saved by grace and is grateful for God's sovereignty throughout her life's journey. She has a Bachelor in English Education and her MBA. Jeannette is bi-lingual and currently lives in the Tongan Islands of the South Pacific. She posts daily freebies for homeschoolers!
Latest posts by Jeannette Tuionetoa (see all)