You can make learning easy and fun for your students with helpful free printable worksheets like these. Practice filling in missing numbers with your students from in your own home or in a classroom full of students learning together.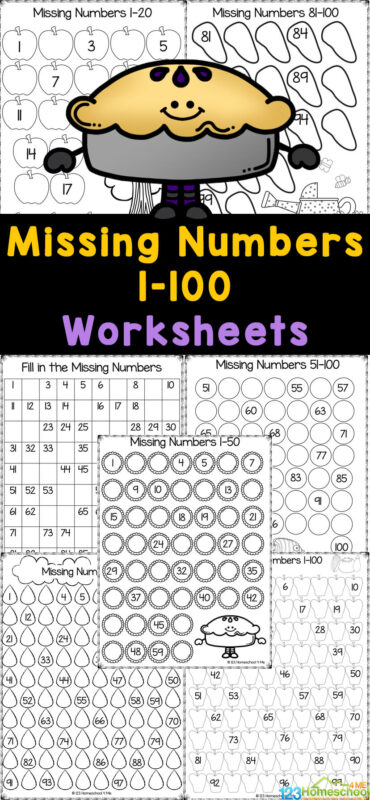 This free printable math worksheet pack is great for your students of multiple ages to be able to use for finding missing numbers.
There are plenty of different kinds of learning activities included with this free printable pack of missing numbers worksheets for your children to be able to enjoy without getting bored quickly.
You can find plenty of missing number activities with numbers ranging from zero all the way to one-hundred for your children to have fun while learning.
Turn learning about numbers and doing math into a game for your students that way they can stay engaged and have fun while learning at the same time. Come up with different kinds of number games by being creative with these free printable missing numbers worksheet pack for your kids.
Enjoy the different fun themes the worksheets have like vegetables, the ocean, pie, rain, and more. Print the free worksheets in black and white which makes it fun for your kids to be able to color in with their favorite colored crayons, markers, and colored pencils.
Check out these links below for more free printable math worksheets.
CLICK HERE for hundreds of free homeschool printables
Be sure to follow the Free Homeschool Printables and Worksheets board on Pinterest!
The following two tabs change content below.
Latest posts by Isa Fernandez (see all)