Is your child ready to learn about measurements? Start simple with this free measuring pumpkins math activity for early learners.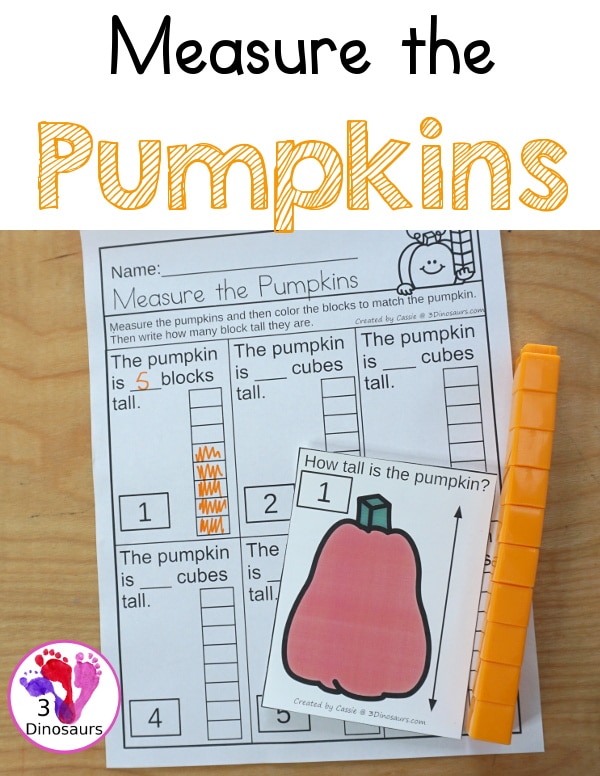 Rulers and measuring tapes might be a bit complicated for early elementary students. A measuring unit with basic markings can help them grasp the concept without confusing them.
It won't take long for your child to understand how to count units to find the length of an object. They will be able to do it all by themselves!
This measurement activity calls for unifix cubes to measure. If you don't have those, there is a measuring unit included in the printable.
To get started, print out the pages. Separate your pumpkin page sections and the measuring strip.
If you wish, laminate the pages before separating so this activity will be reusable.
You will find six pumpkins for your child to measure. Invite your child to use their blocks or the strip to determine the length of each one.
Once they measure, show them the recording sheet and how to record their measurements. Have your child color in the correct number of boxes to represent the length.
Grab more measurement worksheets and activities below:
The following two tabs change content below.
Jeannette is a wife, mother and homeschooling mom. She has been mightily, saved by grace and is grateful for God's sovereignty throughout her life's journey. She has a Bachelor in English Education and her MBA. Jeannette is bi-lingual and currently lives in the Tongan Islands of the South Pacific. She posts daily freebies for homeschoolers!
Latest posts by Jeannette Tuionetoa (see all)