Use these fun and free to print letter G is for grapes worksheet pages to help teach your kids the different letters of the alphabet.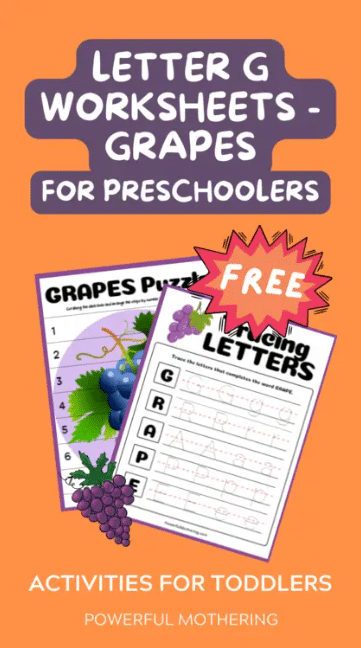 These letter G worksheets are great for students learning their alphabet. There are plenty of different types of learning exercises and activities for them to have fun all while learning all about the letter G.
There's a very fun grape themed puzzle for you to be able to print out and put together for or with your students. Laminate the pieces after printing and cutting them out if that's an option for you so that way the pieces have better durability to last a longer time.
Watch as your students will feel very accomplished by the time that they complete the letter tracing page for the letter G spelling out the word grape over and over again. This is great repetitive activities to help build strong penmanship and hand coordination. After completing these pages, your students will have mastered everything they need to know when first learning about this letter.
There are plenty of fun and free to print letter learning activity worksheet pages for all letters of the alphabet, some more will be listed below for you to be able to pick and choose from to print out to add to your current study lesson plans for your students in preschool through kindergarten this year.
Check out these links below for more free printable letter worksheets.
The following two tabs change content below.
Latest posts by Isa Fernandez (see all)