Welcome back to our 'How to Homeschool for FREE and Frugal' Series here at Free Homeschool Deals!
In this series, we pick a subject most homeschoolers teach and find a ton of resources for you to use.  Of course, the resources are either free or frugal, since we all want to stay within our budgets!
This week, we're sharing resources on how to homeschool for free and frugal with nature study resources!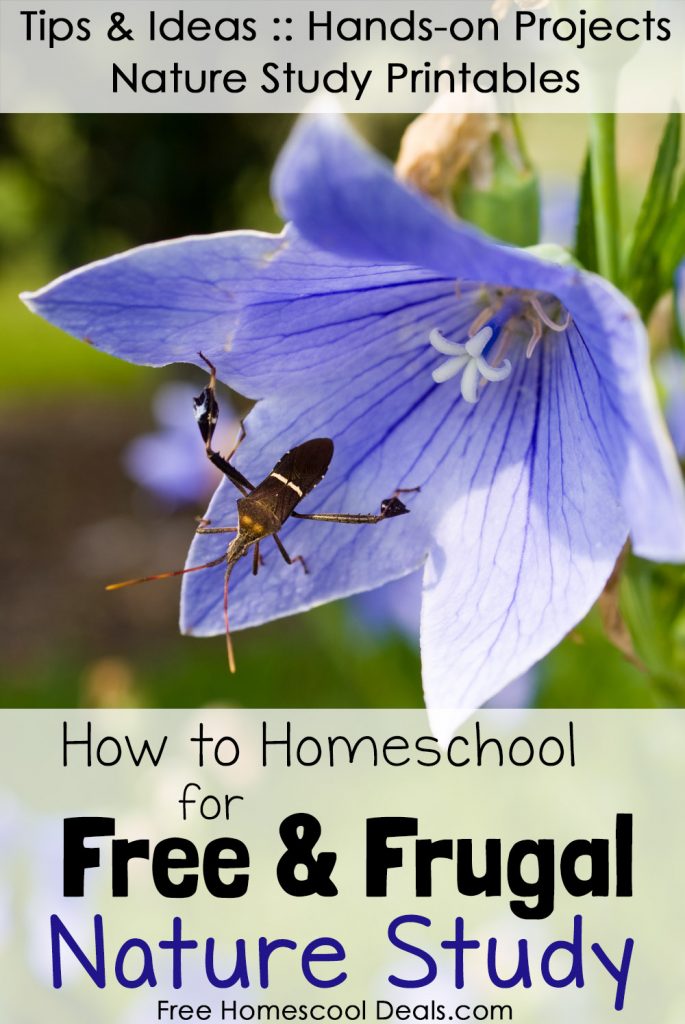 This post contains my referral link which helps support the work of this site. Here's my full disclosure policy.
Tips and Ideas for Nature Study in Your Homeschool
Creating a Nature Study Atmosphere – Starting with Your Attitude – If you are unsure about nature study, or just have zero desire to do it with your kiddos, this is a must read!
Charlotte Mason Series: Nature Study – Why, and more importantly, how you should do nature study with your young ones
Simplifying Nature Study – Ideas on simple nature study for each season
Nature Study – The Duty of Christian Homeschoolers – Such interesting food for thought!
How to Study Nature with Your Children When You Feel Inadequate – Yes, many homeschool moms are in this category.  Read this post for very practical advice.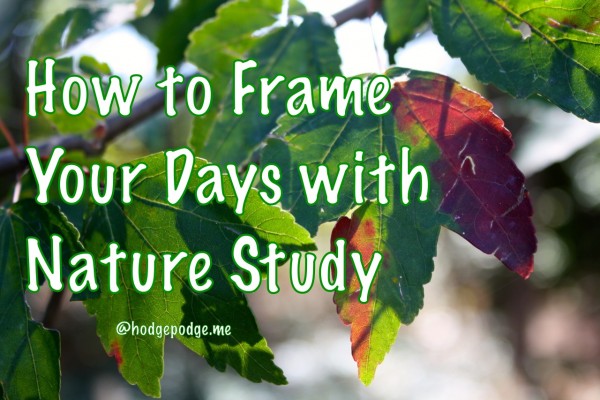 Nature Study Schedule – Browse through this mom's nature study schedule – very helpful for beginners!
Nature Study During Circle Time – Great ideas for incorporating nature study during morning time
How to Frame Your Day with Nature Study – Very practical ideas for every family
Nature Study Ideas for Teens – 4 practical ideas, some which can earn high school credit
Nature Study with Middle Schoolers – Simple, practical suggestions for nature study in the middle school years
How to Start a Nature Journal – Beginning tips and ideas to get started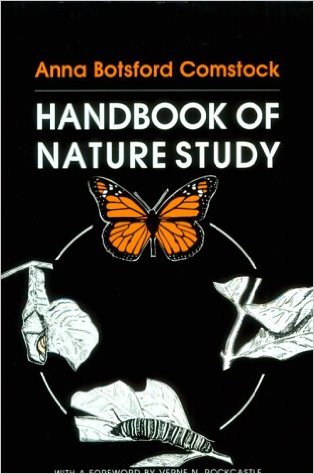 31 Days of Exploring Nature – Excellent ideas for exploring nature
Why Nature Journals are Important – Not convinced nature journals are important?  Read this post and you'll change your mind!
How to Get Started with Nature Study – Read through several Charlotte Mason quotes, and find practical ideas
8 Reasons to Do Nature Study – Very convincing!
Nature Study for Beginners – Very simple ideas to get started with nature study today
Ideas for Learning with Nature Walks – Excellent podcast with Nature Study guru Cindy West!  Find out how nature study can comprise and entire science curriculum!
Ways to Make Nature Study Part of Your Academic Routine – Practical tips and ideas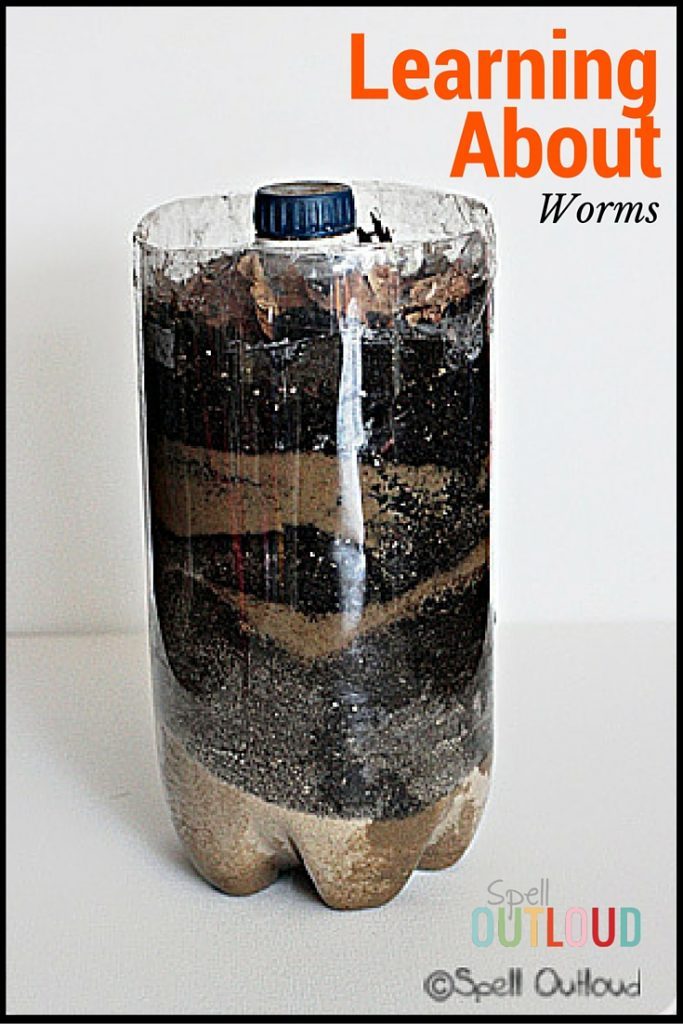 Implementing Nature Study: Provide Resources – Why you should provide nature study resources for your children and what to provide
Nature Study Tips Podcast – An iHomeschool Network podcast that shares ideas for helping you and your children enjoy nature study
100 Things to Do Before, During, or After a Nature Walk – Interesting ideas to spice up your nature walks
A Natural Start to Nature Study – A gentle approach with practical ideas
Nature Study as Independent Work – Simple, practical suggestions if nature study needs to be a bit more independent this school year
Using All of Your Senses for Nature Study – "If we take the time to intentionally use all of our senses, we will experience so much more in nature." Yes!
Six Simple Ways to Savor Nature Walks – Items to bring on your nature study walks, and ways to spice them up a bit!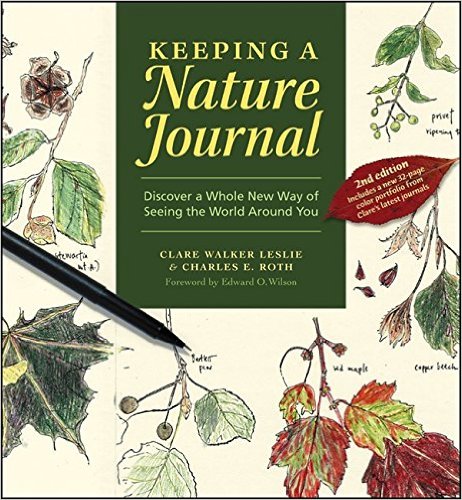 Hands-on Nature Study Resources
Dissecting Flowers – Dissect a flower to discover its parts
Make a Worm Tower – Easy hands-on activity for your kiddos to observe worms
How to Plant Seeds with Kids – Step-by-step to planting seeds with your young ones
Free NaturExplorer Lessons – These nature study lessons are incredible! Find free lessons on ponds, clouds, and more.  Browse through the entire collection of NaturExplorer Lessons and find one for your family!
Lost Ladybug Project – Participation in this project helps the ladybug population from reducing even more!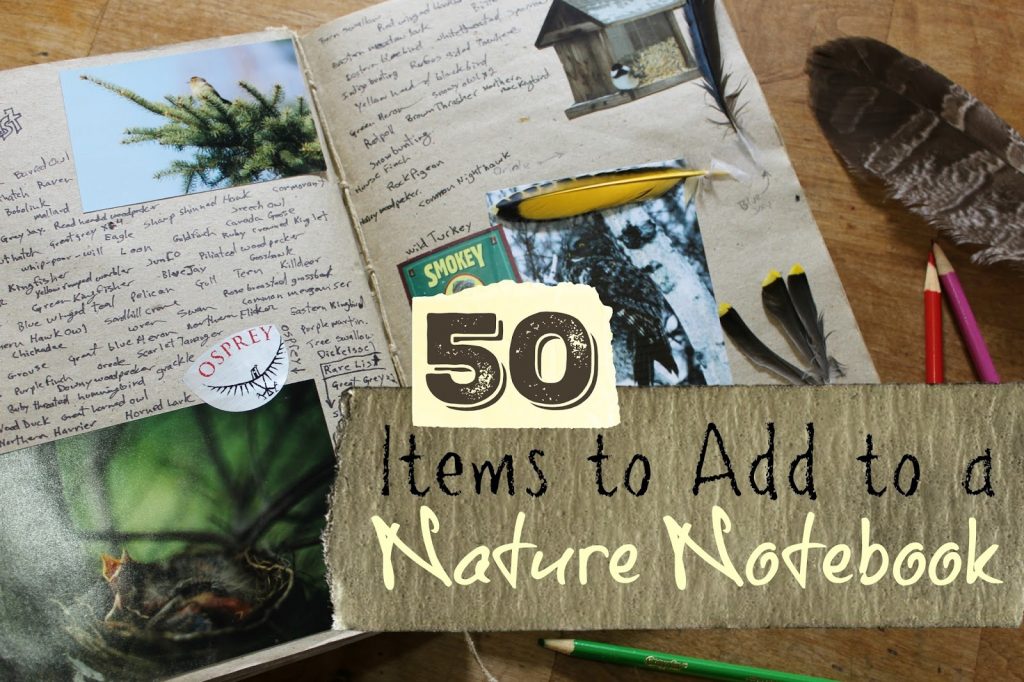 National Moth Week – Participate in this neat moth observation week.  From the site "become a Citizen Scientist and contribute scientific data about moths."
Birdwatching: Our Favorite Nature Study – Take a look at how this family birdwatches from the preschool through the middle school years
Complete Insect Study Guide – Several neat hands-on ideas
Portable Nature Study – This is a great solution if you don't have the space to store all of your nature finds!
Start a Rock Collection – Easy ideas for starting and storing a rock collection
Create Your Own Nature Notebook – I love this idea! Directions to create your own nature notebook out of a paper bag; includes ideas for pages to include
Raising Tadpoles – A great way to watch the frog life cycle in action!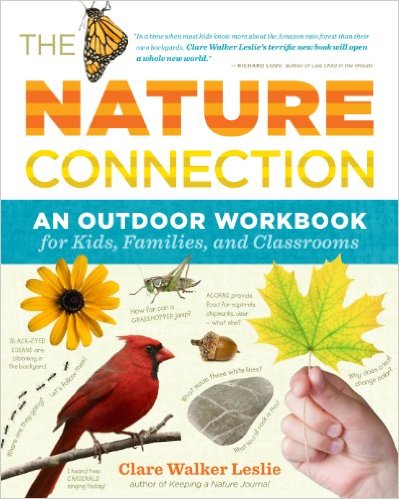 Create a Wormery – Observe worms with your young ones by making this very inexpensive wormery
Study Moths and Fireflies – A perfect activity during summer evenings!
Hands-On Rock Cycle Activity – Learn about the rock cycle with crayons and cookies
Take a Playdough Nature Walk – Bring along the playdough and find out about different textures
Rock Pooling – Near the beach?  Follow these directions and go rock pooling!
Make a Roly Poly Habitat – Roly Polies (yes, a weird word to pluralize) are so fun! Here are instructions to create a habitat for the fascinating little creatures.
Make Homemade Bug Houses – An inexpensive way to study bugs!
Build a Mini Ecosystem – Build a mini ecosystem with your children and observe nature inside!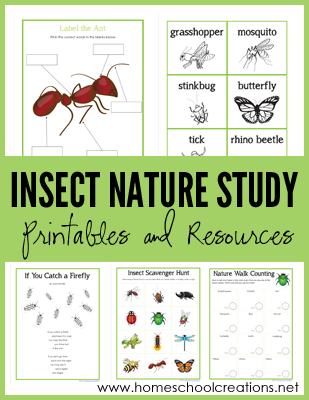 Nature Study Printables
Insect Nature Study Printables – Label the parts of an ant, count the varieties of insects, firefly poem and coloring page, and more!
Bee Life Cycle Worksheets – Includes printables to learn about the bee life cycle, along with other bee learning ideas
Strawberry Unit Study – Includes strawberry resources and a lapbook
Nature Study Freebie – 5-page download for Preschoolers – 2nd graders
50 Free Nature Walk Printables – Yes, 50! Botany, seasonal, nighttime, and more
Salamander Unit Study – Includes life cycle of a salamander, booklet with characteristics and more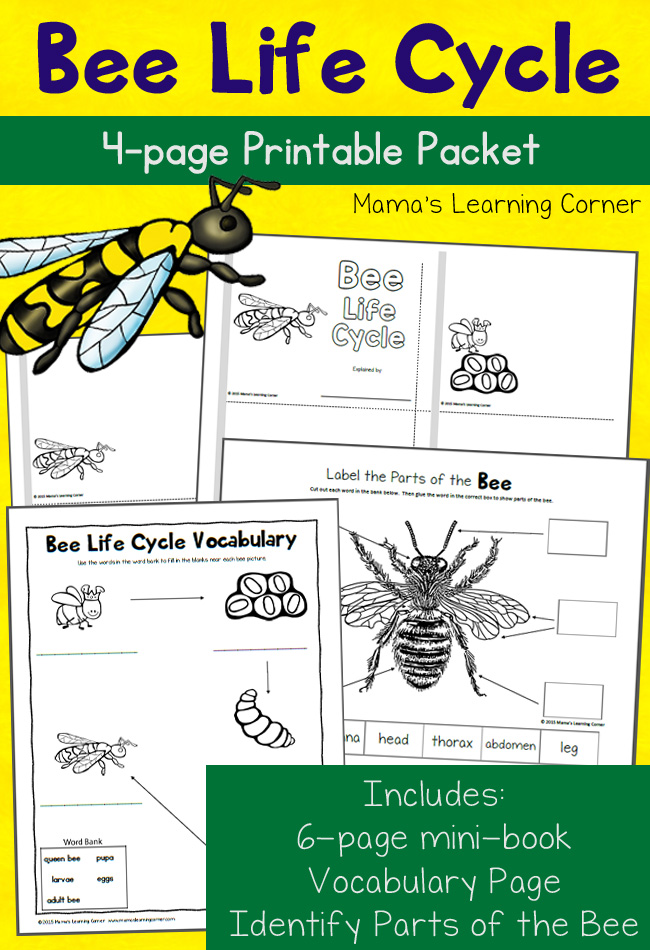 Bird Study Notebook Pages – Includes nesting characteristics, habitats, and more
Nature Scavenger Hunt – Printable of common sites you'd see on a nature hunt; includes handwriting practice
Rock Study Up Close – Ideas for closely studying rocks; includes a free printable
Leaf Identification Cards – Print the set and see how many varieties you can find in your own yard!
Free Nature Journal – A neat way to record observations!
Preschool Nature Study Printables – Includes a 60+page ebook plus 20 printables to get you started; $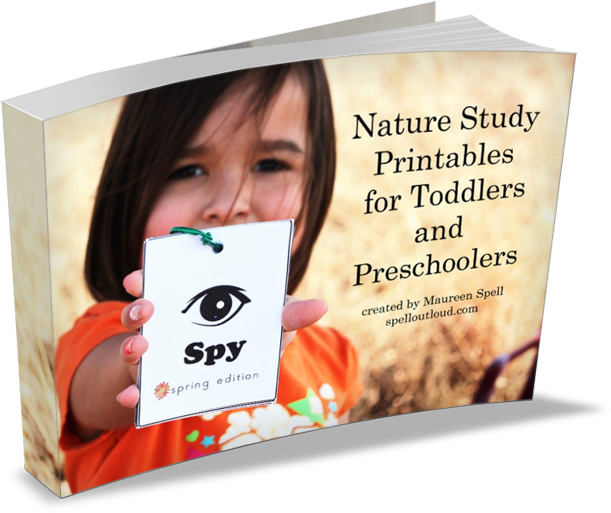 Other Nature Study Resources
Homeschooling with Netflix: Nature Study – Over 45 nature study titles are available! Perfect for a rainy or snowy afternoon!
The Ultimate Guide to Studying Insects – Many insect nature study resources are sprinkled throughout the post
Best Practices for Collecting Insects – Everything you ever needed to know about collecting insects
The Ultimate Guide to Nature Study – oh yes, there is an ultimate guide!
Bird Nature Study – Ideas for studying birds plus a free printable
The Ultimate Guide to Studying Plants and Flowers – includes printables, book suggestions, and many hands-on learning ideas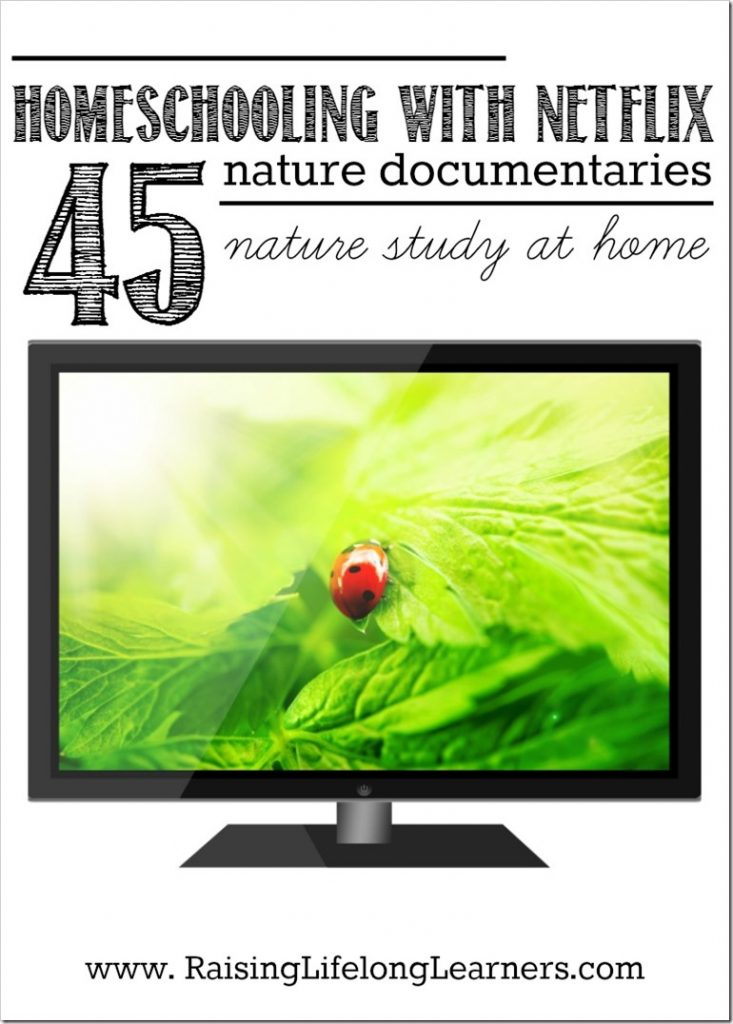 Learning About Plants – Includes a 6-week study of plants for K-3rd grades – free!
Moon Nature Study – Several ideas for studying and observing the moon
How to Make a Plant Journal – Observing plants and flowers? Find out how to record those observations in a plant journal.
The Snake Project – Find out how this family caught a snake and used it as a springboard to study biology – fascinating!
Living Books for Nature Study – A selection of living books of living books with nature themes
50+ Items to Add to a Nature Notebook – This is a great post to bookmark if your children are stuck for ideas
Organizing a Nature Club – Interested in getting together with other families to study nature?  This post will get you started with ideas.
How to Start a Nature Study Co-op – Step-by-step ideas for starting your own nature study co-op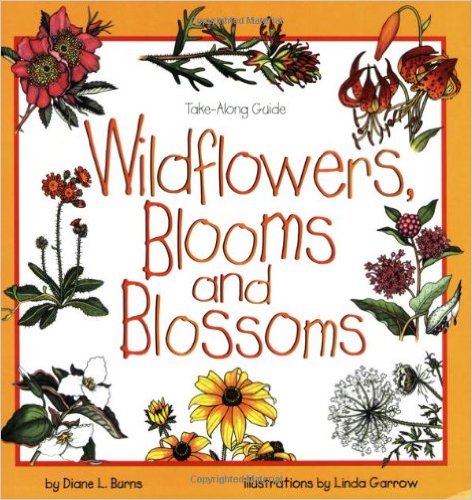 Nature Study Kit – Items to put in your nature study bag
Calendar of Firsts – Mark the 'firsts' that you observe each year (first snow fall, first daffodil, etc) – and excellent idea!
10 Minute Nature Studies – Short on time?  Choose one of these suggestions that only takes 10 minutes.
The Ultimate List of Books That Inspire Nature Exploration – A selection of pictures books and parent resources
12 Months of Nature Walks – Browse through 12 months of preschool nature walks for a plethora of ideas
How to Start and Organize a Nature Collection – These mini-collections are SO neat!
Don't forget to take a peek at these other FREE AND FRUGAL resource lists!
→ How to Homeschool for Free and Frugal: History
→ How to Homeschool for Free and Frugal: Math for All Ages
→ How to Homeschool for Free and Frugal: Math Printables
→ Here is a growing selection of Free Themed Homeschool Unit Study Resources!
The following two tabs change content below.
We are here to help families afford the homeschool life by providing the BEST homeschool freebies, deals, resources we can find & encouragement as we walk this journey together!
Latest posts by Free Homeschool Deals (see all)