Complement your weather unit study with these Free Weather-Themed Copywork Pages.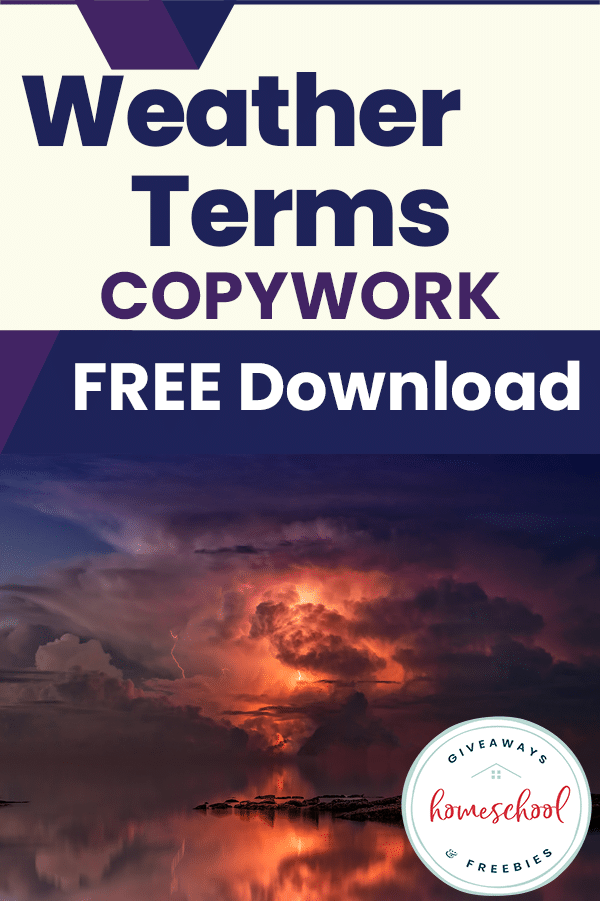 As an early learning teacher, I always started off our school day with our weather wall. Kids would enjoy observing the weather and placing the velcro, clouds, rain, or sun on the weather wall.
Learning about the weather gives students an understanding of what is happening around them and equips them with correct terminology.
Weather can be unpredictable and even dangerous, making it an irresistible subject for kids to study. Handwriting, on the other hand, may not be as interesting.
Announcing handwriting practice can prompt sighs of boredom from some of your homeschoolers.
Offering copywork that relates to their subject material can hold their interest and reinforce the material while they practice handwriting.
What homeschooling parent doesn't appreciate a multifaceted approach to learning?
This download contains ten weather-related vocabulary words and their definitions. Each page features a traceable term and definition, with ample space to copy each term and definition twice.
Find more free weather-related resources for your science unit study.
CLICK HERE for hundreds of free homeschool printables
Be sure to follow the Free Homeschool Printables and Worksheets board on Pinterest!
Be sure to follow the Free Homeschool Printables and Worksheets board on Pinterest!
The following two tabs change content below.
Jeannette is a wife, mother and homeschooling mom. She has been mightily, saved by grace and is grateful for God's sovereignty throughout her life's journey. She has a Bachelor in English Education and her MBA. Jeannette is bi-lingual and currently lives in the Tongan Islands of the South Pacific. She posts daily freebies for homeschoolers!
Latest posts by Jeannette Tuionetoa (see all)