This is a post by Free Homeschool Deals contributor, Lauren at Mama's Learning Corner.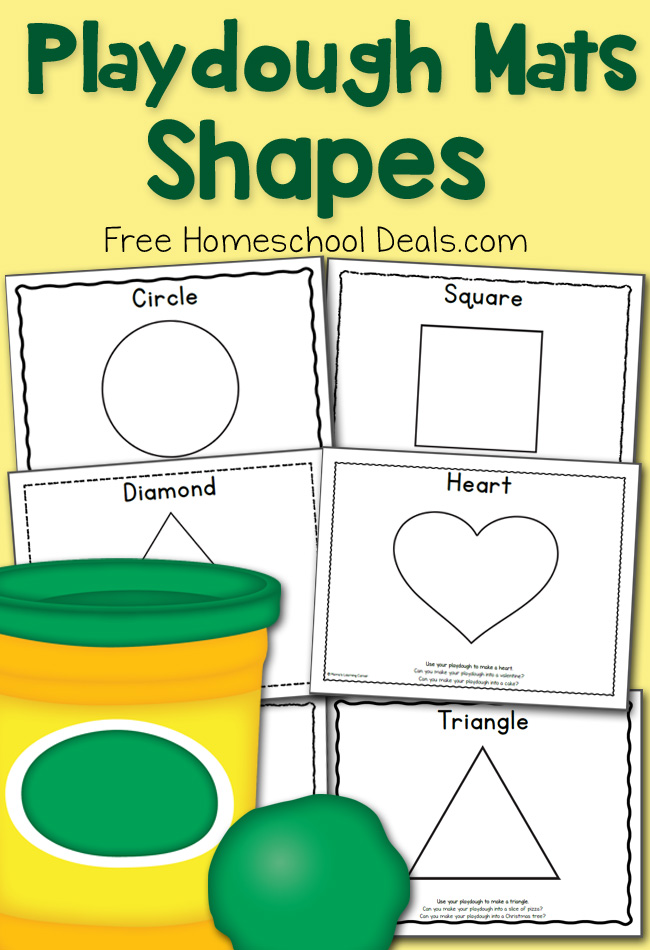 Do your children love playdough as much as mine do?!
At least once a week, we break out our playdough box and the girls have a big time creating pretend food, cars, trees, or whatever strikes their fancy.
Because they love playdough so much, I decided to incorporate their favorite activity into learning about shapes.
While I mainly created this activity for my 4 1/2-year-old, my 6-year-old has loved every second of these printable playdough mats!
Shapes Playdough Mats
This printable packet of shapes playdough mats features 10 different shapes:
→ circle
→ square
→ diamond
→ heart
→ triangle
→ oval
→ octagon
→ rectangle
→ semi-circle
To use, simply print the pages and laminate if desired. Then, your child can form the playdough into the shape on the printed page.
Also included are fun prompts to stretch your child's imagination.
Examples of the playdough prompts include:
– Can you make your playdough into a watermelon? (oval)
– Can you make your playdough into a window? (square)
– Can you make your playdough into a kite? (diamond)
More Shapes Worksheets and Printables:
♥ My Book of Shapes and Shapes Posters
♥ Number Card Puzzles (includes shapes)
♥ Shape Sorting Printable Packet – cut & paste
Before you download your free pack you agree to the following:
This set is for personal and classroom use only.
This printable set may not be sold, hosted, reproduced, or stored on any other website or electronic retrieval system.
All downloadable material provided on this blog is copyright protected.
CLICK HERE for more free instant downloads!
The following two tabs change content below.
Latest posts by Lauren Hill (see all)